Sports
WSU loses to UW 89-87 despite Thompson's 43
Thu., March 10, 2011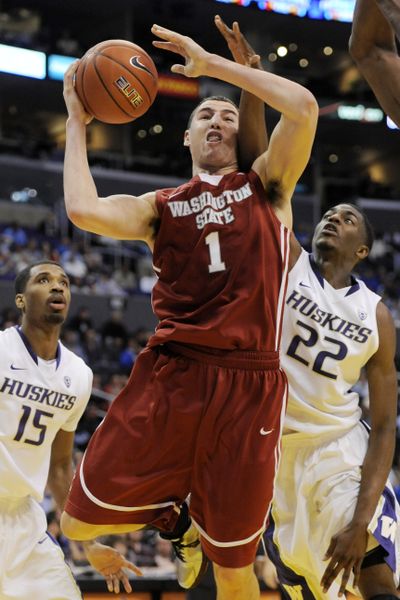 LOS ANGELES – For five halves this season, the Washington State Cougars found a way to contain their men's basketball rivals from across the Cascades. The sixth one? Not so much. Not even with a Pac-10 Conference tournament record 43 points from Klay Thompson, one of a host of records the junior from down the road in Orange County set Thursday night. Instead, in what may have been the most important game in WSU's season, Washington prevailed, 89-87, rallying from an eight-point halftime deficit for the victory at Staples Center before what remained of an evening two-game crowd of 12,191. "The NIT would be fun, but my dream was the NCAA tournament," said Thompson, who set a WSU single scoring record (664 points), passing Isaac Fontaine's 657 scored in 1997. He also set WSU marks in career 3-pointers attempted (594) and made (237). In this one he also hit a tournament-record 8 of 14 3-point attempts, some from as far as 28 feet. But, when the Cougars got the ball for the final time, trailing 88-85 with 9 seconds remaining, the Huskies kept him from getting a chance to tie. Instead, as Reggie Moore brought the ball up court, he was fouled by Scott Suggs with 2.4 seconds left. "I was going to pull up for a 3 or look for Klay in the corner," Moore said. Moore stepped to the line, missed his free throw, Thompson grabbed the rebound and hit a follow with 0.4 left. Then WSU coach Ken Bone started to call time out. "I yelled time ou…," Bone said, "and I caught myself. So I can totally understand why he (the ref) called it." The ensuing technical was immaterial to all but the final score. C.J. Wilcox hit one of two free throws, the ball was tossed in to midcourt, touched and UW had its first win against Washington State this season after two losses. Trailing to WSU at halftime for the third time this season, the Huskies did something they didn't do the two previous times. They upped the pressure. "We had something to prove," said Husky coach Lorenzo Romar. What they proved was they could force WSU to play their tempo. And turn the ball over. In a little more than 2 minutes, three Cougar turnovers, three WSU misses and Wilcox's first of five 3-pointers helped UW to a 42-40 lead. "That first 2, 21/2 minutes was really impressive," Bone said. "The did a good job defensively and then they were just scoring." But, following a legal Bone timeout, the Cougars (19-12) regrouped. They regained the lead and actually built it back to seven, 51-44, with a 9-2 run. That set the stage for the final 14:48. By then it was obvious this wasn't going to be the same as the Washington State's two regular-season wins. It would be played at Washington's pace. "They spread us out, they moved the ball well and they got really good looks," Bone said, pointing out the Huskies scored 57 second-half points. For the next 5 minutes WSU hung tough, leading 65-62 with 9:10 remaining. That was when Justin Holiday's three-point play tied the score. WSU would never lead again. Mainly because Isaiah Thomas took over, and his team-high 21 points were only a part of it. "He's just hard to guard," Bone said. The 5-foot-9 All-Pac-10 performer shredded the WSU zone with the dribble, getting under the guards, drawing bigs and serving Matthew Bryan-Amaning bucket after bucket. The 6-9 Amaning, who had 20 points combined in the first two games, put in 16, complementing the outside shooting of freshmen Terrence Ross (17) and C.J. Wilcox (16). And it was Wilcox, the hero of last week's win over UCLA, who gave UW the final push it needed. With the score tied at 73 following a Thompson 3-pointer from about 28 feet, Wilcox nailed back-to-back 23-footers. After two Moore free throws, Wilcox answered with another long-range bomb. The Cougars got close, but couldn't overcome the seven-point gap. Thompson, shaking off the weight of a one-game suspension for a marijuana citation, got off to a hot start from long range, hitting four of his first six. He finished 15 of 27 from the floor. His presence on the floor was in doubt as late as Monday, as both teams were dealing with some absences in the days leading up to the game. The Huskies were without reserve guard Venoy Overton, suspended for the tournament after being charged with supplying alcohol to a minor. By tipoff WSU was basically at full strength as Thompson was done serving his marijuana-citation induced suspension and Moore was able to shake off the effects of an ankle sprain suffered last Thursday vs. USC. But Moore, saddled with foul trouble and still troublesome ankle, struggled and the Cougars second offensive option turned out to be Fasial Aden, who hit double figures for the third consecutive game with 17 points. DeAngelo Casto also turned in his third solid performance against UW with 13 points and nine rebounds, many of them in L.A. freeway-like traffic. But this night belonged to the Huskies, who kept their NCAA at-large hopes alive and will face upstart Oregon, a 76-59 winner over UCLA, in tonight's semifinal. Two more wins and UW has an automatic berth. And the Huskies won't have to face Thompson again.
Local journalism is essential.
Give directly to The Spokesman-Review's Northwest Passages community forums series -- which helps to offset the costs of several reporter and editor positions at the newspaper -- by using the easy options below. Gifts processed in this system are not tax deductible, but are predominately used to help meet the local financial requirements needed to receive national matching-grant funds.
Subscribe to the sports newsletter
Get the day's top sports headlines and breaking news delivered to your inbox by subscribing here.
---