News > Washington Voices
Teen finding own voice in art
Frye, who's autistic, 'thinks in pictures'
Sat., March 12, 2011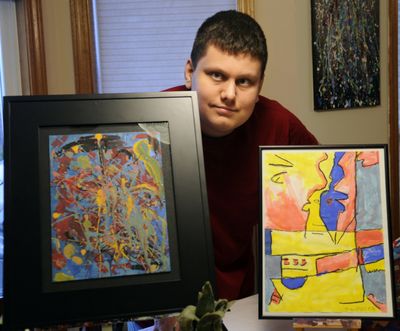 A few of the many human universal desires include having the ability to communicate with others, to connect and to find our places and our roles within society. Sometimes, these things are not so easy, especially when one is living with a disorder that affects communication.
"Autism is a communication disorder," said Wendy Frye. Her son James Frye, 17, was diagnosed with autism spectrum disorder. Her heart filled with fear; uncertain of his future, a ray of sunshine and of hope has recently broken through as he has declared himself an artist, ultimately finding his own form of communication through art.
It began last year when he was introduced to art in a self-contained special education environment at Central Valley High School. Since then, he has found his voice in watercolor, acrylic paint, and even pottery. "These talents have seemingly come to fruition almost instantly, or at least we didn't see it coming until it arrived home in his backpack," Wendy Frye explains on her son's website, "At the end of classes last year he brought home a pile of paintings and brush work practice sheets from his watercolor class. When we looked through the stack we paused when we saw his 'Fractural Faces' mixed media piece. We counted over nine images of abstract faces chalked, painted, and interjected between the lines. This was our son's work. This was a boy who couldn't really hold a pencil until the age of 5. This was amazing."
Since then, James has created his own "studio" at the dining room table with an easel, paints and brushes. Excited by art, he says, "When Pollock meets Haring … Dali makes good dreams … blank screen of lost memories … landscape of my mind … I'm the red, the yellow, the blue … a canopy of colors. Did you know Keith Haring died of AIDS? I want to develop a program with video art and animation, a city filled with art and graffiti, a simulation masterpiece."
Like an art scholar, James drops names. Bruce Nauman, Roy Lichtenstein, Wassily Kandinsky, Jackson Pollock, Keith Haring and Picasso are some of his favorite artists who he discovered on the Internet, in libraries, and in museums. "It's a self-driven interest," Wendy Frye said. As of late, James has been simulating the work of Jackson Pollock. Keith Haring will come next. After that, who knows? One day though, his work is sure to become his own. "I've learned symbols," he said, "and light and dark."
Recently, James' piece, "Fractural Faces," was accepted in Upstream People Gallery's 13th Annual Faces Juried Online International Art Exhibit. The piece has also been made into prints with proceeds benefiting the ISAAC Foundation and Northwest Autism Center, the Domino Project.
"He thinks in pictures," Wendy Frye said, a fact reiterated by her son as he speaks of "lines, hands, faces and people."
The Verve is a weekly feature celebrating the arts. If you know an artist, dancer, actor, musician, photographer, band or singer, contact correspondent Jennifer LaRue by e-mail jlarue99@hotmail.com.
Local journalism is essential.
Give directly to The Spokesman-Review's Northwest Passages community forums series -- which helps to offset the costs of several reporter and editor positions at the newspaper -- by using the easy options below. Gifts processed in this system are not tax deductible, but are predominately used to help meet the local financial requirements needed to receive national matching-grant funds.
Subscribe now to get breaking news alerts in your email inbox
Get breaking news delivered to your inbox as it happens.
---