News > Travel
Home of famous crystal embraces past, future with tourist center
Sun., March 13, 2011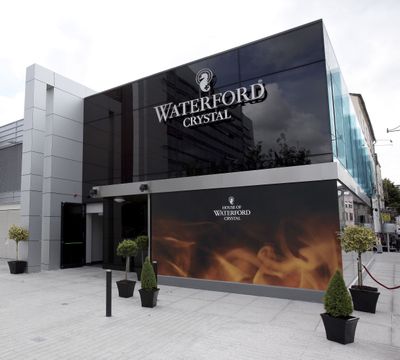 WATERFORD, Ireland – Waterford Crystal is renowned for its sparkle – and lately the city it's named for lives up to that description.
But Waterford, in Ireland's sunny southeast (sunny being a relative concept in Ireland), hasn't always had it easy.
The city is often passed over by tourists in favor of Dublin's nightlife or the emerald-green seaside hills of Kerry. And two years ago, the crystal factory shut down, leaving Waterford without its most famous attraction.
Then last year, a Waterford Crystal-themed tourist center reopened. Now visitors can again explore Waterford Crystal's history and the art of crystal-making, an unexpectedly fascinating and intricate process.
House of Waterford allows visitors to tour a new production facility where they can see master craftsmen at work. The new location, which produces high-end pieces and has crystal for sale in an expansive showroom, is far more central than the previous factory in Kilbarry.
From molds to glass-blowing and sculpting, visitors see all the stages of crystal-making as the furnaces burn before their eyes and pieces take shape, emerging from hot glass to meticulously engraved collectibles.
Guests can even don goggles and smash some crystal as guides discuss the fate of flawed pieces, an opportunity eagerly grabbed by the children on my tour.
Also on view are replicas of some of Waterford Crystal's work, from a Super Bowl trophy to a Sept. 11th memorial.
The experience is similar to the old factory tour but spiced up with more multimedia. It marks the continuation of a brand that has made its home in Waterford since 1783.
"Waterford Crystal is the marquee icon attraction, and within that, the city wants to harness the heritage it has adjacent to us within this quarter," commercial director David McCoy said of the new location.
"We're fortunate in the sense that the way we designed the facility, we want people to see every aspect of what we do. We're very proud of the work and effort that goes into producing the crystal."
After seeing the crystal center, visitors may continue the pursuit of all things luxurious at Waterford Castle, located on its own island, with access by ferry. The secluded castle dates back centuries but has been converted into a four-star resort with 19 elegant rooms, including fixtures like free-standing bathtubs with carved, ornate legs.
If you prefer more modern accommodations on the island, the 320-acre property also has three- and four-bedroom lodges. A restaurant offers afternoon tea and gourmet meals, and there is an 18-hole golf course designed by former Ryder Cup player Des Smyth.
Another way to experience Waterford is to get a taste of hurling – a 2,000-year old, lightning-fast Irish sport similar to field hockey, using a ball and flat, curved wooden sticks called hurleys. It's especially popular in counties Tipperary, Waterford and Kilkenny.
Though it's an all-amateur sport, many loyal fans travel to away games and matches in Dublin, and there is no greater buzz than in Waterford City when the county team plays. National league games are played from winter until April, and All-Ireland qualifying matches follow until the end of September.
The city comes alive in a sea of Waterford blue-and-white jerseys, with pubs like Alfie Hale's drawing particularly big hurling crowds shouting "Up the Deise" (pronounced day-shuh), as Waterford is known as An Deise in Irish.
Waterford is also home to several shops where hurleys are still made. Hurley-maker Frank Murphy learned the craft from teachers and relatives, meticulously fashioning the hurleys from wood such as ash and often personalizing them for new owners.
Other hurley-makers include Peter Flanagan, who is newer to the trade but comes from a carpentry background. Its worth a visit to their home workshops for a chat and a look at the process.
And while a hurley from Waterford won't sparkle like a crystal bowl, it's a worthy souvenir of your visit.
Local journalism is essential.
Give directly to The Spokesman-Review's Northwest Passages community forums series -- which helps to offset the costs of several reporter and editor positions at the newspaper -- by using the easy options below. Gifts processed in this system are not tax deductible, but are predominately used to help meet the local financial requirements needed to receive national matching-grant funds.
Subscribe now to get breaking news alerts in your email inbox
Get breaking news delivered to your inbox as it happens.
---