News > Business
Valley electronic gaming firm rides new growth
Sun., March 20, 2011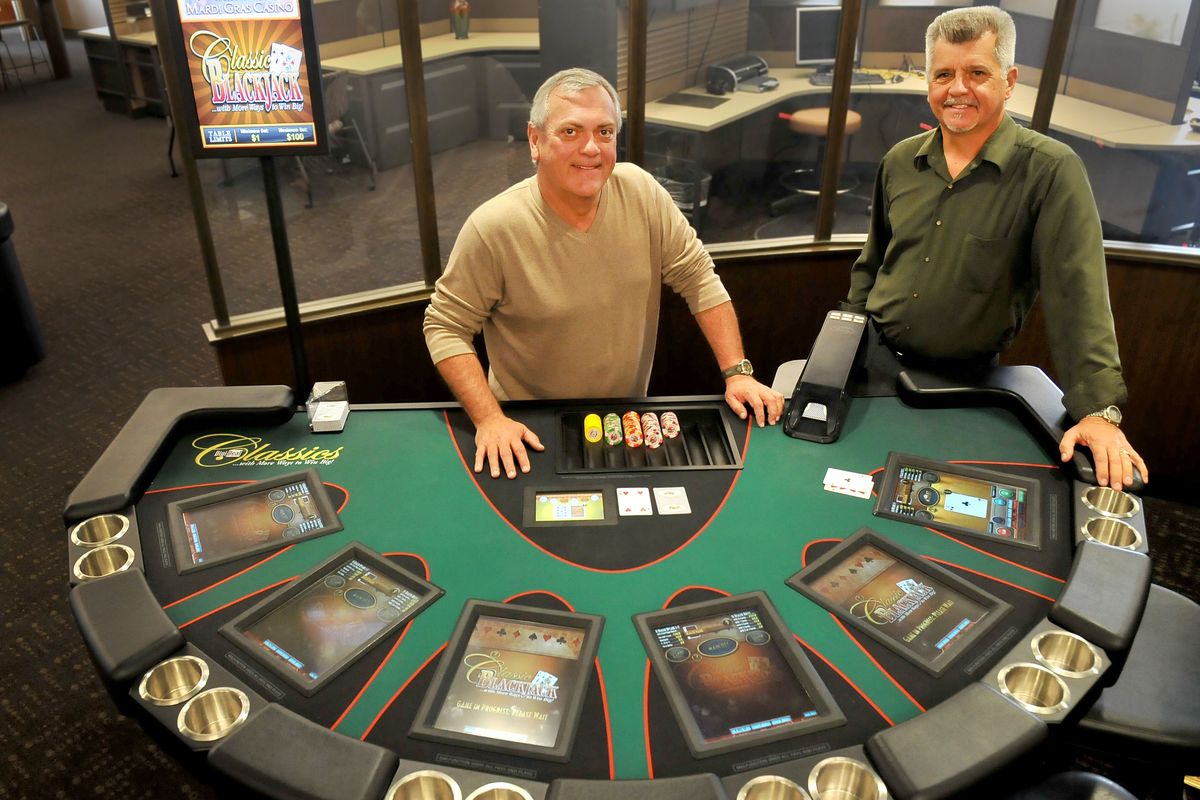 DigiDeal Chief Executive Officer Mike Kuhn, left, and Senior Vice President for Product Development Dave Krise, stand behind one of DigiDeal Corporation's electronic gaming tables at their headquarters in Spokane. (Jesse Tinsley)
DigiDeal is dealing again.
After negotiating a divorce from majority owner International Gaming Technology, the Spokane Valley maker of electronic table games is growing domestically and internationally, CEO Mike Kuhn said.
He said DigiDeal has almost 650 machines in casinos from Goa, India, to Worley, Idaho: The Coeur d'Alene Casino installed 10 four years ago.
The company could install as many as 150 more this year, Kuhn said, because more jurisdictions are approving its state-of-the-art technology. He also credits presentation by "the best graphics department in the business."
Kuhn and Senior Vice President Dave Krise said DigiDeal just won Florida's approval for installation of its machines at five betting locations in the state. Two more locations are planned.
Only DigiDeal electronic versions of games such as blackjack, baccarat, roulette and craps are compatible with Florida regulations written for slot machines, Krise said.
"That's what really sets us apart," he said, estimating there may be 100 other makers of electronic table games, an industry pioneered by DigiDeal more than a decade ago.
A few of those competitors, Kuhn said, are selling copies of DigiDeal tables.
"Our distributor in Asia knocked us off," he said. "Now they want to buy some new ones so they can copy that software."
DigiDeal devices have come a long way from what was basically an insert for traditional blackjack tables.
Now, game tables can be stand-alone or linked to create opportunities for side bets and progressive jackpots. If a customer gambles online, the winnings can be transferred to a machine for play in a casino.
Although not available yet, if games became accessible on cell phones or other mobile devices, DigiDeal will be able to adapt its games for that platform, Krise said.
And, as in Florida, the software can be modified to comply with the requirements of gambling jurisdictions around the world, he said. "However you want it, we can get it approved."
Several different tables are on display at DigiDeal headquarters at 5123 E. Third. Some allow play with real chips or virtual chips, real cards or virtual cards, or real dice and virtual dice.
Most tables are manned by a dealer, the key to providing the social interaction preferred by table game players, Krise said.
"People are looking for the social interaction of a table game," he said, although games that do not require a dealer are available.
DigiDeal is about to take interaction in another direction.
Krise said the company will soon introduce a game that can mimic a race – horse or snowmobile, for example – and allow the player to watch a virtual replay, an overhead view, or see the race from the saddle or seat.
"You can see the whiskers on the horse," he said.
The race "winner" is determined by a random-number generator, the soul of every electronic gambling device.
A similar device being developed with a partner will allow players to pick a soccer team, then watch a brief, simulated game.
"Soccer will be huge for us in South America," Krise predicted.
Kuhn and Krise said big potential markets for DigiDeal are Taiwan, where there are 5,000 betting parlors, and Atlantic City, where New Jersey authorities recently approved its machines.
Krise said Caesars Entertainment Inc. will introduce DigiDeal machines in Atlantic City within the next 30 days. The company, formerly Harrah's, installed machines in its North Carolina Cherokee casino several years ago, and the tables are consistently packed, he said.
For casino owners, Krise said, the tables have the potential to double the number of hands dealt per hour. The tables are also much cheaper to operate, even with a dealer, he said.
Players like them because betting minimums at traditional felt tables may start at $25, he said.
"Live table games are very expensive," agreed Frank Fantini, chief executive officer of Fantini Research, a gaming industry publication.
Although long-time casino operators are uncomfortable with electronic tales, he said, player acceptance of the devices makes them a good bet for the future.
Fantini likened the mindset to casino resistance to non-coin slot machines. Operators said they would never catch on, but players adjusted to the technology very quickly, he said.
Electronic table games are still relatively uncommon, Fantini said, but they attract younger gamblers light on cash but comfortable with technology.
Fantini said that, because DigiDeal is privately held, he does not know what share of the electronic table market the company might eventually capture. The largest public company in the industry is Shuffle Master Inc., he said.
DigiDeal is profitable for its 90 shareholders, Krise said.
He said revenues are generated from leases, about $3,000 per month per machine. Some machines are sold outright, others give DigiDeal a percentage of revenues.
All the machines are assembled in Spokane, where DigiDeal employs about 50, Kuhn said.
He said the company is looking for additional salesmen and software engineers.
"My main goal is to attract talent," he said. "Without creativity, it doesn't work."
There's plenty of room. DigiDeal built its headquarters to accommodate 50 engineers International Gaming Technology planned to place with its new business partner, but Kuhn said IGT's sales force was not comfortable with DigiDeal's technology.
Also, IGT stock worth $40 a share when the Reno-based company bought 54 percent of DigiDeal in April 2007 fell to less than $10 when the recession hit.
IGT changed management, and DigiDeal got lost in the shuffle, Krise said.
Kuhn said the separation from IGT was a relief. "We actually celebrated the break-up," he said.
The company will remain independent for now, Kuhn said, while working with a network of distributors and establishing a joint venture with an international supplier he would not identify. That could lead to a partnership, he said.
Meantime, phones have not stopped ringing since the Florida deal was announced, Kuhn said.
"We're very excited about our future."
Local journalism is essential.
Give directly to The Spokesman-Review's Northwest Passages community forums series -- which helps to offset the costs of several reporter and editor positions at the newspaper -- by using the easy options below. Gifts processed in this system are not tax deductible, but are predominately used to help meet the local financial requirements needed to receive national matching-grant funds.
Subscribe now to get breaking news alerts in your email inbox
Get breaking news delivered to your inbox as it happens.
---