Sports
WSU lifts Casto suspension
Wed., March 23, 2011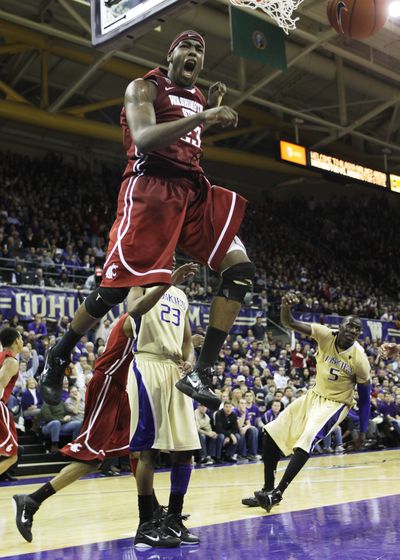 PULLMAN – Washington State University athletic director Bill Moos lifted DeAngelo Casto's suspension today, and the junior will be allowed to play against Northwestern this evening. "There has been a great deal of discussion regarding DeAngelo and his situation over the past 24 hours," Moos said in a media release. "There are unique circumstances involving this matter and I feel the appropriate avenue to take is to allow the legal system to run its course before we consider further action." Casto, a 6-foot-8, 255-pound power forward, was suspended Tuesday by coach Ken Bone following an early morning interaction with a Pullman police officer which eventually led to a misdemeanor citation for marijuana possession, less than 40 grams. Pullman attorney Timothy Esser, who is representing Casto, filed a not guilty plea on Casto's behalf with the Whitman County District Court early today. Esser and retired Whitman County superior court judge Wallis Friel accompanied Casto late Tuesday night when Casto met with the Pullman police and was issued a citation. Esser said he had talked with Washington State coach Ken Bone late Tuesday and asked that, given the nature of the incident, Casto's suspension be rescinded pending resolution of the charge. The Cougars (21-12) host Northwestern (20-13) tonight at 8 in the National Invitation Tournament's third round. The winner advances to next Tuesday's semifinal in New York City.
Local journalism is essential.
Give directly to The Spokesman-Review's Northwest Passages community forums series -- which helps to offset the costs of several reporter and editor positions at the newspaper -- by using the easy options below. Gifts processed in this system are not tax deductible, but are predominately used to help meet the local financial requirements needed to receive national matching-grant funds.
Subscribe to the sports newsletter
Get the day's top sports headlines and breaking news delivered to your inbox by subscribing here.
---