Sports > Outdoors
Fashion trend drives shortage of fly-tying feathers
Sun., March 27, 2011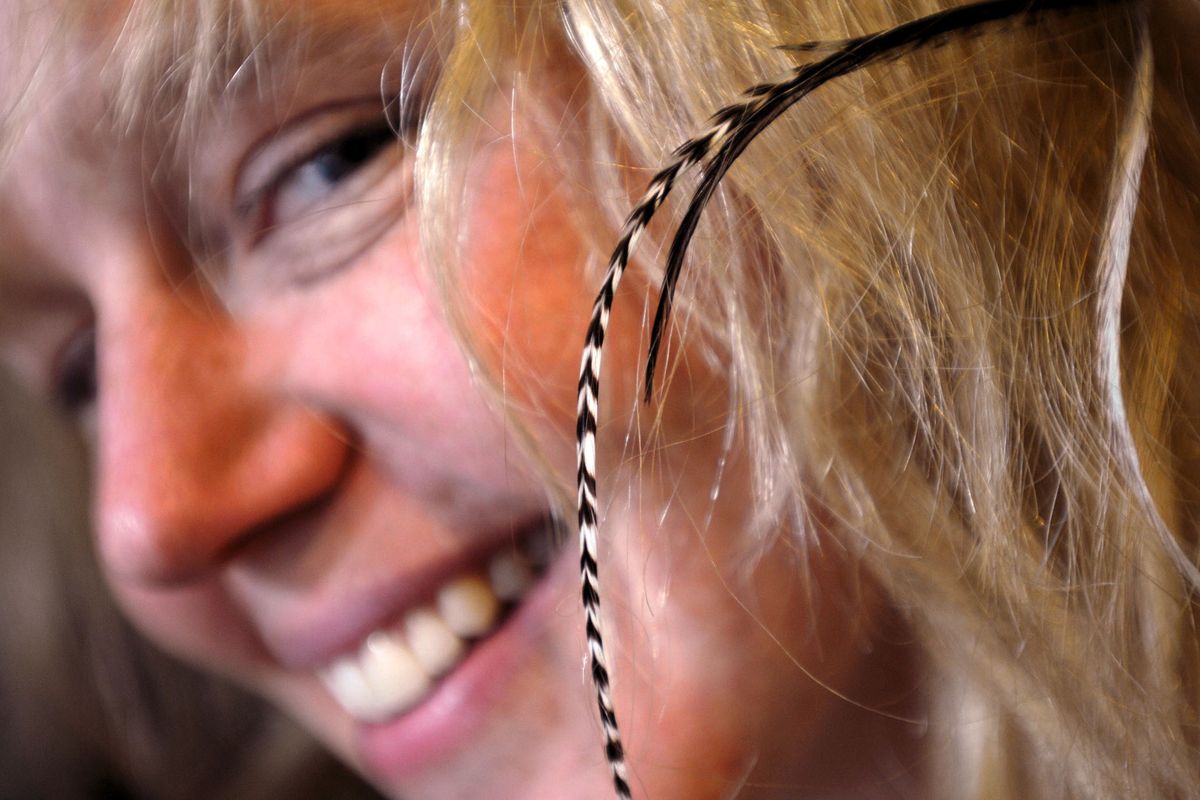 Feathers, like these woven into the hair of Lael Gabrian at Betty's Divine boutique in Missoula, have become increasingly popular as a fashion statement. (MICHAEL GALLACHER)
MISSOULA – Winter traditionally is a time of quiet meditation at the fly-tying bench for devoted fly fishers. But this year's shortage of premium fly-tying feathers has left both hobbyist and professional tiers clucking over the latest trends to hit the fashion industry.
Across America, jewelry-makers and hairstylists have been snatching up the premium chicken feathers used in standby trout-fly patterns such as the Parachute Adams and Elkhair Caddis, creating a run on a market that's ill-prepared for significant fluctuations of demand.
"Supplies are just decimated," said Jim Cox, co-owner of the Kingfisher fly shop in Missoula. "We just can't get the premium feathers. Even the (sales) reps for the suppliers can't get them for themselves."
What began a couple of years ago as a scattered interest in feather jewelry has erupted into a full-on fad for hair extensions made out of long, slender feathers – the same feathers used in the vast majority of traditional dry-fly patterns.
The fashion trend can be seen across the Internet, highlighted at sites like HollywoodLife.com and Celebuzz.com. It has even hit "American Idol," where judge Steven Tyler (lead singer of Aerosmith) has appeared with feathers in his hair.
In Missoula, the hair-extension trend has found roost at salons such as the Cutting Crew, where stylist Katt Ahlstrom says she has crimped feathers into the hair of a growing number of customers in the past six months.
"It's really just starting to hit Missoula," said Ahlstrom. Meantime, jewelry made with premium hackle feathers as well as other materials familiar from the fly-tier's bench – including, in some cases, hooks – is a hot seller at Betty's Divine, said owner Aimee McQuilkin.
"They're great because they're big and have volume, but they're super-light," said McQuilkin.
Betty's Divine manager Lael Gabrian knows firsthand the appeal of the trend. Before traveling to Central America recently, Gabrian had a few white-and-black barred hackle feathers crimped into her hair.
"I had people in Guatemala asking me if so-and-so had put those in for me. I guess there was a girl traveling around paying her way by doing feather hair extensions," said Gabrian. "So I guess you could say it's a trend from Montana to Central America."
The problem is that the feathers in question aren't everyday chicken feathers. The feathers most valued both by flytiers and fashion mavens come from specific types of roosters that are selectively bred to produce long, slender feathers. Such chickens typically take almost a full year to raise before slaughter – unlike meat-birds, which are typically slaughtered after just six weeks of life.
What's more, they're rare: Only a few dozen commercial breeders exist in America, and most are small operations.
Because of the comparatively longer lifecycle of chickens raised for feathers, some in the industry anticipate that the shortage might not have reached its peak yet.
"I'm not sweating it, but I'm concerned a little bit about it looking ahead, certainly," said Duncan Oswald, a co-owner in charge of procurement for the Montana Fly Co., a fly manufacturer based in Columbia Falls that owns two factories in Thailand.
Oswald said that while his company is somewhat insulated from shortages due to its size and standing orders with feather producers, he's seeing the effects of the shortage in the prices he pays for feathers, in the quality of feathers he receives, and even in the calls he receives.
"It is getting desperate for some people out there," said Oswald. Taylor Scott, a manager and guide at the Missoulian Angler fly shop, said his store has managed to maintain a steady supply of premium feathers. But demand continues to grow.
"The other morning, some lady from Oregon called and ordered $300 worth of hackles," said Scott. "It's helping us out; we're ordering and selling a lot more than we have."
He said the trend illustrates the contrasting economics of fashion and fly-tying.
"For a fly-tier, those necks are really expensive," he said, estimating that the most in-demand capes of neck-feathers cost $60-$100. "That neck would last a lifetime for someone tying flies; but a lot of those girls were coming in, buying a whole neck for $70, putting six feathers in a girl's hair, and charging $100 for it."
McQuilkin said that fly-fishing devotees might soon be able to breathe a sigh of relief, as the trend may have already reached its peak in the traditionally fast-moving and fickle fashion industry.
But, she said, cobblers might want to take notice.
"Now, it seems like the big thing is leather," she said, grinning as she sported a pair of earrings made out of long strips of leather. "So I guess, beware all leather-workers, they're coming for you next."
Local journalism is essential.
Give directly to The Spokesman-Review's Northwest Passages community forums series -- which helps to offset the costs of several reporter and editor positions at the newspaper -- by using the easy options below. Gifts processed in this system are not tax deductible, but are predominately used to help meet the local financial requirements needed to receive national matching-grant funds.
Subscribe to the sports newsletter
Get the day's top sports headlines and breaking news delivered to your inbox by subscribing here.
---