A&E > Food
Toast to the future: Once just a single winery, the Spokane region's wine industry is now flourishing
Wed., March 30, 2011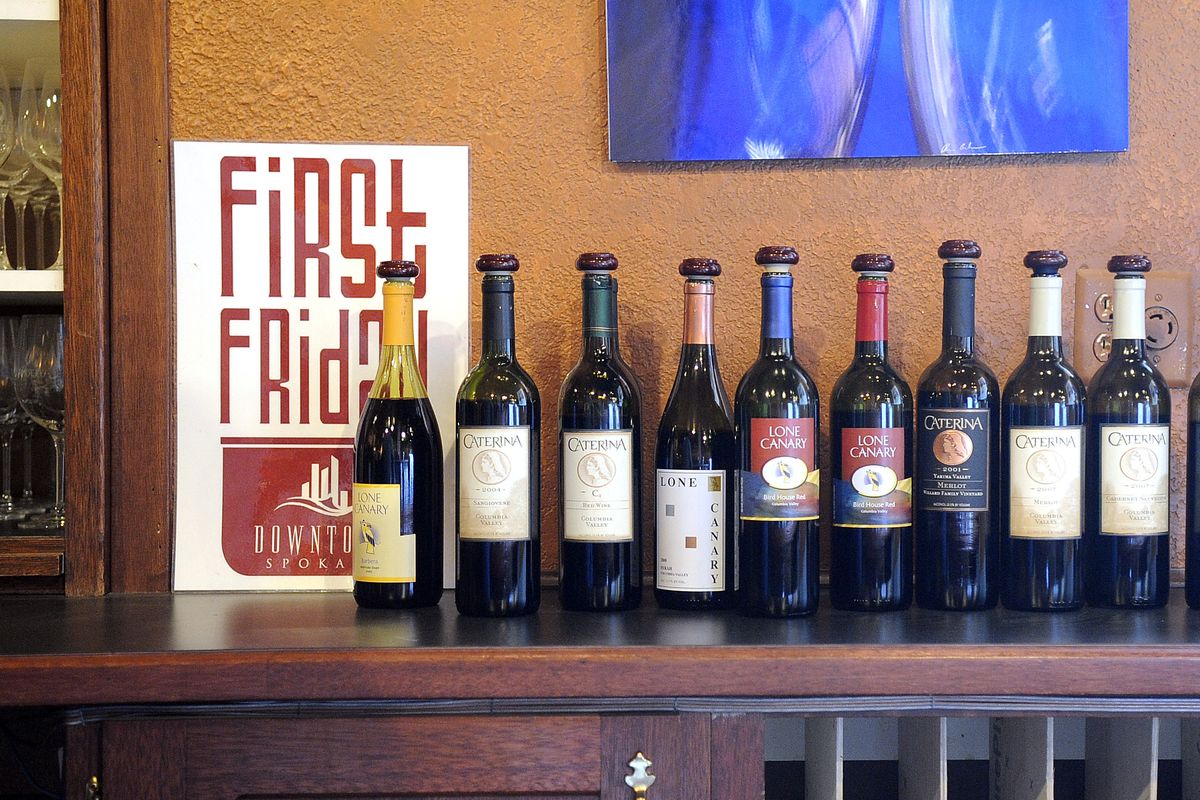 Along with his Townshend label, Don Townshend owns and operates
The bar at the downtown tasting room shared by Grande Ronde, Mountain Dome and others was three people deep on a recent Saturday.
Enthusiastic fans were swirling glasses, sniffing and comparing notes with friends as music played in the background and folks munched on snacks. It felt like a party.
And, as far as the local wine industry goes, the party's in full swing.
While Spokane's wine scene hasn't experienced the explosive growth of Walla Walla, expansion here has been slow and sure. At 19 wineries and counting, it has blossomed into a flourishing wine region.
"I liken Spokane to the area around Lake Chelan in some ways," said Ryan Pennington, the head of public relations for the Washington Wine Commission. "It's an area that's already significant in its own right – Chelan as a big recreational draw and Spokane as a major metropolitan area.
"Though the number of wineries is smaller than in some other areas, the significance of the growth in Spokane is substantial. It's great to see pockets of wineries developing across the state."
But before raising glasses to toast the bright future, let's turn back the clock for a moment to the 1980s, when Washington wine was still a novelty.
In the beginning, there was Worden's. Though now shuttered for more than a decade, it played a key role in starting the engine of the city's wine machine by recruiting Mike Conway to the area.
Conway, a trained microbiologist whose résumé included stints at Gallo and Parducci, arrived on a most auspicious day.
"We crossed the border into Washington state on May 18, 1980, the day Mount St. Helens went off," Conway said.
Fortunately, the disaster didn't derail his plans. With his wife and business partner, Ellena, he went on to found one of the city's most popular wineries, Latah Creek.
The winery started with a trickle – producing 10,000 gallons with its first vintage in 1982 – that has turned into a torrent. In 2010, Latah Creek made 40,000 gallons of more than a dozen varietals, all while staying true to its mission of being a mom-and-pop operation.
Well, a mom-and-pop that now has a "baby" on board. Daughter Natalie has been the assistant winemaker since 2005, paving the way for her to take the grape-stained reins when the parents retire.
"Mike reminisces about times when he started up Latah Creek when there were fewer than 50 wineries in the state," said Natalie Conway-Barnes.
"Even though Washington state now has more than 700 wineries, we have that same community feel in Spokane. Yes, our wines are competing against one another, but we still work together to make the Spokane wine scene as great as possible."
Latah Creek isn't the only winery that nurtures the family-tree approach. Erik Manz – who made his first chardonnay when he was 16, and later studied winemaking in France – assumed Mountain Dome's winemaking duties after his father, Dr. Michael Manz, passed away in 2006.
Kristina van Loben Sels arrived in Spokane in the late 1990s to pick up the baton at Arbor Crest, growing the winery with her husband, Jim, into a major force in the region and beyond, now producing 20,000 cases of wine annually.
And Dave Westfall, the distributor-turned- vintner, works with his son, David, on Grande Ronde wines, which are distinguished by using grapes from Seven Hills and Pepper Bridge, two of the most prestigious vineyards in the Northwest.
Westfall has also mentored Bridge Press and Emvy wineries, helping the fledgling operations source great fruit.
After the launch of Worden's, Arbor Crest and Latah Creek in the 1980s, the next chapter in Spokane winemaking history included the birth of Mountain Dome, Knipprath Cellars, Caterina, Robert Karl, Townshend and Barrister.
Lone Canary, which, along with Caterina, is now owned and operated by Don Townshend, landed in 2003.
Since opening, most of the wineries in Spokane's second wave have experienced steady growth.
For instance, Robert Karl has evolved from a cabernet sauvignon-only producer of 600 cases a year to making 2,500 cases of cab, sauvignon blanc, rosé, merlot, syrah, a red blend called claret and two reserve wines, with distribution in nine states.
Townshend Cellar has grown from 500 cases in 1998 to 16,000 cases annually. (Which doesn't include Lone Canary at 5,000 cases and Caterina at 3,000.)
The newest additions are micro-boutique operations. Liberty Lake Cellars, Nodland, Vintage Hill, Overbluff and Barili all produce 750 cases or less a year, which means an emphasis on handcrafted wines sold almost exclusively at the tasting rooms.
Though 19 wineries is impressive, it's a drop in the oak barrel compared to Walla Walla, which is now home to more than 140 wineries.
Could Spokane ever catch up to Walla Walla? Would it even want to?
"While Walla Walla has created a buzz for their over 140 wineries, Spokane wineries are spoiled with the over 11,000 daily visitors to the region," said van Loben Sels.
"We have year-round business travelers and are a pass-through corridor for many outlying regions. Our many restaurants and retail outlets with local support help not only the 20,000 case-plus producers here in Spokane but our boutique Spokane wineries as well. We are the perfect size for our big little city."
Her hometown-proud sentiment was echoed by others.
Steve Trabun from Barili Cellars said, "I'm not sure we want the Spokane wine industry to be saturated with over 150 wineries. However, I do believe that we will continue to see new wineries emerge in Spokane."
Some suggested it was a matter of quality over quantity.
"I don't think that Spokane's wine industry needs to or wants to become as big as Walla Walla," said Jill Rider from Townshend Cellars. "Spokane has now grown to include 20 wineries and those wineries are producing quality wines that have won national and local awards and acclaim.
"Consumers are finding wines that are realistically priced here and tasting rooms that are staffed with owners and passionate individuals that provide a warm and friendly tasting experience."
Many might go a step further and say the tasting experience can be like a party. Wineries that have tasting rooms downtown and in the Valley participate in the First Friday art walks, which offer the opportunity to draw an eclectic crowd and reach a new audience.
There are also special events throughout the year, which have helped create lots of loyal customers.
The growing number of Spokane wine fans has provided the fuel for retail outlets such as the Spokane Wine Co. at Huckleberry's, the Rocket Market and the Main Market Co-op to thrive.
A new tasting room in downtown Spokane featuring five Walla Walla wineries – Nectar Tasting Room – is looking to capture those wine lovers as well.
One area where there is room for improvement is raising the profile of Spokane wineries on restaurant lists, especially eateries that promote farm-to-table menus.
While many lists do include a selection from local wineries, the surprising leader of the pack is Masselow's at Northern Quest Casino, which dedicates an entire page to Spokane wineries.
"I went there for the first time the other night and I was so impressed," said van Loben Sels. "I wish there were more places doing that."
While we're on the subject of wishing, Henning Knipprath jokingly pines for continued global warming to create a more temperate growing region.
Seriously, though, he would love to see more grapes planted in the area: "Perhaps modeled after Okanagan, B.C., with the target of establishing an AVA (American Viticultural Area)."
In fact, there are vines planted throughout the region, including Whitestone Winery's vineyard on the banks of Lake Roosevelt, vines on Arbor Crest's historic hilltop estate and at Green Bluff, where Don Townshend has made wines for Davide Trezzi with fruit from Trezzi Farm Food and Wine for a few years.
Townshend has purchased 10 acres just north of his current facility, with plans to build a new winery and perhaps plant there, too.
In the meantime, for prospective producers contemplating planting roots in Spokane, John Caudill from Overbluff Cellars summed up the area's special appeal:
"There is no other place we want to live other than Spokane! Combine that with opportunity to make great wine with access to some of the best fruit available on the planet, what could be better?"
Local journalism is essential.
Give directly to The Spokesman-Review's Northwest Passages community forums series -- which helps to offset the costs of several reporter and editor positions at the newspaper -- by using the easy options below. Gifts processed in this system are not tax deductible, but are predominately used to help meet the local financial requirements needed to receive national matching-grant funds.
Subscribe to the Spokane7 email newsletter
Get the day's top entertainment headlines delivered to your inbox every morning.
---