Sports > Outdoors
Round and Round partners peddle bicycling events
Revising priorities ends Tour des Lacs
Sun., May 8, 2011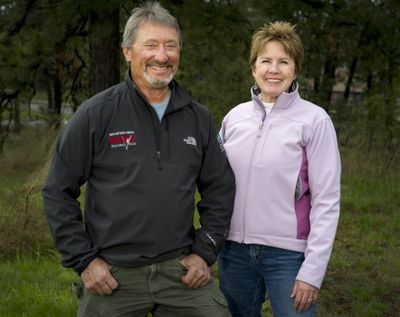 Producing some of the region's most ambitious bicycling events has required more than a volunteer spirit.
A two-person event management company has been the energy and organization behind the scenes of annual multiday cycling events such as Tour des Lacs in September and the 24 Hours Round the Clock mountain bike race on Memorial Day weekend.
Participants show up smiling at start time after Round and Round Productions has dealt with weeks of logistical nightmares.
For nearly two decades, Gino Lisiecki, 69, and Wendy Zupan-Bailey, 57, have teamed to get the permits, placate the bureaucrats, organize registration and volunteers, run the events, supervise the cleanup and pay the bills.
"The name came from one of our graphic artists who pointed out that we're always going round and round about something," Lisiecki said, referring to the pressure and creative spirit of event management.
"I'd rather think of it like bicycle pedals: They go 'round and 'round, too."
This winter, as they began dealing with the wildly popular 24 Hours' race details, word trickled out that after 19 years they would not be scheduling Tour des Lacs this fall.
"Gino organized it as a fundraiser with Holy Family Hospital in 1981 following some of his favorite cycling routes from Spokane out and around Lake Coeur d'Alene," Zupan-Bailey said.
"I got involved later and we expanded it with several options, including a party boat cruise to pick up riders at the south end of the lake and bringing them to Coeur d'Alene for the overnight before the second day of riding."
At the peak of its popularity around 2002, the event attracted up to 950 riders using four routes of different lengths.
But the growth of competing events and changing attitudes among riders about devoting two days to a single event gradually reduced entries to 420 last year.
"There used to be very little going on in fall, but now there's at least two cycling events every weekend in September," she said.
Tour des Lacs involved four counties in two states, and slightly different permits or agreements were needed from each.
Round and Round tried to find fun spots for cyclists to end the first day and socialize in Coeur d'Alene. The city park's alcohol ban and lack of affordable shelter forced a move to local businesses.
"But several went out of business over the years, including one that folded three weeks before the event, so we kept looking for new places," Zupan-Bailey said.
Idaho kept hitting Round and Round with more little hitches, including a ban on using spray chalk to mark the course and a 50-cents-a-rider fee to use the Idaho Centennial Trail.
"When you added it all up, it was getting to be too much of a commitment for two people, and too little return," she said. "We're not a fundraiser, although since 9/11 (attacks in New York) we've been donating to volunteer firefighter groups who to run the food stations along the courses."
Round and Round's biggest competitive events included the NORBA National Mountain Bicycling Championships at Mount Spokane and World Cup races at other venues.
"That was the heydays of mountain bike racing," she said. "There were 2,000 competitors at Mount Spokane."
But interest has faded in cross-country mountain bike racing as a younger generation trended to the thrills and spills of downhill racing, she said.
"The liability for downhill races is staggering," she said.
Bucking the trend is 24 Hours Round the Clock mountain bike race, which takes over Riverside State Park's Seven Mile airstrip area on Memorial Day weekend.
The race has grown over 12 years to attract about 750 racers going solo or in relays around a rugged dirt-trail loop for a full day.
Round and Round is moving more toward consulting for events around the West rather than full-out organizing as Zupan-Bailey devotes more time to being an artist.
But they say the 24 Hours race is worth their investment in time and energy.
"It's not just a race, it's an event, a party, a sleepover," Lisiecki said. "You have all of those racers, and they bring 3,000 of their friends for the campout. It's a staycation for a lot of people.
"It's huge," Zupan-Bailey said.
"It's the Woodstock of mountain biking," Lisiecki said.
Local journalism is essential.
Give directly to The Spokesman-Review's Northwest Passages community forums series -- which helps to offset the costs of several reporter and editor positions at the newspaper -- by using the easy options below. Gifts processed in this system are not tax deductible, but are predominately used to help meet the local financial requirements needed to receive national matching-grant funds.
Subscribe to the sports newsletter
Get the day's top sports headlines and breaking news delivered to your inbox by subscribing here.
---
Subscribe and log in to the Spokesman-Review to read and comment on this story