News > Spokane
Veteran Glen Douglas dies at 84
Lakes-Okanogan Indian who served in three wars became mentor, PTSD expert
Mon., May 23, 2011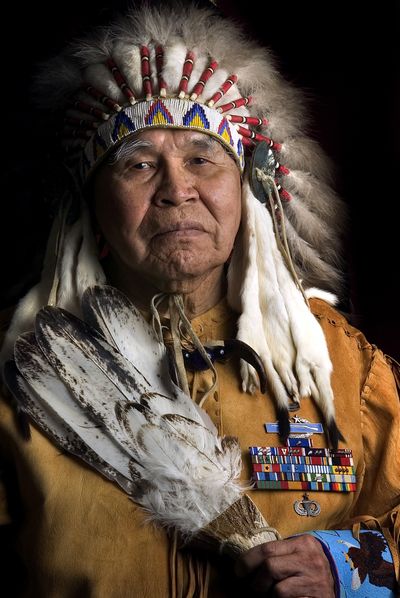 Glen Douglas, a decorated U.S. Army veteran of three wars, who later became a friend and mentor to other veterans at Spokane Veterans Affairs Medical Center, died Sunday after a long illness. He was 84.
Douglas, a Lakes-Okanogan Indian, was born near Penticton, B.C., on Feb. 1, 1927. Some of his earliest memories are of being out on trap lines with his father, who taught him to survive in the wild.
When he was 12, Douglas was taken from his family in a cattle truck that went from house to house collecting Indian boys and girls. Royal Canadian Mounted Police were present when he was taken from his home and sent to the Kootenay Residential School in Cranbrook, B.C. He said he was abused there by Roman Catholic priests and brothers who belonged to the Missionary Oblates of Mary Immaculate.
"We were beaten for speaking our language," Douglas told The Spokesman-Review in a series of interviews in 2004. "They were beating the devil out of me."
Douglas, who suffered from post-traumatic stress disorder, believed his boarding-school experience set him up for torment long after his military career ended. Douglas later received monetary reparations from the Canadian government for the days he spent at the school.
When he was 14, he was sent to live and work on his uncle's ranch near Oroville, Wash. Three years later, determined to join the U.S. Army, Douglas asked his uncle to come with him to the draft board in Okanogan, Wash. He said he received his notice a week later, and reported to Fort Lewis, Wash., in May 1944.
His unit, part of B Company, 506th Parachute Infantry Regiment, 1st Battalion, had caught up with the 101st Airborne Division after it crossed the Meuse River in Belgium in 1945.
Douglas distinguished himself in battle in the Korean War. He landed in Pusan in time to relieve the badly battered 24th Infantry at the Naktong River line. In the 2004 interviews, Douglas said he was injured by a grenade at the Chorwon Valley on July 17, 1953, near Outpost Tom of the famous forward positions Tom, Dick and Harry.
His first tour of duty in Vietnam was from June 1959 to the end of May 1960 as an intelligence analyst with a Special Forces team, Douglas said.
According to John Davis, of the Homeless Veterans Center in Spokane, Douglas was an inspiration for the Native American Veteran Healing Center and sweat lodge at the Spokane Veterans Affairs Medical Center.
Douglas served as chairman of the VA Native American Advisory Council and was a respected source of expertise on PTSD issues for Native American combat veterans.
He also conducted sacred ceremonies at veterans events and mentored graduate students from area colleges in the medicine ways of Native American culture.
"Glen Douglas has been an uncle, leader, brother and most of all a proud warrior," Davis said. "He will be with us always in spirit."
On May 20, 2004, then-U.S. Rep. George Nethercutt entered a tribute to Glen Douglas in the Congressional Record in recognition of "Douglas' sacrifice and service to our nation, which spanned twenty-two years and three wars, the first of which was World War II."
Local journalism is essential.
Give directly to The Spokesman-Review's Northwest Passages community forums series -- which helps to offset the costs of several reporter and editor positions at the newspaper -- by using the easy options below. Gifts processed in this system are not tax deductible, but are predominately used to help meet the local financial requirements needed to receive national matching-grant funds.
Subscribe now to get breaking news alerts in your email inbox
Get breaking news delivered to your inbox as it happens.
---