News > Idaho
Mussel fight still tenacious
Boats from fouled federal waters a threat
Sun., Nov. 6, 2011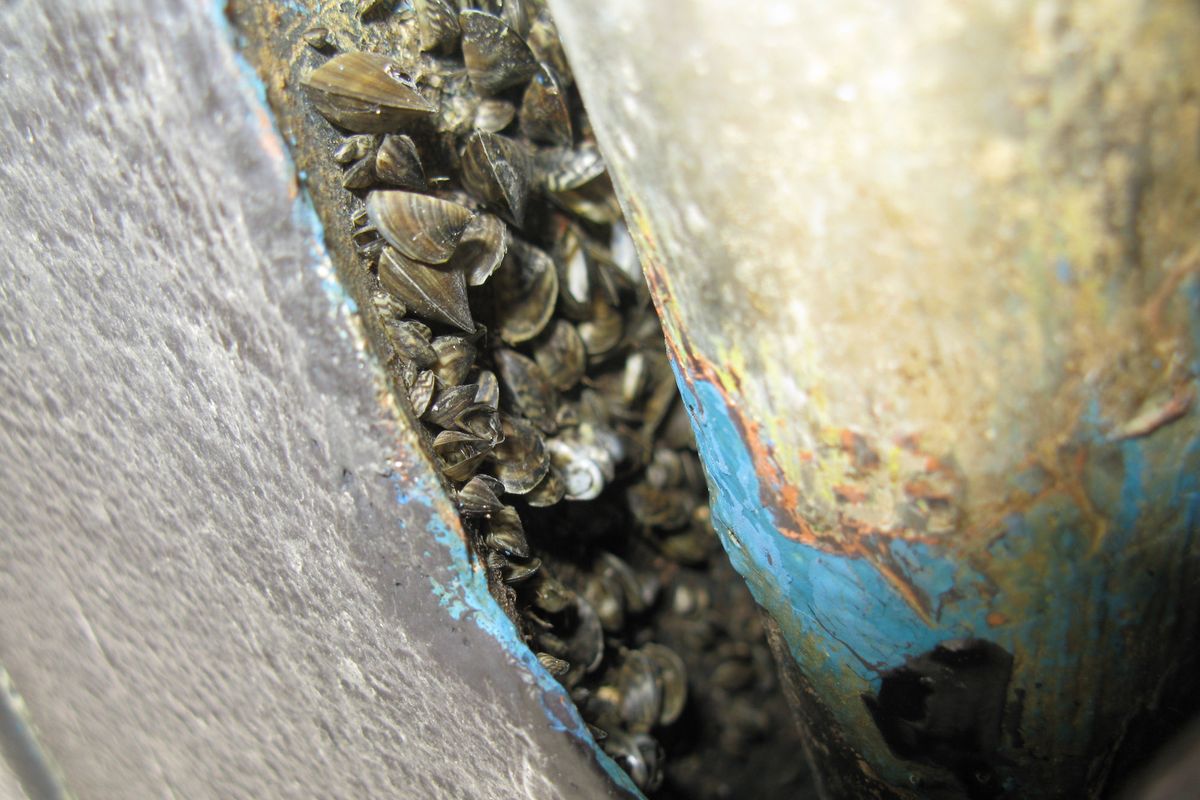 Invasive mussels clustered on this boat in the Great Lakes. It was stopped and cleaned in Washington.
BOISE – Tens of thousands of boat inspections later, Idaho and Washington have come through another boating season without getting invasive quagga or zebra mussels established in either state's waters – but there were plenty of close calls.
Idaho intercepted 24 mussel-contaminated boats entering the state, and Washington decontaminated 20. Most were coming from the heavily infested Great Lakes region; the rest came from federal waters in Arizona and Nevada.
That has officials in Washington and Idaho concerned.
"Mussel-fouled boats continue to leave infested waters without proper decontamination," Idaho Department of Agriculture Director Celia Gould said. "The federal government needs to do a better job of containing infestations in their waters and preventing the spread of these species to the Pacific Northwest states."
Lake Mead, Lake Havasu and other federal waters in the lower Colorado River system are contaminated with the tiny, invasive mussels that multiply so quickly they can encrust and ruin beaches, pipes, equipment and more.
Washington, Idaho, Utah, Wyoming and Montana all have sent letters in the past three years to the National Park Service, which runs the Lake Mead National Recreation Area, appealing for help.
The park service at Lake Mead is now sending notifications to invasive species programs when there are boats bound for their states. Idaho invasive species coordinator Amy Ferriter, however, said, "We inspected 65 boats from Lake Mead this season, and we only got a handful of notifications. So we're still working on it, but we could definitely use some help from down south."
John Wullschleger, fisheries program leader for the National Park Service, said he believes Lake Mead is the only contaminated water that's trying to decontaminate boats. "I'm aware that it's not always successful," he added.
Part of the problem is that "it's not clear what our authority is with boats that are leaving the park area," Wullschleger said. "We do have a lot of authority over boats coming in, but once they go, it's not real clear."
So the parks service has focused on concessionaires who operate marinas, asking them to distribute and collect inspection forms and pass them on to state officials. Working through concessionaires helps avoid privacy restrictions that bar federal officials from distributing such information.
"We hope to improve the system of inspecting and decontaminating boats, and we want to keep working with the states to make sure that they don't get spread to any other waters," Wullschleger said.
Representatives from the park service and other agencies joined those from states throughout the region last month for a meeting in California to work on the problems.
"We really look at the zebra and quagga mussel as a regional effort, and so we want to support and complement each other according to our strengths and weaknesses," said Allen Pleus, aquatic invasive species coordinator for the Washington Department of Fish and Wildlife. "That has been going extremely well."
Idaho inspected more than 47,000 boats this year at 15 check stations across the state; special boat sticker fees funded the $850,000 program. Washington, which has only random inspections but has strong decontamination programs, coordinated with Idaho and Oregon to route mussel-fouled boats to its decontamination facilities.
Of the 24 mussel-contaminated boats spotted at Idaho check stations, 15 were coming from east of the 100th meridian, where heavy infestations of mussels have fouled the Great Lakes region. Most of those were being commercially hauled on I-90 through Idaho, Ferriter said, and most had been winterized, so they'd been drained and dried and posed less risk to Idaho waters.
But nine of the mussel-contaminated boats were en route to Idaho from the lower Colorado, including four from Lake Mead, three from Lake Havasu and two from Lake Pleasant.
"One of the reasons we're really concerned with those boats that are coming from the lower Colorado is the proximity, because you can get from Lake Mead to Twin Falls in under nine hours, and it would take more than 30 hours to get from Lake Michigan to Coeur d'Alene," Ferriter said. Many boaters tend to winter down south, using their boats in infested waters there, then return to the Northwest for the summer and launch in places like Lake Coeur d'Alene, she said.
Pleus said, "It's a continuing discussion on how we can work together to prevent boaters from leaving infested waters without being decontaminated, and there are gaps that we would like to see filled with the federal agencies. Our colleagues in the federal agencies are equally concerned about it. We know that there are things that can be done, and we're all trying to work together to address those."
The good news: "To our knowledge, there are no established or known detections of zebra or quagga mussels in any Columbia River Basin locations, including British Columbia, Montana, Idaho, Oregon and Washington," Pleus said. "So we're the last great water basin without these species in the United States."
Local journalism is essential.
Give directly to The Spokesman-Review's Northwest Passages community forums series -- which helps to offset the costs of several reporter and editor positions at the newspaper -- by using the easy options below. Gifts processed in this system are not tax deductible, but are predominately used to help meet the local financial requirements needed to receive national matching-grant funds.
Subscribe now to get breaking news alerts in your email inbox
Get breaking news delivered to your inbox as it happens.
---