News > Pacific NW
Liquor initiative passes with widespread support
UPDATED: Tue., Nov. 8, 2011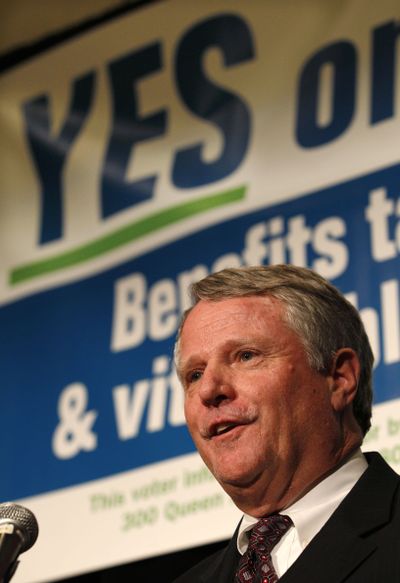 Washington voters have approved a plan to privatize liquor sales and dismantle controls that have been in place since Prohibition, siding with retailing giant Costco in the costliest initiative campaign in state history. Unofficial results Tuesday night showed the measure with 60 percent support in early returns. Costco Wholesale Corp. had committed $22 million to supporting the measure — $6 for every registered voter — as executives portrayed the Issaquah-based company as a crusader for consumers and said that it could take years to make up the investment in the initiative. Wholesalers provided much of the opposition funding, as retailers will now be able to bypass them and buy product directly from producers. The new rules go into effect in June, and about 1,000 people who currently operate the state's system will lose their jobs. Costco had backed another privatization measure that failed last year with 47 percent of the vote. Acknowledging that the 2010 proposal wasn't ideal, supporters returned this year with a plan that includes more revenue for state and local governments, as well as stricter controls on which stores can sell liquor. The measure will end Washington's state-run liquor system, which was formed in the 1930s in the aftermath of Prohibition, and allow stores larger than 10,000 square feet to sell liquor. Opponents pointed to an exemption in the law that could allow smaller stores to sell liquor if there are no other outlets in a trade area. Leading Democrats, including Gov. Chris Gregoire, opposed the measure because of concerns about the consequences of expanding access to liquor. It's not clear whether the measure will lead to lower liquor prices. That will depend on how much distributors and retailers mark up their prices, according to a state analysis. If distributors and retailers combine to mark up liquor by about 25 percent, that would put prices on par with current ones. The state projects that markups could be as high as 45 percent while initiative supporters believe that is unrealistic because of the competition the measure will create. The new rules allowing retailers to buy directly from distilleries could also push prices down. Initiative 1183 did have a broad coalition of support, drawing praise from restaurants, retailers, groceries and family wineries. Despite this, Costco was the primary funding source, with the next largest donors — Safeway and Trader Joe's — giving just $50,000. The spending was the largest ever from one donor in Washington, but it wasn't unprecedented in U.S. initiative campaigns: Last year, Pacific Gas & Electric spent $46 million in its failed bid to curb the expansion of public power cooperatives in California.
Local journalism is essential.
Give directly to The Spokesman-Review's Northwest Passages community forums series -- which helps to offset the costs of several reporter and editor positions at the newspaper -- by using the easy options below. Gifts processed in this system are not tax deductible, but are predominately used to help meet the local financial requirements needed to receive national matching-grant funds.
Subscribe to the Coronavirus newsletter
Get the day's latest Coronavirus news delivered to your inbox by subscribing to our newsletter.
---