News > Spokane
Prosecutors seek to punish 'heartless' crimes
Steele sentencing today for murder-for-hire plot
Wed., Nov. 9, 2011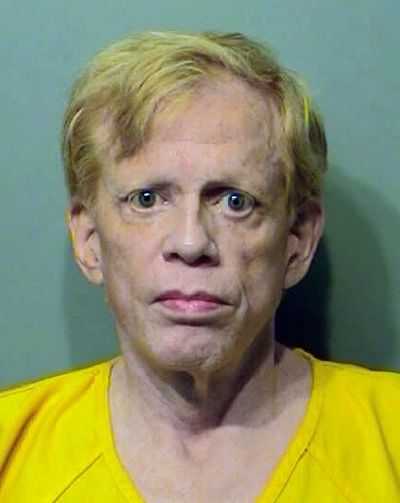 A former North Idaho attorney convicted of hiring a hit man to kill his wife faces 50 years in prison when he's sentenced today for what prosecutors call his "chillingly calculated" crimes.
Edgar J. Steele, 65, is to be sentenced at 9 a.m. by U.S. District Judge B. Lynn Winmill in Coeur d'Alene. A jury in Boise convicted him in May of four felonies for paying his handyman, Larry Fairfax, in silver to kill his wife and mother-in-law with a car bomb. Prosecutors said the motive was Steele's desire to spend time with a young Ukrainian woman he met online. He's been in jail since his arrest in June 2010.
 "To plan the murder of an innocent spouse is unthinkably heartless," federal prosecutors Marc Haws and Traci Whelan wrote in a sentencing recommendation in U.S. District Court. "To manipulate a financially desperate neighbor to commit the murder with a violent car bomb explosion is depraved."
Prosecutors compared Steele, a former lawyer for Aryan Nations founder Richard Butler and the self-described "attorney for the damned," to  Raskolnikov, the main character in Fyodor Dostoyevsky's novel "Crime and Punishment."
"In his plotting, Edgar Steele seems modeled on Raskolnikov: too far above the law, and too smart to get caught," prosecutors wrote.
Steele's new lawyer, Wesley Hoyt, did not return a phone call seeking comment.
Steele's lawyer at trial, Robert McAllister, was disbarred in Colorado shortly after the verdict for ethical violations unrelated to Steele's case, including misusing client money. In a motion for a new trial, McAllister has said he was ineffective as Steele's counsel because he was distracted by his pending disbarment. Winmill denied the motion on Tuesday.
Steele's wife, Cyndi Steele, believes he is innocent and a victim of a government conspiracy to silence him because of his views on politics and race. Steele recently resigned his law license in Idaho in lieu of discipline, according to the Idaho State Bar Association. His law license is suspended in Washington pending further proceedings.
Steele's case began when Fairfax approached FBI agents about the plot, then secretly taped discussions with Steele in recordings Steele's supporters say were manufactured by the federal government. Fairfax was arrested after auto shop workers found a bomb under Cyndi Steele's car during an oil change after her husband's arrest. Fairfax affixed it there but said he didn't tell FBI agents because it was rigged not to work and was no longer attached to the vehicle. Testimony at Steele's trial showed otherwise. Fairfax was sentenced in May to 27 months in prison.
The minimum sentence for each of Steele's convictions – use of interstate commerce facilities in the commission of murder for hire, use of explosive materials to commit a federal felony, possession of a destructive device in relation to a crime of violence and tampering with a victim – is 40 years.
But prosecutors say such a sentence "would not adequately reflect the totality of the defendant's actions in plotting to kill his wife, commissioning pipe bombs and obstructing or tampering with a witness into consideration; it would punish him only for the use of an explosive or destructive device."
In their sentencing recommendation, prosecutors include several quotes from Steele's recording with Fairfax prior to his arrest, including a statement about the need for Fairfax to make sure Cyndi Steele dies because he doesn't want to take care of a paraplegic.
"These few, chilling words from Steele's own heart, mind and mouth establish the outrageous circumstances of his offenses," prosecutors wrote.
Steele had no previous criminal record and was a longtime attorney handling civil cases. Steele has said his ideologies and defense of racists like Butler motivated his prosecution, but prosecutors say "nothing could be further from the truth."
"His ideologies were no reason to bring this case, and his ideologies were no dissuasion from bringing this case," prosecutors wrote. "Incarceration is warranted in this case, not because of what Edgar Steele's ideologies are, nor because of who Edgar Steele is, but because of what he did to commit these crimes."
Local journalism is essential.
Give directly to The Spokesman-Review's Northwest Passages community forums series -- which helps to offset the costs of several reporter and editor positions at the newspaper -- by using the easy options below. Gifts processed in this system are not tax deductible, but are predominately used to help meet the local financial requirements needed to receive national matching-grant funds.
Subscribe to the Coronavirus newsletter
Get the day's latest Coronavirus news delivered to your inbox by subscribing to our newsletter.
---
Subscribe and log in to the Spokesman-Review to read and comment on this story