Sports
With Klay Thompson, DeAngelo Casto gone, Cougars will rely on team concept
Thu., Nov. 10, 2011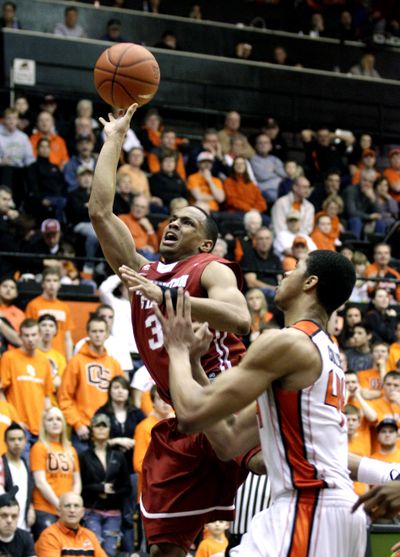 PULLMAN – It's seems as if it's all in the numbers.
Start with the statistical subtractions (minus 1,128 points, 403 rebounds, 2,119 minutes) from last season's two junior stars, Klay Thompson and DeAngelo Casto. Both left WSU a year early, Thompson for the NBA draft and Casto for pro ball in Turkey.
Add in the percentages of team totals (44.2, 36.8, 29.8, respectively) to last season's records (22-13 overall and 9-9 in conference play) and what do you have?
Simple. It equates to this year's Washington State Cougar men's basketball team. And it seems like it adds up to a challenging year.
But coach Ken Bone wants to introduce a multiplication factor. Call it the team coefficient.
"We are definitely a team and that's great," Bone said, "because if we're going to have success we need to play as a team on both ends of the court.
"We don't have that shot blocker sitting back there in DeAngelo, like he was the last few years. … We don't have a Klay Thompson. … So we really need to be a team in every aspect."
That team begins with three returning starters: point guard Reggie Moore, power forward Abe Lodwick and wing Marcus Capers. The three combined to average just 18.4 points a game last year, less than Thompson himself.
But that number is a bit misleading, especially in Moore's case.
The junior from Seattle averaged 12.7 points and 4.2 assists as a freshman, but started last season with a broken wrist, suffered through a suspension due to a marijuana citation and never really got going.
"As a freshman, he was relentless, attacking the rim continually," said Bone of Moore, who came into the season having subtracted a couple pounds. "And last year, he rarely did that. We're now seeing that out of Reggie almost daily."
Lodwick and Capers, both captains for a second consecutive year, are more of role players, contributing intensity, rebounding effort, defense and an occasional bucket.
But it's the two newest starters who are expected to carry the scoring load.
Junior Brock Motum returned from a summer in Australia with about 15 pounds of muscle and more post moves. He'll step into the lineup expecting to improve on his 7.6 points and 3 rebounds a game from last season.
"(He's) one of our big kids who is a go-to guy when it comes time to score," Bone said.
The other weapon is Faisal Aden, the former junior college star who had an up-and-down first year at WSU, averaging 12.7 points on 42 percent shooting. He'll step into Thompson's wing spot.
There is also a trio of newcomers who should play often.
Junior wing Mike Ladd transferred last season from Fresno State, where he averaged 10.3 points as a sophomore. After adding energy to each practice last season, Ladd earned his teammates trust, being voted a captain this season.
Junior college transfer D.J. Shelton is still developing, according to Bone, but at 6-10 and 240 pounds, will have to contribute inside.
But the newcomer that has Bone the most excited is freshman DaVonté Lacy, a 6-3 guard from Curtis High in Tacoma.
"DaVonté is going to be a good player here at WSU," Bone said. "He's strong physically, tough mentally. He has a really good feel for the game for a freshman.
"He's going to be able to contribute right away."
Local journalism is essential.
Give directly to The Spokesman-Review's Northwest Passages community forums series -- which helps to offset the costs of several reporter and editor positions at the newspaper -- by using the easy options below. Gifts processed in this system are not tax deductible, but are predominately used to help meet the local financial requirements needed to receive national matching-grant funds.
Subscribe to the sports newsletter
Get the day's top sports headlines and breaking news delivered to your inbox by subscribing here.
---