News > Idaho
Kootenai County decides to sue over redistricting
Tue., Nov. 15, 2011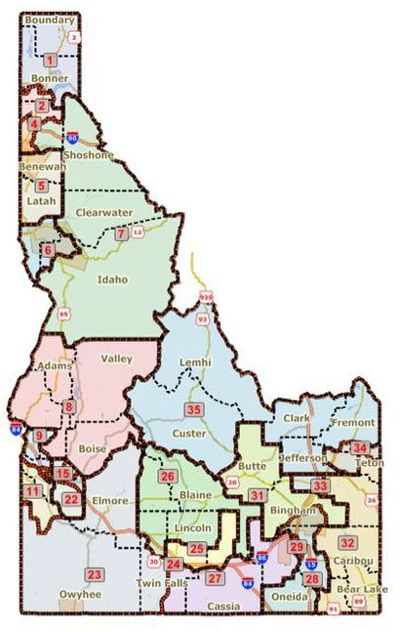 Kootenai County commissioners have decided to sue over Idaho's proposed new legislative district plan, saying they object to a proposed large new district that would take in a 5,000-person chunk of the county and pair it with others to the south and east. "We just didn't think that was right," said Commission Chairman Todd Tondee. "Our county can be kept whole, and we would like it to be kept whole for our citizens." The commissioners voted unanimously today to join in a legal challenge already being prepared by Twin Falls County, which also objects to the way its county is split between districts in the plan. Twin Falls County Prosecutor Grant Loebs said he plans to file the challenge in the Idaho Supreme Court on Wednesday. "There'll be several more entities" joining in the case, Loebs said, including the cities of Twin Falls and Filer. "There are several other counties that we're working with that haven't formally called me back yet today to tell me I can say anything publicly." Loebs said he thinks the new legislative district plan is unconstitutional because it splits counties for reasons other than preserving the U.S. Constitution's one-person, one-vote rule. His county is split into three different districts, in part because Idaho's redistricting commission kept its largest city, Twin Falls, together in a single district, an effort it made for communities around the state. "The Constitution doesn't mention cities at all," Loebs told The Spokesman-Review. "They say, 'Well, we had to cut Twin Falls County into three districts because Twin Falls city is a community of interest, and we wanted to keep Twin Falls city as a whole and split the rest of the county to the four winds.'" Loebs said he doesn't expect the legal challenge to cost his county anything, "because I'm a county employee and I get paid the same whether I prosecute a felony in trial or do civil work for the commissioners or file a lawsuit on behalf of the county." Plus, he said, "It's an enormous issue for the residents of this county, and so worth it in any case." Tondee said Kootenai County is hopeful that joining Twin Falls County's challenge will keep costs down. "In Kootenai County we're unique, we can have three districts in our county and that meets the minimums and maximums of the Constitution and stuff, one voice, one vote," Tondee said. "We have enough population that we can have three districts and we don't have to be split." The plan combines a piece of Kootenai County with all of Shoshone, Clearwater and Idaho counties into a new District 7. Loebs said Twin Falls County has enough population for one and two-thirds legislative districts, but instead is split into three. Idaho's new redistricting plan divides 11 of Idaho's 44 counties; all the rest are kept intact.
Local journalism is essential.
Give directly to The Spokesman-Review's Northwest Passages community forums series -- which helps to offset the costs of several reporter and editor positions at the newspaper -- by using the easy options below. Gifts processed in this system are not tax deductible, but are predominately used to help meet the local financial requirements needed to receive national matching-grant funds.
Subscribe to the Coronavirus newsletter
Get the day's latest Coronavirus news delivered to your inbox by subscribing to our newsletter.
---
Subscribe and log in to the Spokesman-Review to read and comment on this story