Sports
Huskies put Cougs in early hole, take Apple Cup victory
Sun., Nov. 27, 2011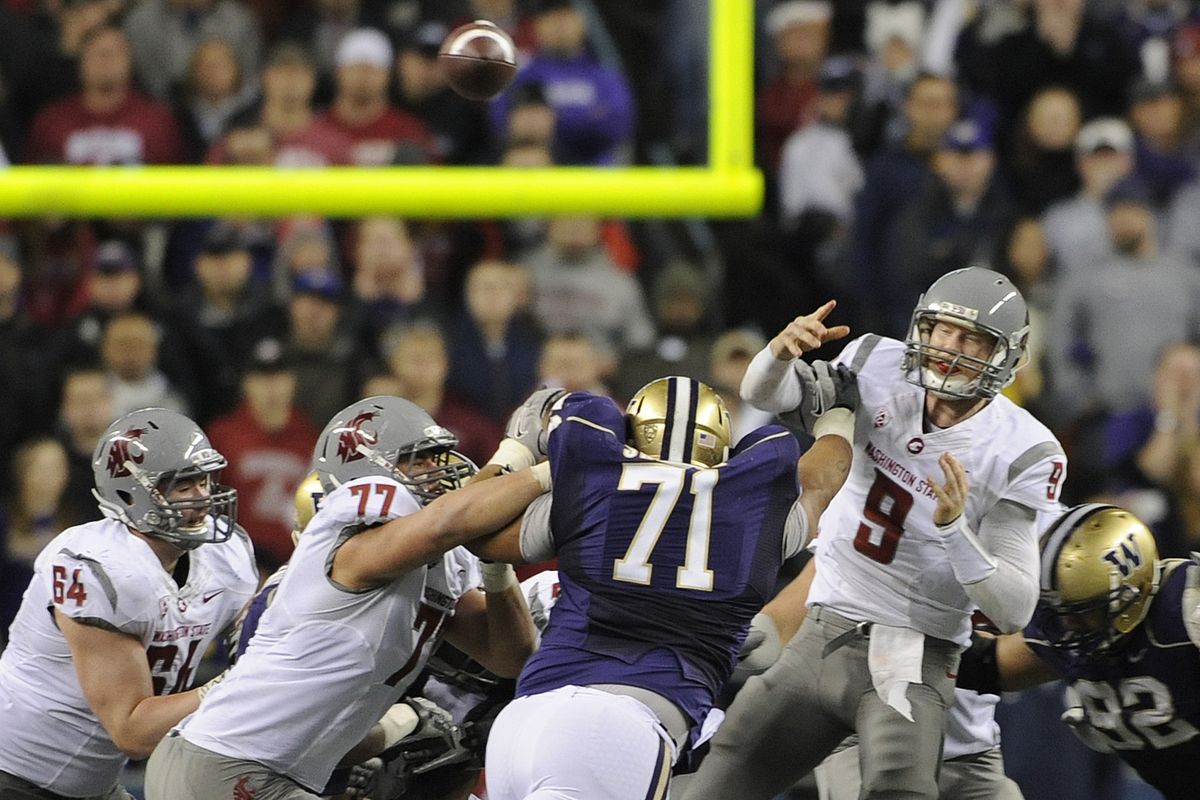 WSU's offensive line is unable to stop UW's Danny Shelton (71) as he hits the arm of quarterback Marshall Lobbestael and deflects a pass. (Christopher Anderson)
SEATTLE – The start couldn't have been much worse. And the finish wasn't much better.
Add it up and Washington State had lost its third consecutive Apple Cup, falling 38-21 to Washington on Saturday at CenturyLink Field.
In a game Paul Wulff may have needed to win to ensure finishing out the fifth and final year of his contract, the Cougars fell behind 7-0 less than four minutes in.
And the script was something they had seen before.
Washington backup linebacker Thomas Tutogi burst up the middle, got his right hand on Dan Wagner's punt and it flew high into the air. It settled in running back Jesse Callier's hands at the 2-yard-line and he walked in.
"It was big mistake," Wulff said. "We had somebody not block it correctly. (It) put us in a hole and it just can't happen."
But it did for the second time this year, the first at Oregon in a 43-28 defeat. Add in an opening kickoff return for a score in the Arizona State game and WSU has some experience in slow starts.
"It's nothing new to us," said senior guard B.J. Guerra. "We don't expect it to happen, but we are ready when it does."
The blocked punt was just part of Washington State's early troubles. With the 64,559 in full throat, the WSU offense sputtered.
"The crowd noise bothered us a bit," Wulff said, "but we settled down."
But that wouldn't be until the second quarter, after the offense had three penalties and a fumble by Rickey Galvin – when the Cougars had a first-and-10 at the Huskies' 23.
By then it was 14-0, as UW found other ways to move the ball when the Cougars shut down leading rusher Chris Polk, who had 284 yards in last year's Apple Cup.
The main alternative was Keith Price's arm, with the sophomore completing 21 of 29 passes for 291 yards and three touchdowns.
His best throw may have been his first touchdown, a 16-yard strike to Kasen Williams, who was covered tightly by Nolan Washington.
"I was on him, but I have to get my head around and that would have been a pick," Washington said.
The Cougars picked that spot to finally start moving the ball, with Marshall Lobbestael, pressed into starting duty with WSU's two other starters – Jeff Tuel and Connor Halliday – injured, keying an 80-yard drive with four completions of more than 12 yards.
The last one was a 16-yard bullet to Jared Karstetter that cut the lead in half. Five minutes later it was tied, with Lobbestael connecting with Marquess Wilson for a 16-yard score.
"We settled down and our quarterback made some plays," is how Wulff explained the second-quarter turnaround, adding that Lobbestael was up and down while throwing for 344 yards on 29-of-42 passing.
But, as has been the case before in WSU's 4-8 season (2-7 in Pac-12 play), the Cougars gave up a decent kickoff return near the end of the half and the Huskies responded.
A pass to Williams on the right side went for 17 yards when the freshman hurdled Washington. The next Price throw was also to Williams for a 21-yard touchdown and a 21-14 halftime lead.
"We can't let them score right before halftime and let them get some momentum," Wulff said.
But they did. And when Polk, who finished with 100 yards rushing with 34 of them coming on a late draw play, got behind the Cougar defense for a 22-yard touchdown pass late in the third quarter, it looked bleak for WSU.
The Cougars answered in a little more than a minute, the touchdown coming when WSU caught the Huskies (7-5, 5-4) in a blitz and Wilson raced down the right sideline with a screen pass – tackle Dan Spitz clearing out the safety – for 38 yards.
"If you can get the ball over the blitz, it's got a chance to go," Lobbestael said.
But that was the last hurrah for WSU's offense. From that point, the Cougars picked up just four first downs in the final 20 minutes.
The Cougars even tried a trick play they had practiced all season but had not used in a game, with Carl Winston throwing the ball back to Lobbestael for a double pass.
The play backfired though when Lobbestael's pass floated toward Wilson – not the primary target – and Desmond Trufant tipped it to Sean Parker for an interception.
"We had a receiver (Kristoff Williams) who fell down, and it seemed he would have been open," Wulff said.
The Huskies took the turnover and went 69 yards in eight plays. Polk put a nail in the Cougars' season with a 1-yard run.
"It just came down to certain players making plays," Washington said.
"We didn't make enough to win today."
Local journalism is essential.
Give directly to The Spokesman-Review's Northwest Passages community forums series -- which helps to offset the costs of several reporter and editor positions at the newspaper -- by using the easy options below. Gifts processed in this system are not tax deductible, but are predominately used to help meet the local financial requirements needed to receive national matching-grant funds.
Subscribe to the sports newsletter
Get the day's top sports headlines and breaking news delivered to your inbox by subscribing here.
---