News > Spokane
Spokane protesters urge 'balanced approach' to solving state budget woes
Wed., Nov. 30, 2011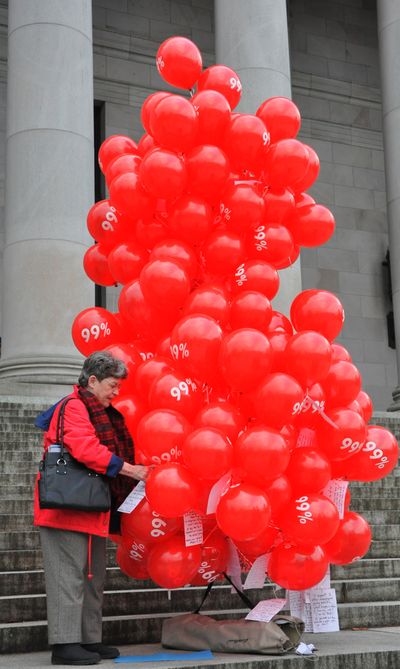 OLYMPIA – Spokane-area residents joined other demonstrators Tuesday in urging the Legislature to close a projected $1.4 billion budget shortfall with a "balanced approach" that includes tax increases as well as program cuts.
"We've already had tons of cuts. What we need now is revenue," said Amanda Hunt, one of 19 area residents who lobbied legislators who have districts that include parts of Spokane County.
Legislators, meanwhile, moved through the process of considering a supplemental budget from Gov. Chris Gregoire that would close the gap, and provide some reserves, solely through program cuts, then give voters a chance to restore some of those programs with a half-cent sales tax.
The normally slow budget process was slowed even more by members of the occupy movement that commandeered the hearing of the Senate Ways and Means Committee where Gregoire's budget bill was being formally introduced.
Several protesters were ushered out by state troopers and at least two were carried out when they refused to stop interrupting the description of that proposal by Office of Financial Management Director Marty Brown. The Washington State Patrol said 11 protesters were arrested Tuesday at the Capitol, the second day of protests during the special session.
The proposed budget being considered would close some state-backed health insurance programs for low-income residents, shorten the school year, reduce levy equalization payments to some school districts and eliminate it for others and cut liquor tax money the state currently shares with cities and counties. If voters approve a half-cent sales tax in a special election next spring, some education, health and public safety programs would be restored.
Spokane protesters said they believe the sales tax is regressive because it affects the poor more than the rich. But they also said they could support the proposed increase under certain conditions to restore programs.
"Cuts are more regressive than a sales tax increase," Shar Lichty said.
While some felt they'd made some impression on area legislators with their grass-roots lobbying effort, Devin Prewett, an activist who helps organize groups through the Internet, was more skeptical.
"We've had generations of people talking to their politicians and trying to make change. … If it worked, we wouldn't be in this situation."
At the Senate Ways and Means Committee, members of the occupy movement brought the hearing to a halt by using what they call a "mike check" in which one person says a phrase or a sentence, and others repeat it. When Chairman Ed Murray, D-Seattle, asked them to wait their turn and respect the process, some protesters demanded the committee respect their process.
When Murray tried to talk over the protesters' dialogues and restart the meeting, one complained that his use of a microphone was "undemocratic."
Eventually the protesters who refused to stop talking were cleared from the room, but the committee stayed, as promised, to listen to their concerns after hearing testimony on an emergency bill to save the Wenatchee Public Facilities District from default.
One person who finally managed to address the budget cuts was Ned Hammar, a family practice doctor at the Okanogan Community Health Center. The proposed cuts would be "devastating" to the center, which serves about 10,000 people from the surrounding counties.
Most of them would be without insurance if the state ends its health insurance programs, he said.
"We're sacrificing our future," Hammar said. "We're giving up on a generation of our kids."
Local journalism is essential.
Give directly to The Spokesman-Review's Northwest Passages community forums series -- which helps to offset the costs of several reporter and editor positions at the newspaper -- by using the easy options below. Gifts processed in this system are not tax deductible, but are predominately used to help meet the local financial requirements needed to receive national matching-grant funds.
Subscribe now to get breaking news alerts in your email inbox
Get breaking news delivered to your inbox as it happens.
---