Sports
Stanford defeats Tuel and WSU 44-14
Oct. 15, 2011 Updated Sat., Oct. 15, 2011 at 10:09 p.m.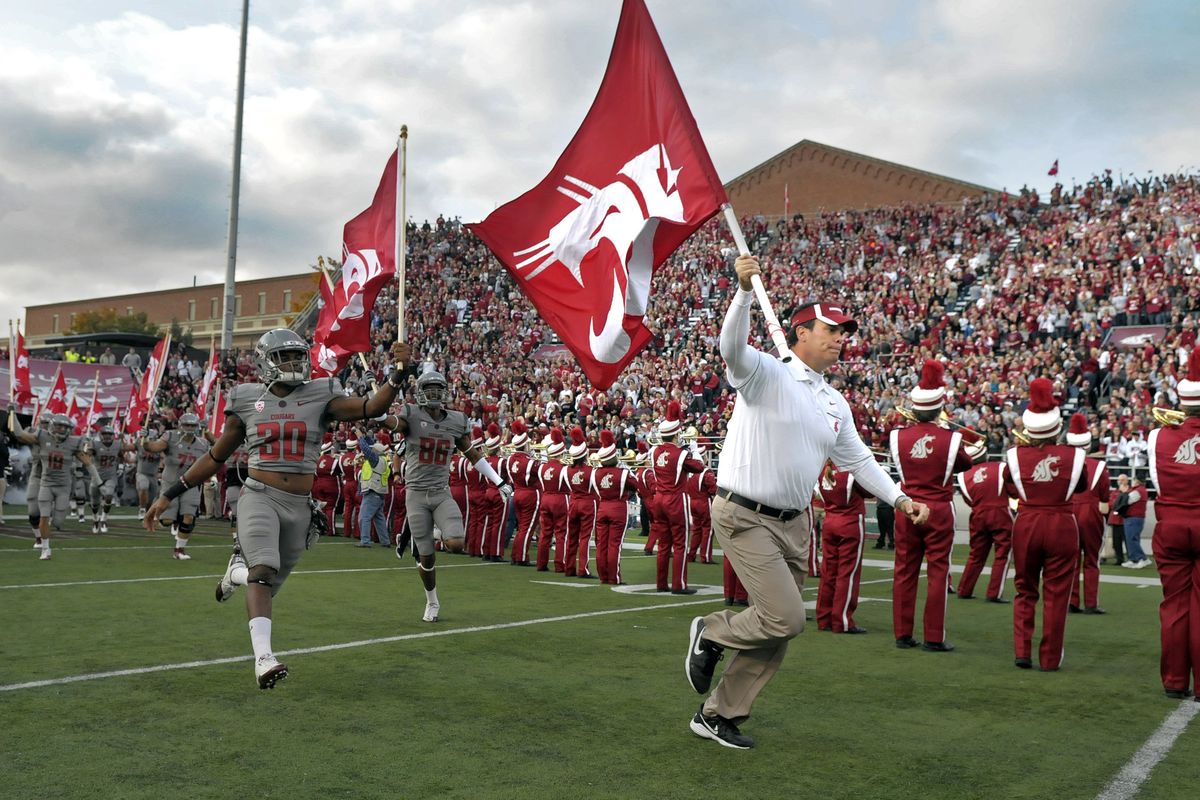 WSU Head Coach Paul Wulff leads his flag carrying players into Martin Stadium in Pullman for their game against Stanford, Oct. 15, 2011. (Christopher Anderson / Spokesman-Review)
PULLMAN – As the Washington State Cougars left Martin Stadium at halftime Saturday during their showdown with Stanford, the student section stood and roared. The Cougars were right in the game with the seventh-ranked Cardinal, trailing by three, sure, but still with hope of pulling the upset. Then the second half happened. And Andrew Luck got hot. WSU, with Jeff Tuel starting at quarterback for the first time this year, did not. The result was 28 unanswered points and a 44-14 Stanford win, the Cardinal's school-record 14th consecutive victory. "We were all pumped to go out again," defensive tackle Anthony Laurenzi said of the locker room at intermission. "We didn't want to go in for the halftime, we still wanted to keep playing." Why not? Though Stanford led 10-7, the Cougars had opened the game with a Damante Horton interception of Luck – only his second this season – and set up a late second-quarter touchdown drive with a fumble recovery in Stanford territory, Carl Winston powering in from 2 yards out. The Cardinal (6-0 overall, 4-0 in Pac-12 play) had just 165 yards of total offense, only one long drive – it ended in a field goal as WSU stiffened inside its 10-yard-line – and their only touchdown came after a Jared Karstetter fumble gave them the ball at WSU's 20. But Stanford was used to this. Four teams this year have been with 10 points at the half. Then the bigger, stronger Cardinal wear you down. "We faced a physical football team, as physical as you're going to find in the West, without question," Cougar coach Paul Wulff said. "In a lot of ways, I think we matched up for a while. We just got worn down." Especially on defense, in part because it never seemed to be off the field. Stanford ran 34 plays in the second half, eight of them on third down. They converted seven of those third downs and scored on four of five possessions – all of them Luck passes, two to tight end Levine Toilolo, one to running back Stepfan Taylor and one to tight end Coby Fleener. The junior Heisman Trophy candidate finished 23 of 26 for 336 yards. "There were a handful of third-down plays we could have gotten off the field on, then we wouldn't have had to play those extra plays," said defensive coordinator Chris Ball. Or if the offense could have moved the ball. "Defensively, I feel like we did well," Laurenzi said. "Our offense just wasn't there to help us out." As it has most of the season. Coming into the game, WSU was seventh in the nation in passing, 13th in total offense, 13th in scoring. Against a Stanford defense that leads the Pac-12 in almost every key category, the Cougars (3-3, 1-2) finished 141 yards under their passing average, 235 under in total offense and about 26 in scoring. "As the game wore on, the offense couldn't convert enough first downs and get enough drives going," Wulff said, attributing part of that to WSU's execution, part of it to Stanford's defense. But he wasn't about to second-guess the change of quarterbacks – from Marshall Lobbestael to Jeff Tuel – this week after Tuel completed 17 of 30 passes for just 145 yards. "Jeff was rusty, like we thought, missed some protections that could have been changed," Wulff said. "But he didn't have a lot of help this game." Wulff was referring to the six dropped passes from WSU's receivers, but he also could have been talking about the pass protection – Stanford had six sacks – or the impotent running game – the Cougars had 48 yards on 28 rushes. The WSU offense had one long drive against Stanford's reserves and it came under Lobbestael, who was 7 of 8 passing for 64 yards and bootlegged a 1-yard scoring run. "We knew there were going to be some issues," Wulff said of starting Tuel. "The last time (Tuel) saw live bullets was Idaho State and the only way you're going to grow is by playing. You've got to play through it to get him back. "I'm very confident he'll respond." For his part Tuel, who suffered a fractured clavicle against ISU on Sept. 3, said he was 100 percent. He just didn't play as well as he needed to. "There's not much room for error with a ballclub like that," he said. "They did a great job of bringing the heat and having answers for what we were doing." Especially after halftime. The difference? "It's a combination of us not playing up to our ability and us not catching a break," said Stanford coach David Shaw, who also lamented the two turnovers. "We worked hard, but we didn't work very smart." The second half they did both. And left the Cougars reeling. "It's probably worse than playing bad the entire game," safety Deone Bucannon said. "Where our team is, (it showed in) the first half. That's us. That's Cougar defense. For it to fully change in the second half, it's like 'What happened?'"
Local journalism is essential.
Give directly to The Spokesman-Review's Northwest Passages community forums series -- which helps to offset the costs of several reporter and editor positions at the newspaper -- by using the easy options below. Gifts processed in this system are not tax deductible, but are predominately used to help meet the local financial requirements needed to receive national matching-grant funds.
Subscribe to the sports newsletter
Get the day's top sports headlines and breaking news delivered to your inbox by subscribing here.
---