News > Spokane
Mayor's race highlights water, police choices
Verner, challenger use her office record to make case for, against 2nd term
Sun., Oct. 16, 2011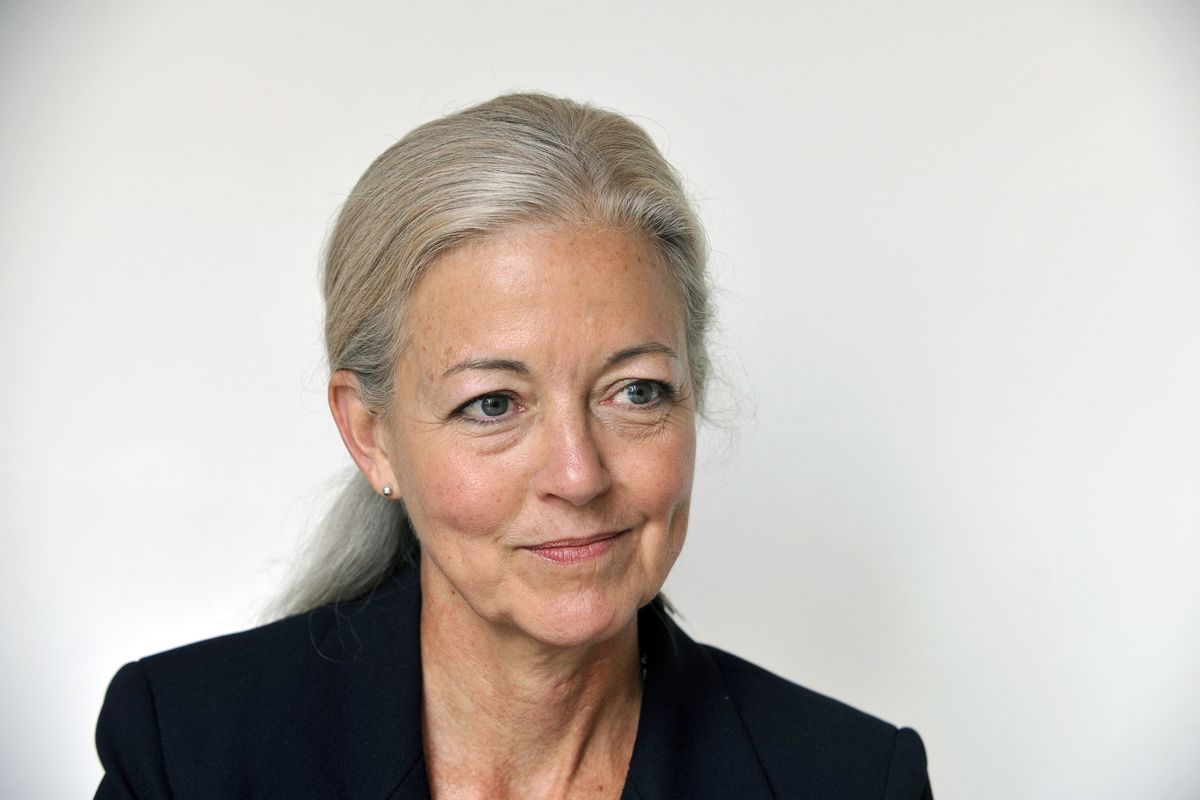 Verner
If the results of the August primary are any sign, Spokane voters liked what they saw from Mary Verner during her first 45 months in office.
Characterizing herself as even-keel in turbulent times, she nearly doubled the vote total of second-place finisher David Condon, a former congressional aide to Republican U.S. Rep. Cathy McMorris Rodgers. 
Since that landslide win, however, Verner has been forced on the defensive – not only by her opponent but also by those seeking answers about the city's handling of the legal cases surrounding Otto Zehm, a Spokane man who died after a police confrontation in 2006, and by water customers angry over their summer bills.
Verner doesn't deny that the past two months have been tough.
"Any candidate would not have chosen to have some of the issues arise in the final stretch of the campaign that I have dealt with as a candidate and an incumbent," Verner said. "I have the skill set to respond to issues as they arise, and I won't artificially change my agenda based on the campaign and the election that's coming up in November."
Condon already had made the double-digit utility rate increases a signature of his campaign before the primary – before major water users got their big summer bills. Since the election, Condon also has focused on Verner's and city attorneys' handling of the Zehm case. He says it offers more proof that Verner has allowed administrators to make important decisions she should have made.
"It's a question of leadership," Condon said at a debate in late September. "The mayor has to be in charge and not let the departments have their own way and set their own agenda."
General fund, employment falling
Verner already is Spokane's longest-serving strong mayor since voters implemented the system more than a decade ago. If she wins re-election, she would be the first Spokane mayor to do so in 38 years.
She has won praise even from her critics for following through on her promise to be more collaborative than her predecessors.  Some of those critics, however, say that it can be hard to pin down her position and that she yields too much power to deputies or the City Council.
Her main accomplishment has been avoiding city layoffs. She did that by persuading the City Council to back a combination of expanded utility taxes and fee increases, by tapping reserve funds and by persuading unions to accept contract concessions. She also achieved the annexation of 10 square miles of the West Plains.
The city workforce is about 60 full-time jobs smaller than it was two years ago, but it's nearly the same size as when she took office in late 2007. In 2007, the city budgeted for 2,090 workers. This year, that number is 2,112, including 12 firefighters hired to serve the city's new West Plains fire station set to open next year.
The city's general fund, which pays for police, fire, library, parks and other non-utility services, shrank from 2010 to 2011. This year's fund is only about 4 percent bigger than 2008's, the last budget crafted largely by former Mayor Dennis Hession.
Zehm case
Verner's low point may have come late last month after federal prosecutors filed a document in federal court saying the city had released "patently false" information at a news conference. Verner held the conference to defend the city's handling of the Zehm case.
The key question that remains unanswered is why the city in 2009 filed a response to a lawsuit from the Zehm family claiming that there was no evidence police had done anything wrong – even though the interim chief at the time of the encounter already had come to a different conclusion. 
Verner has promised an independent review after the criminal trial and civil litigation are complete. Providing many details of the case, especially before the end of the criminal trial of the first responding police officer, would "interfere with the execution of justice," she said.
She admits that her administration could have handled the case better, at least in its communication with the public. But she says she's "confident that we were within the bounds of the law."
"The truth will come out in litigation. Some of that truth may reflect negatively on the city. It may reflect negatively on past actions, it may reflect negatively on me and my administration. I'll take my lumps," she said.
"I don't think I've handled it perfectly. I don't think I've botched it," Verner said. "I just think it's been a very painful thing for our entire community to go through."
Condon has offered a rebuke of Verner's handling of the case and has said Assistant City Attorney Rocky Treppiedi should be "dismissed immediately."
"As mayor, Mayor Verner has wasted taxpayer money and slowed the course of justice by her defense of the city bureaucracy and the mismanagement of this case," Condon said in a statement released by his campaign.
Verner has the official backing of the Democratic Party, but the city's handling of the case has eroded her base of support.
Tom Keefe, a former chairman of the Spokane County Democratic Party, has endorsed Condon. Keefe said he had decided long ago not to vote for Verner based on her failure to achieve stronger police oversight. He decided to speak out after Verner declined to take questions at a news conference about Zehm while handing out information that was incorrect. 
"Leadership is not gamesmanship. Leadership is standing up and saying the truth," Keefe said. "You can't have a significant portion of your community living in fear of your police department."
After a recent City Council meeting, many supporters of stronger police oversight said that they normally would be inclined to vote for Verner but that they were unsure if they would based on what they see as Verner's timid support for a stronger police ombudsman.
"She's been a very good mayor in so many ways, but this one issue has been a huge albatross around her neck," Spokane activist and retired social worker Marianne Torres said.
Verner argues that the quickest way to attain independent investigative power for the police ombudsman is to win the right through negotiations with the Spokane Police Guild. That's the same sentiment that's been expressed by Condon on the campaign trail.
Spokane developer Ron Wells, who often contributes to Democratic causes, says while the Zehm matter may "raise eyebrows," he believes Verner has been a strong leader for Spokane.
"I have not noticed an erosion of support for her in Democratic circles," he said.
Water rates sparked anger
The numbers back up Verner's claim that she adheres to a steady course, even in an election year. A chart of city utility rates over the past decade shows a clear unwillingness of incumbent mayors to propose rate increases during election years. Verner not only backed increases; she proposed a 13 percent rise in sewer fees and a hike of about 7 percent for water.
Verner says leaders for too long have delayed the increases needed to keep systems in working order and to pay for state-mandated upgrades to improve sewage treatment and keep raw sewage out of the Spokane River.
Condon says he doesn't support rate increases, noting that most water and sewer workers will get 5 percent pay raises this year. He's also critical of environmental programs as part of what he calls Verner's "sustainability agenda," such as subsidies offered for low-flow toilets and sprinkler systems and funding that will supplement the city's urban forestry department.
Verner says Condon neglects to note that workers took concessions on benefits that are saving taxpayers money. She adds that environmental programs, such as ones that provide stipends for low-flow toilets, are minuscule compared with the infrastructure demands of keeping pipes in working order and upgrading sewage treatment.
Where Verner has faced the most anger on rates is the redesign of the city's water rates. That process was led by the City Council, but Verner signed the ordinance in May 2010.
As a result, about 60 percent of water users will have lower bills, at least over the course of 2011. Many big water users, however, will pay more. Less than 1 percent could see their water bills over the course of the year double.
The issue didn't appear to be too much of a concern until the past couple of months, when water customers received their summer water bills.
Late last month, Verner announced that she would float a new water rate structure.
"The actual effect of when people did start to use water in the summer has been far worse than what I or our customers, certainly, anticipated," Verner said. "So I have a responsibility to step up and say, 'It's not working.' "
She said she responded similarly to criticism in her first winter in office, after the city slowed to a standstill because of a snowstorm. The next winter Spokane saw the most snow since records were kept, but the city had revamped its response plans and received much less criticism.
Last month Verner declined to sign a water rate increase for next year that would have increased base rates by about 2 percent and 16 percent for water consumption. The law will still go into effect on Jan. 1 because she didn't veto it. The only thing that could stop it is if she persuades the council to approve something different.
Condon argues that if Verner didn't support the water rates she should have vetoed them.
"Taken together this is a big hit on the citizens of Spokane. I think we need a city government that is focused, sets priorities and lives within its means," Condon said at a recent debate. "The mayor can't do everything. My priorities will be to make sure City Hall gets back and works for you."
Local journalism is essential.
Give directly to The Spokesman-Review's Northwest Passages community forums series -- which helps to offset the costs of several reporter and editor positions at the newspaper -- by using the easy options below. Gifts processed in this system are not tax deductible, but are predominately used to help meet the local financial requirements needed to receive national matching-grant funds.
Subscribe now to get breaking news alerts in your email inbox
Get breaking news delivered to your inbox as it happens.
---