Sports
First Look: Oregon State vs. WSU in Seattle
Mon., Oct. 17, 2011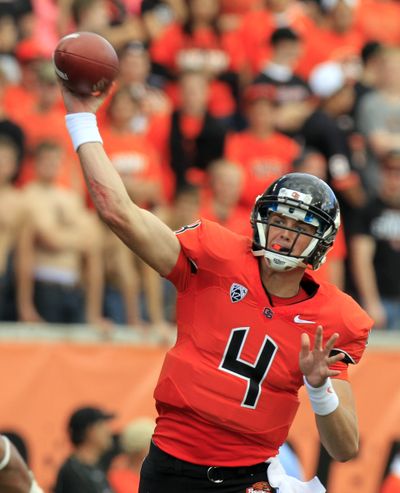 Time: 7:30 p.m. Saturday, CenturyLink Field, Seattle TV: Root Records: WSU (3-3, 1-2 in Pac-12); Oregon State (1-5, 1-2) Last week: WSU lost to Stanford, 44-14; Oregon State lost to BYU, 48-7 Last time: WSU defeated Oregon State at Corvallis, 31-14, in 2010 The line: WSU by 3
What it means for WSU
With six games left and having to win three of those to stay in the running for a bowl game, the Cougars can't afford a stumble against a team they should defeat. Thanks to their injuries and last year's WSU upset, the beat-up Beavers are in that should category, as opposed to the could category San Diego State, Colorado and UCLA occupied on the schedule. Also, a big crowd is a must, as athletic director Bill Moos has shown the Seattle fans how important they are by moving a Pac-12 home game to CenturyLink.
What it means for Oregon State
The Beavers are about to drown under the weight of a tough nonconference schedule, injuries to key players, a quarterback change that bordered on becoming a fiasco and the early defection to the NFL of star running back Jacquizz Rodgers. Add it all up and OSU is off to its worst start in 15 years. The way the Pac-12 schedule is set up, there aren't a lot of easy games when you're down, so this might be the last time the Beavers aren't double-digit underdogs.
Key matchup
Oregon State running back Malcolm Agnew vs. WSU middle linebacker C.J. Mizell. The Beavers have become a pass-first team this year with Sean Mannion at quarterback. In fact, in some games while Agnew, a freshman, was out with an injury, they were pass first, second and third. Agnew, who saw his first action since Sept. 3 last Saturday against BYU, didn't have an overpowering game – 49 yards on 10 carries – but he does give OSU a real threat. Mizell opened last year's upset in Corvallis by driving Rodgers out of bounds and driving him to the ground near the stands. That seemed to set the tone for the Cougars, who were more physical in the win, their first after 16 consecutive Pac-10 losses.

Local journalism is essential.

Give directly to The Spokesman-Review's Northwest Passages community forums series -- which helps to offset the costs of several reporter and editor positions at the newspaper -- by using the easy options below. Gifts processed in this system are not tax deductible, but are predominately used to help meet the local financial requirements needed to receive national matching-grant funds.
Subscribe to the sports newsletter
Get the day's top sports headlines and breaking news delivered to your inbox by subscribing here.
---