Sports
Shortstop Elvis Andrus saves Texas Rangers with glove in Game 2 of World Series
Fri., Oct. 21, 2011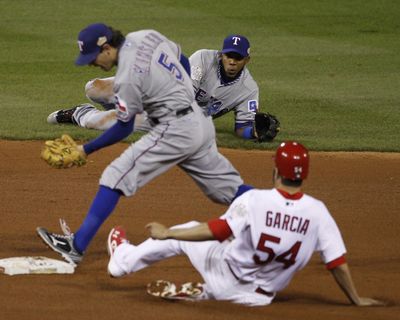 ST. LOUIS – Elvis Andrus ranged as far as he could to his left, diving at the edge of the infield grass behind second base, and snared the hard grounder off the bat of Rafael Furcal.
In one fluid motion, the Rangers shortstop scooped the ball with his glove to Ian Kinsler as the second baseman glided over the bag for the force, ending the inning and preventing St. Louis from scoring a run.
Little did he know how critical that run would be.
The defensive gem in the fifth inning Thursday night kept things scoreless, and the Rangers managed to get two sacrifice flies in the ninth inning to beat the St. Louis Cardinals 2-1 and send the series back to Texas tied at one game apiece.
Naturally, it was Andrus who scored the go-ahead run on Michael Young's flyball to center.
But it was Andrus' play with the leather that allowed Texas to stick around. Kinsler said the glove-toss was perfect, and he struggled to come up with a better defensive play he'd seen.
"The situation that was in, and being that it was a World Series game and just the run-saving play, that play was ridiculous," Kinsler said with a chuckle. "It was probably one of the best I've seen, not just him, but one of the best defensive plays."
"When we get home tonight," Josh Hamilton added, "I'm going to watch it again."
Andrus also made another nifty play the previous inning.
Lance Berkman had reached base on an error with one out in the fourth, and Matt Holliday sent a hard grounder toward second base. Andrus again tracked it down and made a backhanded toss to Kinsler, who turned and fired to first base for the inning-ending double play.
"He saved us right there," Rangers manager Ron Washington said. "He kept runs off the board, and that's exactly the type of play that he's capable of doing."
Local journalism is essential.
Give directly to The Spokesman-Review's Northwest Passages community forums series -- which helps to offset the costs of several reporter and editor positions at the newspaper -- by using the easy options below. Gifts processed in this system are not tax deductible, but are predominately used to help meet the local financial requirements needed to receive national matching-grant funds.
Subscribe to the sports newsletter
Get the day's top sports headlines and breaking news delivered to your inbox by subscribing here.
---