News > Spokane
Independents may hold fate of state Senate seat
Sat., Oct. 22, 2011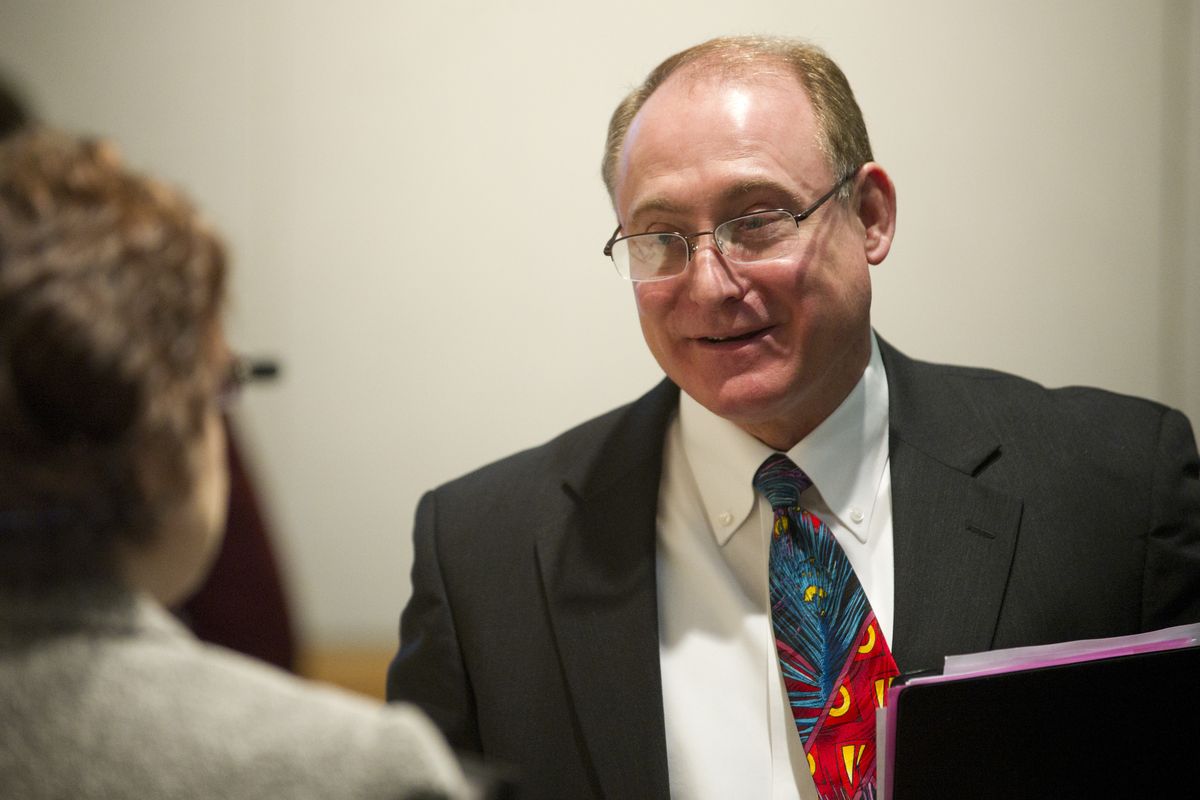 Baxter
Spokane Valley's 4th Legislative District is so Republican that voters have elected the GOP candidate 38 times in the 40 legislative elections since 1980. So Republican that both candidates in this year's special state Senate race are Republicans.
But as incumbent Jeff Baxter, 51, and former state Rep. Mike Padden, 64, split the GOP vote, it could be independents and Democrats who decide who will fill the final year of the state Senate seat.
Baxter and Padden are fiscal and social conservatives who believe in smaller government, lower taxes and helping businesses expand jobs. The differences are more in their résumés and endorsement lists than their ideology.
Baxter, a relative political newcomer who owns businesses connected to credit and debit card transactions, was appointed to the seat last winter after longtime Sen. Bob McCaslin retired for health reasons. Padden also sought the appointment, but 4th District precinct committee officers named state Rep. Matt Shea as their first pick, Baxter, a GOP legislative district leader, their second and Roy Murry, another Republican activist, third.
It was an effort to persuade Spokane County commissioners into selecting Shea. Commissioners balked, and went with Baxter; Padden almost immediately announced he'd run this fall for the remaining year in McCaslin's term. Shea later announced he wouldn't.
Padden supporters now question whether Baxter is breaking a promise to precinct officers last winter that he would not run for the Senate seat, in an effort to ensure Shea would have a shot at it. An audio recording posted on YouTube seems to have Baxter assuring a skeptical precinct officer that he would "walk away" from the seat if appointed to it, but the comments seem to be taken out of a longer dialogue.
Baxter said he hasn't heard the recording, and doesn't recall telling precinct officers he wouldn't run. "Ultimately, it was up to me as a personal choice," he said.
Campaign experience would seem to favor Padden, first elected to the state House in 1980 and re-elected every two years until 1995, when he was appointed a Spokane County District judge. The Spokane lawyer has a long track record in social conservative causes as well as state and local Republican politics. But his years as a judge kept Padden out of partisan politics. When precinct officers gathered to consider nominees to replace McCaslin, many said they didn't know him.
"Every race is different, and this one sure is," he said recently.
Baxter stresses his business experience rather than his political experience, and says many voters he meets tell him the Legislature needs more businessmen and fewer lawyers.
That ability of a businessman to reach out to different types of people is one reason he has support from some unlikely corners for a Republican candidate, like the United Steelworkers, he said. The union's political action committee isn't giving him any money, but a large campaign sign sits in the Local 338 parking lot on Trent Avenue.
"We've had a lot of people comment on that," Local 338 President Dan Wilson said. "Jeff Baxter came to the hall to talk to us. He said he was willing to listen to anything we had to say, and would have an open door."
That's more than even some Democrats will do, Wilson said. Independents will likely vote in the race, but hard-core Democrats may skip it, he added.
Baxter agrees he'd always be willing to listen to the union, even if it was just to "agree to disagree." If a sign in the union parking lot costs Republicans votes, "I'm willing to take that chance."
The race splits current and past Republican elected officials. Many current GOP legislators, with whom Baxter served this year, endorsed him, as did County Treasurer Rob Chase and County Assessor Vicki Horton. The exception is state Rep. Larry Crouse, who served with Padden when first elected and endorsed him; so did several former Valley legislators, including McCaslin before he died, and the three county commissioners.
Padden and Baxter split one source of normal support for Republicans, the development community. Local homebuilder and Realtor associations gave dual endorsements. The Associated Builders and Contractors, which have mainly smaller contracting firms, endorsed Padden; the Inland Empire Associated General Contractors, who often handle large road and infrastructure projects, endorsed Baxter.
Padden contends that's because he told the AGC members he wouldn't support an increase in the gasoline tax for road projects. "When they asked about the gas tax, I said 'I'm not your guy.' I signed a pledge not to vote for any new taxes."
Baxter signed the same pledge. He told the AGC he'd listen to their pitch for a gas tax, but only support it if it is offset by reductions elsewhere. "They knew my record. I have never voted for a tax increase," he said.
Wayne Brokaw, executive director of the AGC, said a possible increase in the gasoline tax to pay for transportation projects is one of the group's key issues, along with follow-up in the Legislature to be sure the Spokane area gets its fair share. Baxter got the nod because he promised to let the group make its case but there would have to be accountability, Brokaw said.
Local journalism is essential.
Give directly to The Spokesman-Review's Northwest Passages community forums series -- which helps to offset the costs of several reporter and editor positions at the newspaper -- by using the easy options below. Gifts processed in this system are not tax deductible, but are predominately used to help meet the local financial requirements needed to receive national matching-grant funds.
Subscribe now to get breaking news alerts in your email inbox
Get breaking news delivered to your inbox as it happens.
---