Beavers level Tuel and WSU, dominate all facets handily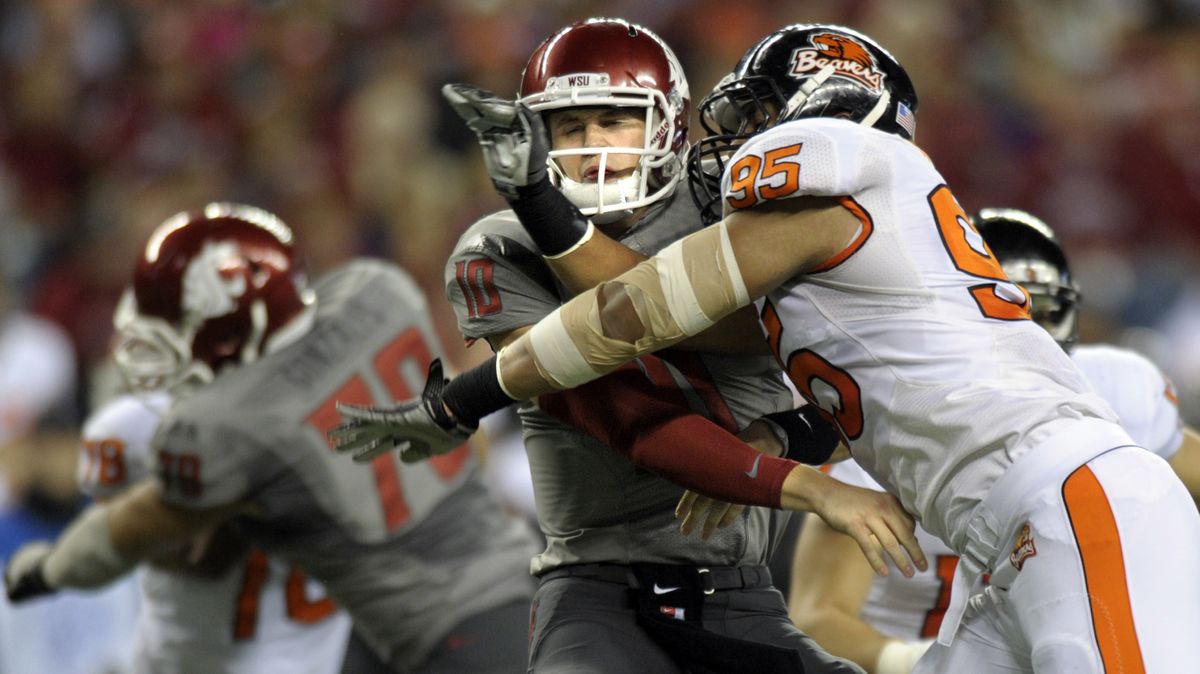 SEATTLE – This was not a game for the timid.
Or for Washington State, for that matter.
The Oregon State Beavers pounded the Cougars into submission Saturday night before 49,219 at Seattle's CenturyLink Field, turning WSU's first conference home game on the West Side since 1976 into a 44-21 disaster.
"They were physical," said linebacker Sekope Kaufusi, who left the field for a while after getting banged up.
No one fit that banged-up category better than quarterback Jeff Tuel, who was battered late in the first half and did not return for the second.
Tuel had a left shoulder injury, according to WSU coach Paul Wulff, and underwent X-rays. The junior missed the first five games of the season with a fractured left clavicle.
It was obvious Oregon State remembered how Washington State started its victory last season in Corvallis, with a C.J. Mizell personal foul on Jacquizz Rodgers. The Cougars have tried to establish a reputation as hard hitters, and went toe-to-toe with a physical Stanford team for two quarters last week.
But this time it was the Beavers (2-5 overall, 2-2 Pac-12) who got the first hit in, and they continued to whack the Cougars (3-4, 1-3) throughout the game.
"It was a disgraceful performance, that's what it was," said linebacker Alex Hoffman-Ellis, part of a defense that yielded 551 yards of total offense to a team that came into the game 10th in the conference in that category.
It showed in the Cougars' first possession, when the center of the OSU defensive line stuffed running back Carl Winston on a fourth-and-1 at the Beavers' 24, killing a long drive. The Cougars finished 5 of 15 converting third or fourth down.
"I thought our kids were ready to play," offensive coordinator Todd Sturdy said. "We took the opening drive down the field, ran into the score zone there and didn't get it done."
The physical nature showed on kickoffs, on blocks, on tackles. And it showed especially on Tuel's chest.
As the first half wound down, with Oregon State already leading 24-14, first tackle Andrew Seumalo, then end Scott Crichton and finally linebacker Tony Wilson took turns hitting the junior, who walked slowly to the locker room.
He came back out, but not back into the game.
"We didn't do a great job of blocking a couple of times," Sturdy said.
By the time Marshall Lobbestael took over, WSU trailed 31-14. It got worse.
"We couldn't get them to punt," Wulff said. "They were converting everything."
The Beavers scored on eight of their first nine drives, the only stop coming when Damante Horton ripped a Sean Mannion pass out of Wheaton's hands in the end zone for a first-quarter interception.
Mannion, a redshirt freshman who didn't start until the season's third game, was 26 of 34 for 376 yards and four touchdowns.
But his lone interception kick-started the Cougars' offense – for a while.
Trailing 7-0, Tuel led WSU on an 80-yard drive, hitting Marquess Wilson in the left corner of the end zone from 20 yards out.
Trailing 14-7, Tuel hit Wilson on a 48-yard post pattern, with a 15-yard facemask penalty added on. Two plays later, Tuel scored on a 1-yard sneak.
But, trailing 21-14, Tuel fumbled when Crichton grabbed at him going by and Dylan Wynn recovered at the WSU 31. Oregon State later settled for a field goal.
With 30 seconds left in the half, Tuel, who finished 11 of 13 for 127 yards, tried to get the points back. On a third-and-2, Wilson crushed the quarterback as he delivered an incomplete pass. Tuel struggled to get up. It was obvious he was hurting.
What was hurting the WSU defense was obvious. The group couldn't get off the field on third down.
When Clayton York scored on an 18-yard wheel route pass from Mannion – his fourth touchdown pass of the night – to make it 41-21 with 8 minutes, 34 seconds left, Oregon State was 8-of-9 on third down.
"It just didn't happen," defensive coordinator Chris Ball said of getting off the field. "They protected well, executed well and we didn't.
"We came after him. (Mannion) did a great job of getting the ball out and they did a great job catching it."
The Beavers' first punt of the night came with 1:05 left to play.
---