Sports > Outdoors
Hunter aid sought in tracking elk herd health
Sun., Oct. 23, 2011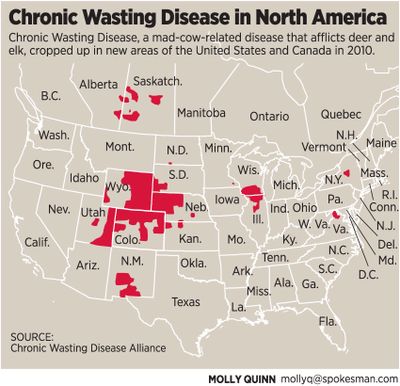 Hunters are the frontline helpers for wildlife managers monitoring the health of big-game herds.
On one hand, the Washington state wildlife veterinarian is taking advantage of the new elk hunting opportunities in and near Turnbull National Wildlife Refuge for a study of general elk health issues including trace minerals, parasites and disease.
On another front, wildlife managers are trying to stay ahead of a disease that is impacting game and hunting seasons in other states.
With Michigan and Maryland detecting chronic wasting disease in deer during the past year, CWD has been detected in at least 15 states plus Alberta and Saskatchewan.
CWD is fatal to deer and elk. While there's no evidence that CWD can be transmitted from big-game to humans, hunters should always follow basic hygienic precautions such as wearing rubber gloves while field-dressing game, and thoroughly washing hands and equipment after handling harvested animals, said Kristin Mansfield, the Washington Fish and Wildlife Department's state veterinarian based in Spokane.
The disease has not been found in wild deer, elk or moose in Washington, Idaho or Montana, and wildlife managers say they want to keep it that way.
Washington law forbids hunters from bringing into Washington the unprocessed meat or body parts of big-game taken while hunting in states where CWD occurs.
Hunters can boost the effort to monitor for CWD and other game health issues by voluntarily submitting tissue samples for wildlife managers to test.
Mansfield said WDFW has tested more than 5,000 animals during 15 years of CWD-monitoring.
The effort must continue, she said.
Hunters can submit their harvest for CWD testing in any of the following ways:
• Stop at a WDFW hunter check station off Highway 395 near Deer Park or State Route 2 near Chattaroy, which are open most weekends during deer seasons.
• Deposit the head of the harvested animal in a marked collection bin at the laboratory building behind the Spokane Valley WDFW office, 2315 N. Discovery Pl.
• Deposit the head of the harvested animal at the Inland Northwest Wildlife Council office, 6116 N. Market St. in Spokane, 8 a.m.-5 p.m. on weekdays.
• Arrange to have the sample picked up anywhere in Spokane or Spokane Valley by calling (509) 989-6224. In the Tri-Cities area, call (509) 531-2691.
The tissue sample requires 4 inches of neck tissue attached to the head. To complete the test, lymph nodes are removed from the animal's neck, Mansfield said.
Hunters who submit samples and complete contact-information cards will be entered into a drawing for a $200 sporting goods store gift certificate.
A special request is being made to hunters who shoot a radio-collared elk inside or outside of Turnbull Refuge.
Mansfield's study required getting the radio collar and the head (with at least 3 inches of neck), both lungs and the liver (if the hunter wants to give it up) of those animals.
"The agency collard 30 Turnbull elk for a study last year going into the first hunting season (allowed on the refuge), she said. "Seven of those elk were killed by hunters off the refuge. If more are taken this year, we'd like to include them in our research."
The head, lungs and liver should be sealed in separate heavy-duty plastic bags and left at the Turnbull headquarters deposit site. Mansfield said hunters also could call (509) 998-2023 to arrange for a WDFW staffer to pick up the body parts.
Researchers also request for any hunter who harvests a radio-collared animal:
If possible, remove the collar by unscrewing the strap rather than cutting it. If cutting the strap is the only option, cut as far away from the metal transmitter casing as possible.
Return the collar to the WDFW or call the office to have it picked up.
On the Net: Chronic Wasting Disease, wdfw.wa.gov/conservation/health/cwd/
Local journalism is essential.
Give directly to The Spokesman-Review's Northwest Passages community forums series -- which helps to offset the costs of several reporter and editor positions at the newspaper -- by using the easy options below. Gifts processed in this system are not tax deductible, but are predominately used to help meet the local financial requirements needed to receive national matching-grant funds.
Subscribe to the sports newsletter
Get the day's top sports headlines and breaking news delivered to your inbox by subscribing here.
---
Subscribe and log in to the Spokesman-Review to read and comment on this story