Sports
Special teams mistakes cost Cougars
Sun., Oct. 30, 2011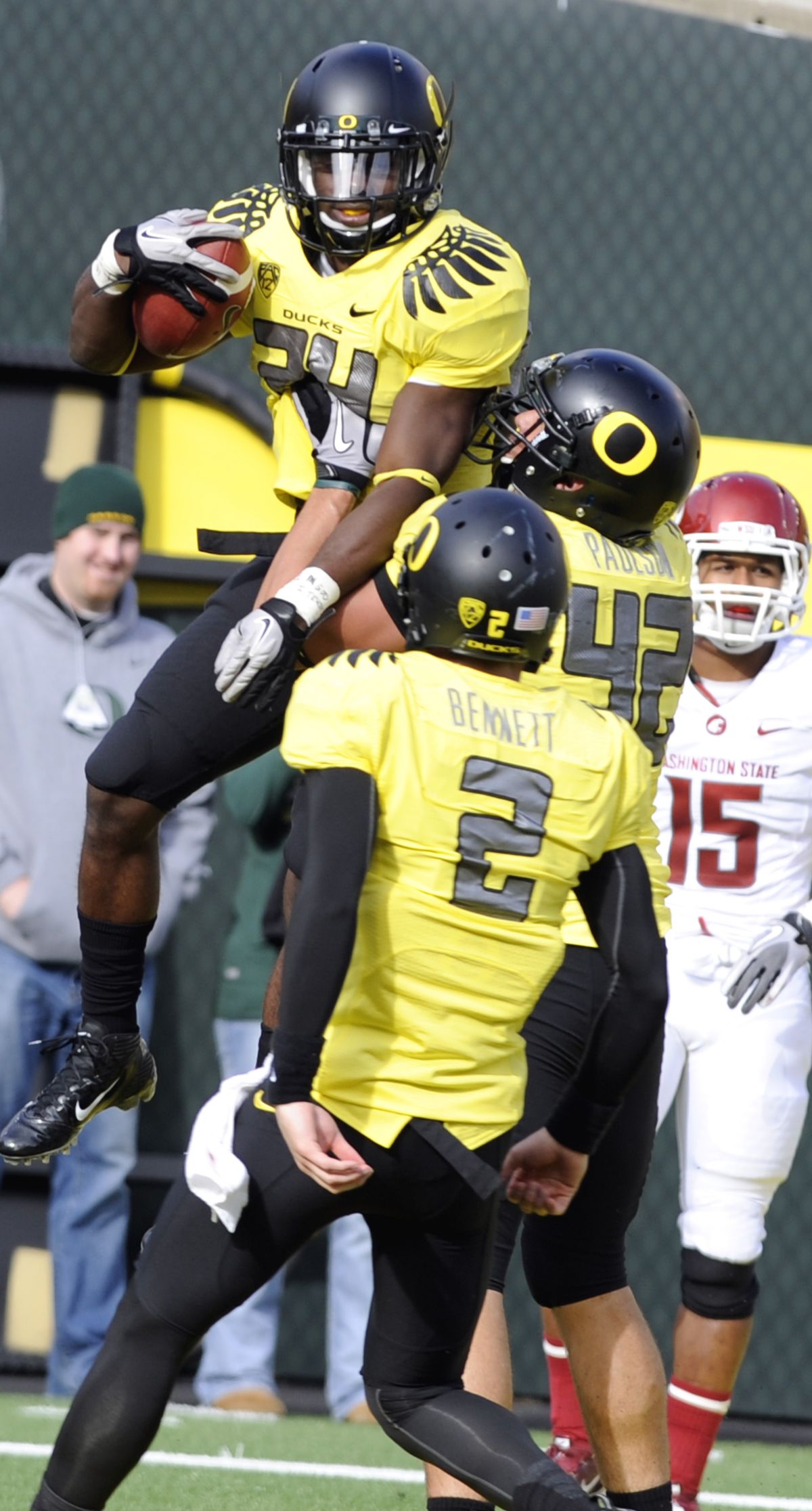 Oregon's Kenjon Barner, background, celebrates his second-half TD with Bryan Bennett (2) and David Paulson. (Associated Press)
EUGENE – It's rarely this cut and dried.
Washington State gave up 15 points on special teams Saturday and lost to the seventh-ranked Oregon Ducks 43-28.
Yes, a 15-point margin.
First, a first-quarter blocked punt and 25-yard return by Boseko Lokombo turned into eight points when holder Jackson Rice jumped and converted a two-point conversion pass to kicker Alejandro Maldonado.
Then, a third-quarter, 93-yard kickoff return from De'Anthony Thomas, his 11th touchdown this season, set an Oregon record for a true freshman.
So it's seems simple to explain, but it's not.
There was more to the defeat that dropped the Cougars' overall mark to 3-5 and Pac-12 record to 1-4 while Oregon improved to 7-1, 5-0.
Asked to analyze the 60 minutes, Washington State coach Paul Wulff kept it concise.
"In the first half, in the red zone, we turned the ball over," he said. "Those miscues and (15) points off of special teams."
Which illustrates something else, Wulff added.
"To play this good of a football team and make those kind of mistakes and even being close to them shows how we played in the other areas of the game," he said.
The Cougars played well, just not well enough, in front of the 59,126 jammed into Autzen Stadium, Oregon's 79th consecutive sellout.
"When you play a great team, you've got to make plays," said Jared Karstetter, who caught seven passes for 114 yards, moving him to sixth on WSU's all-time receptions list. "I think we beat them in a lot of phases of the game today.
"But they are such a great team, when you get an opportunity you've got to make them pay and we didn't do that."
No one exemplified the Cougars' inconsistent day more than quarterback Marshall Lobbestael.
The fifth-year senior threw for 337 yards, the fourth time he's gone over the 300-yard mark in his six starts this season. He completed 28 of 48 passes, including 11 to Marquess Wilson for 126 yards. He threw a perfect 24-yard fade to Karstetter for a score.
He ran the Cougars' offense well enough that the group had 30 first downs, only the second time this season it has had that many, and outgained the Ducks' offense – sixth nationally coming in – 462 yards to 454.
But he also threw two interceptions, both when the Cougars were inside Oregon's 25-yard line.
"Both of them I would probably put in the same category," said Lobbestael of the picks. "When we get down in the red zone, I've got to be smart with the ball. It's a team game, but at the same time the quarterback has total control of forcing it in there, making good decisions.
"Today, in the red zone, I didn't. It dramatically affected our offense. We had chances to put points on those two drives and didn't."
Add in three other red-zone visits that finished with Andrew Furney field-goal attempts – he made two, missing a 25-yarder about a foot right, his first miss of the year.
"We had so many opportunities," Wulff lamented.
The Cougars did because, unlike last week against Oregon State, the defense was holding up its end, playing with a passion, especially in the first half.
Despite the blocked punt, which put Oregon up 8-0, and a 55-yard touchdown pass from junior quarterback Darron Thomas to Lavasier Tuinei, and despite a debatable 15-yard personal foul call on Casey Locker that gave the Ducks a field-goal try to end the half, the Ducks led just 15-10 at intermission.
The lone WSU touchdown came courtesy of the defense, with cornerback Damante Horton grabbing a deflected fourth-down Thomas pass at the Cougars' 24 and taking it back, barely outrunning a couple of Ducks offensive linemen en route.
"My legs started getting tired and I think I'm going to get caught," said Horton, who has interceptions in four consecutive games, one off Jason David's school record of five straight, set in 2002. "(If I was caught) I would have been upset and everybody would have talked about me."
Instead, the Cougars' defense was the central subject at that point.
"That's not only something we want every day," Alex Hoffman-Ellis said of a WSU effort that held UO to 216 yards before halftime, "that's something we want for a full game."
It didn't happen. Helped by an unsportsmanlike conduct penalty thrown as Washington State was leaving the field – Wulff said it was called on a "non-dressed player" – the Ducks scored in 44 seconds after intermission.
From there the Cougars were always playing catch-up and they never did, despite Karstetter's touchdown and a 9-yard scoring run by Rickey Galvin near the end.
Part of it was the play of Bryan Bennett, who started last week in place of an injured Darron Thomas and replaced him at halftime Saturday.
"We just felt that Bryan gave us a better chance in the second half," Oregon coach Chip Kelly said.
The freshman ran for 25 yards and threw for 88 more, including the second-half-opening 45-yard screen pass to De'Anthony Thomas in which Thomas turned WSU safety Tyree Toomer around two or three times.
Another part of it was the younger Thomas, who broke a couple of tackles and ran away from the Cougars on his kickoff return.
The final nail was supplied by Kenjon Barner, who, playing in place of an ineffective LaMichael James (53 yards on 13 carries while wearing a brace on his injured right arm), gained 107 yards on 11 attempts, the last one a 28-yard touchdown.
Local journalism is essential.
Give directly to The Spokesman-Review's Northwest Passages community forums series -- which helps to offset the costs of several reporter and editor positions at the newspaper -- by using the easy options below. Gifts processed in this system are not tax deductible, but are predominately used to help meet the local financial requirements needed to receive national matching-grant funds.
Subscribe to the sports newsletter
Get the day's top sports headlines and breaking news delivered to your inbox by subscribing here.
---