Sports > Seattle Mariners
Pineda tinkers in Seattle Mariners loss
Rookie developing nasty change-up
Sun., Sept. 4, 2011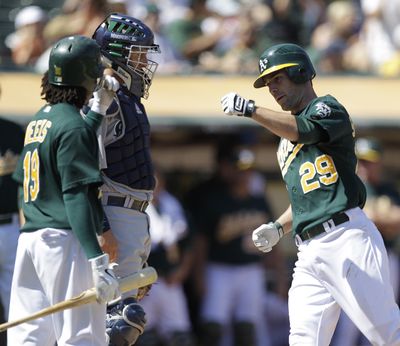 OAKLAND, Calif. – One of the bigger stories of this Mariners season was unfolding just beneath the surface of yet another all-too-routine offensive fold.
It involved Michael Pineda unleashing up to 15 change-ups that appeared to be tying the Oakland Athletics in knots. Pineda couldn't tie enough knots to prevent what became a 3-0 loss Saturday. His team had just three hits off A's starter Brandon McCarthy.
But in a rookie season in which Pineda has relied almost exclusively on a fastball-slider combination, the first concrete evidence of a workable third pitch was a good development.
"My change-up was nasty," Pineda said. "My change-up is getting better now. In April, I was throwing a lot of sliders and teams knew I'd be throwing sliders during the game. Now, when teams think I'm going to throw a slider, I throw them a change-up. And that's a good thing."
Good enough to help Pineda record seven strikeouts over six innings in this one. His only stumbles were a 3-0 fastball that Cliff Pennington drilled for a double and the only two runs Oakland needed, then a solo homer by Scott Sizemore in the fifth.
On a day the Mariners enabled McCarthy to go the distance and match his career high with 10 strikeouts in front of 19,732 fans at the Coliseum, the only victories left for Seattle were going to be of the moral kind. Pineda said his change-up might be a little slower than in the past, but the big difference now is "it has great movement."
M's catcher Josh Bard could attest to that. Bard said the change-ups he was getting from Pineda were consistent and are starting to resemble what Felix Hernandez throws.
"It's a pitch that's hopefully going to be a separator for him," Bard said. "I know that it is for Felix." Like Hernandez, the Pineda change-up is one Bard figures will eventually come in between 85 and 90 mph. That's not as soft as some pitchers like it, but given how Pineda throws a mid- to high-90s fastball, it can be enough of a differential to keep hitters off-balance velocity-wise.
But Bard agrees that the movement on the pitch, coupled with the arm speed at which Pineda throws it, is an even bigger difference-maker. He likened it to a pitch Hernandez throws, which is gripped like a change-up but comes in so hard and drops off so sharply it resembles a split-fingered fastball.
Pineda has spent much time around Hernandez this year, so it's hardly a surprise he would come up with a similar third pitch.
"I've learned a lot from him," Pineda said. "He's treated me very well, which I appreciate very much."
M's manager Eric Wedge thought Pineda "threw the ball outstanding," but pulled him after 105 pitches in a continuing bid to preserve his arm.
Right now, the overall state of the team's offense and pitching is starting to raise some red flags given its youth and some of the on-field performances of late. Seattle has lost seven of its past nine games and is going with a plethora of youngsters, some of whom appear to be wearing down as the long season unfolds.
Wedge didn't want to rush to judgment on that, but saw a lot of "long" swings against McCarthy that he hadn't noticed in a while. The Mariners were getting pitches to hit, but kept missing them.
Seattle has gone 17 innings without scoring since taking a 2-0 lead in the second inning on Friday, mustering four hits and no runs in the interim.
Wedge noted younger players do tend to wear down this time of year given that the minor-league schedule would normally be ending.
"I think there's always that possibility," he said. "But that's why we have to work through this.
"They have to fight through that."
OAK
1:07
5
LAA
6:05
6
LAA
7:05
7
LAA
7:05
8
KC
7:10
9
KC
7:10
10
KC
7:10
11
KC
1:10
12
NYY
7:10
13
NYY
7:10
14
NYY
7:10
15
16
TEX
7:10
17
TEX
TBA
18
TEX
1:10
19
20
MIN
5:10
21
MIN
5:10
22
MIN
10:10
23
TEX
5:05
24
TEX
5:05
25
TEX
12:05
26
OAK
7:10
27
OAK
7:10
28
OAK
7:10
29
30
Local journalism is essential.
Give directly to The Spokesman-Review's Northwest Passages community forums series -- which helps to offset the costs of several reporter and editor positions at the newspaper -- by using the easy options below. Gifts processed in this system are not tax deductible, but are predominately used to help meet the local financial requirements needed to receive national matching-grant funds.
Subscribe to the sports newsletter
Get the day's top sports headlines and breaking news delivered to your inbox by subscribing here.
---
Subscribe and log in to the Spokesman-Review to read and comment on this story