News > Spokane
Judge warns longshore union
Fri., Sept. 9, 2011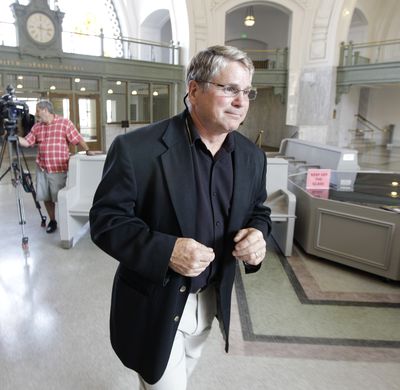 TACOMA – Hundreds of longshore workers overpowered security guards in an aggressive raid on a Washington state grain terminal, officials said Thursday, and the action drew quick rebuke from a federal judge that has tried to curb the union's escalating tactics in an ongoing labor dispute.
Workers have been battling for the right to work at the new terminal in Longview. But U.S. District Judge Ronald Leighton issued a preliminary injunction to restrict union activity, saying there was no defense for the aggressive tactics used in recent days.
Protesters twice blocked the pathway of a train carrying grain to the terminal at the Port of Longview on Wednesday, and early Thursday morning hundreds of them stormed the facility, overwhelmed guards, dumped grain and broke windows, police said.
The dispute halted work at four other Washington ports – Seattle, Tacoma, Everett and Anacortes – on Thursday as hundreds of longshoremen refused to show up or walked off the job.
Leighton said he felt like a paper tiger because the International Longshore and Warehouse Union clearly ignored a temporary restraining order he issued last week with similar limits. He scheduled a hearing for next Thursday to determine whether the union should be held in civil contempt.
"The regard for the law is absent here," the judge said. "Somebody is going to be hurt seriously."
Six guards were trapped for a couple of hours after at least 500 longshoremen broke down gates about 4:30 a.m. and smashed windows in the guard shack, Longview police Chief Jim Duscha said. "They feared for their lives because of the size of the crowd and the hostility of the crowd."
No one was hurt, and nobody has been arrested – although Duscha said that could change if police are able to use surveillance video or other means to identify the protesters.
Local journalism is essential.
Give directly to The Spokesman-Review's Northwest Passages community forums series -- which helps to offset the costs of several reporter and editor positions at the newspaper -- by using the easy options below. Gifts processed in this system are not tax deductible, but are predominately used to help meet the local financial requirements needed to receive national matching-grant funds.
Subscribe now to get breaking news alerts in your email inbox
Get breaking news delivered to your inbox as it happens.
---