A&E > Food
Monica, Shane Sanders speak fluent dessert
Wed., Sept. 14, 2011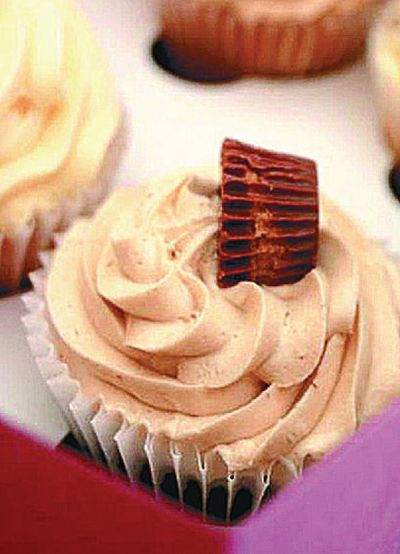 Monica and Shane Sanders know something about love's first bite. Shane was in the military when he met Monica in her native Colombia. They had an instant connection but one problem: He didn't speak Spanish and she didn't speak English. "We literally wore out dictionaries talking to each other," says Shane Sanders. Love is a powerful thing. More than 16 years and four children later the couple are counting on a different kind of infatuation for their latest venture - that deep desire for dessert. With help from Shane's father, they opened Love @ First Bite Desserts in late August in Spokane Valley. They offer seven to 12 gourmet flavors of cupcakes each day at the shop, 11305 E. Sprague Ave., along with cheesecake, baklava and cookies. Monica Sanders first started baking many years ago with box cakes but quickly realized she could probably do a better job by herself. "I just started playing with flavors and people really loved them. I made a lot of mistakes, but I am a stubborn girl. I have a real passion for baking," she says. She's perfected some 75 flavors in the past few years, selling her desserts at the Kootenai County Farmers Market and the Millwood Farmers Market. She is constantly experimenting with more seasonal flavors. "Why not make a living out of what you love," Monica says. Shane, a Spokane city firefighter, took some time off work to help get the bakery rolling. They have been learning how to adjust each day's inventory after selling out a few times. Popular flavors include Root Beer Float, S'mores, Cinnamon Roll, Peanut Butter Cup, and the Elvis, a banana cupcake with peanut butter frosting sprinkled with bacon. The daily flavors are posted on the Love @ First Bite page on Facebook. Cupcakes are $2.50 each, $13.50 for a half-dozen and $25 for a dozen. The store is open Monday through Saturday from 10 a.m. to 5 p.m. and can be reached by calling (509) 891-2501.
Lemongrass opens in Coeur d'Alene
French Asian cuisine is on the menu in Coeur d'Alene. Lemongrass owners David and Diane Torres looked for more than a year for a location for their first restaurant. They remodeled the former Takara restaurant at 309 E. Lakeside Ave., opening in early July. A few weeks ago they secured a permit to serve beer and wine. Diane Torres says sales were lagging at their other business, United Home Sales Inc., when they decided to act on a longtime dream. "My husband likes to entertain family and friends and it has just been a passion of his for a long time," she says. They originally opened the restaurant with chef David Tran, who is no longer working there. Torres now works in the kitchen with chef Josh Spurgeon on French-Asian fusion dishes such as the popular goi coun, summer rolls with lettuce, basil, cilantro, bean sprouts, pork and prawns; and lemonbarb chicken, fried chicken tenders in a sweet and sour lemongrass and rhubarb sauce. They also have pho, a Vietnamese soup, and Pad Thai. Restaurant manager Jeanette Garcia says the menu is updated seasonally, and they're in the midst of introducing several new offerings, including a popular dish that features lightly fried tilapia braised in a clay pot to caramelize the spicy sauce. "We wanted to do something different that the other restaurants in the area aren't doing, so we all have a variety of foods and we're not in direct competition," Diane Torres says. Takara fans will remember the tatame rooms, where diners can sit on a cushion and their feet tuck into a space beneath the table. There are six of the small rooms with a curtain between each. Lemongrass owners are planning to add wine-tasting dinners, a wine club and cooking classes this winter. The restaurant opens at 11 a.m. each day, closing at 9 p.m. Monday through Thursday and at 10 p.m. Fridays and Saturdays. Reach the restaurant at (208) 765-9777.
O'Doherty's opens North Side location
Tim O'Doherty has taken his tried-and-true Irish pub fare a bit north. The new O'Doherty's Irish Grille, 10208 N. Division St., Suite 110, in the former Rogue Coffee location, is the sixth restaurant he's opened. "Some of (the restaurants) have done wonderfully, some haven't," O'Doherty says. "But what I do is make restaurants; it's what I do. I felt like people in our city needed jobs and I have a lot of nieces and nephews." He said the North Side of Spokane seemed underserved with small mom-and-pop joints, and after snooping around a bit, he was offered a sweetheart deal. The restaurant opened this summer, two days after his daughter's wedding and just as the downtown pub was celebrating 20 years of business. "We really tried to just simply duplicate our downtown pub on a smaller scale," O'Doherty says. The menus are the same and there are 10 tap handles at the new restaurant. The restaurant can seat 50 people inside and another 50 diners on the patio. O'Doherty says he was able to hire some 25 people at the new pub, and he likes the neighborhood. Longtime friends at Runner's Soul, which partners with O'Doherty's for the popular Flying Irish Running Club, also opened a new location there. The running club hasn't expanded north, despite some interest in a second branch. O'Doherty says he'd be open to it but needs a volunteer to lead the weekly runs. O'Doherty's Irish Grille on North Division Street is open 11:30 a.m.-11 p.m. Tuesday through Thursday and 11:30 a.m. to midnight Friday and Saturday. Reach the restaurant at (509) 465-3511.
Spokane loves its dogs
We got notes from readers who were happy to read our recent story about the many local places where they can satisfy an appetite for hot dogs. Here are two other carts with regular locations to add to your list of places to try: Droop's Dawgs had a home in Cheney until fire last April ousted owner Steve Smith and his 1950s-inspired restaurant. Now, he's trying to make a name for himself selling his loaded hot dogs from a mobile cart. Droop's just moved to a new location at an outdoor food court at Freya Street and Olive Avenue. The cart is open 10:30 a.m.-3 p.m. Monday through Friday. Smith says one of his signatures is the La Bamba Dawg, a Nathan's hot dog or German sausage smothered in chili, bacon strips, cheese, salsa and fresh onion and wrapped in a grilled tortilla ($5 or $5.25, respectively). Reader Felix Gaudreau recommends Frank's Franks, a mobile cart on the southeast corner of University Road and Sprague Avenue in Spokane Valley. Owner Frank Alberti has been serving up New York-style hot dogs in Spokane Valley for eight years. His cart is open Monday through Friday from 11 a.m. to 4 p.m., and Saturdays from 11:30 a.m. to 4p.m. "They are the original New York frankfurter," Alberti says of his hot dogs.
The Dish appears monthly in the Food section. Send news releases, tips and suggestions for restaurant items to Lorie Hutson at lorieh@spokesman.com. Call (509) 459-5446 or fax to (509) 459-5098.
Local journalism is essential.
Give directly to The Spokesman-Review's Northwest Passages community forums series -- which helps to offset the costs of several reporter and editor positions at the newspaper -- by using the easy options below. Gifts processed in this system are not tax deductible, but are predominately used to help meet the local financial requirements needed to receive national matching-grant funds.
Subscribe to the Spokane7 email newsletter
Get the day's top entertainment headlines delivered to your inbox every morning.
---
Subscribe and log in to the Spokesman-Review to read and comment on this story