News > Washington Voices
Education Notes: Teens will play teens in St. George's play
Thu., Sept. 15, 2011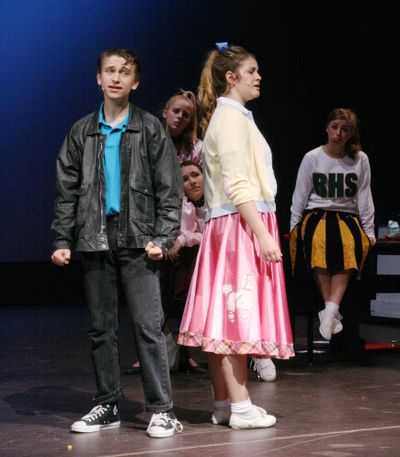 Head back to Rydell High School with the T-Birds and the Pink Ladies in "Grease," when Saint George's School puts on its first production of the school year on Friday and Saturday in the school's Founders Theater. The summer lovin' and greased lightning begins at 7 p.m. on both nights.
The audience will be doing the hand jive and singing along with the Saint George's cast that includes Justin Heftel, as Danny Zuko; Hailey Hyde, as Sandy Dombrowski; Jacob Kwasman, as Kenickie; Zoe McMahon, as Betty Rizzo; Alaina Jacobsen, as Marty; Hannah Kwasman, as Jan; Morgan Cambareri, as Frenchy; Nate Graham, as Roger; Jacob Withers, as Doody; Amara Becker, as Patty; John Hatheway, as Eugene and the Teen Angel; Drew Doughty, as Cha Cha; and Kira Renfro, as Miss Lynch.
Tickets are $5 for adults and $3 for students and people 65 and older. Tickets may be purchased in advance at the Upper School office or at the door.
For more information call Elizabeth Tender at (509) 466-1636, ext. 301.
Teacher's sketches now on display
Saint George's Lower School is now featuring an exhibit of sketches, drawings and paintings by Linda Smith, Saint George's Lower School art teacher, in the school's Art Gallery.
Smith had the opportunity to spend part of her summer in the south of France, where she painted landscapes made famous by Impressionist artists from the late 19th century. Her exhibit, "Rekindling the Passion," will be on display in the Saint George's gallery through Oct. 14.
Fresh fruit coming to Spokane students
Spokane Public Schools has announced the students will receive fresh fruits and vegetables during their school day. Also, Stevens, Logan and Holmes elementary schools will provide free breakfast to their students.
The initiatives are part of a program to set kids up for success. "If they are hungry, students can't concentrate on learning," Doug Wordell, director of nutrition services, said in a Spokane Public Schools news release. The release also said 10 of the district's highest-need elementary schools were awarded a total of $275,000 in fresh fruits and vegetables, such as pineapple, jicama, pea pods, apples and grapes in the classroom during the day.
The breakfast program at Stevens, Logan and Holmes provides free breakfast for every student, with a goal to get breakfast participation up to 70 percent. In addition, lunch menus now include soy milk, lactose-free milk and vegetarian meal options each day, in an effort to make it easier for parents and students to get what they like in the school lunchroom.
Junior Achievement seeks volunteers
Volunteers are needed for Junior Achievement curriculum in local schools. To be a part of the Junior Achievement program at the following schools, call Melissa at (509) 624-7114 or email Melissa@jaspokane.org.
Elementary schools in need of volunteers include Regal, Grant, Bemiss, Sheridan, Assumption Parish and Browne.
Rainey Coffin can be reached at (509) 927-2166 or raineyc@ spokesman.com.
Local journalism is essential.
Give directly to The Spokesman-Review's Northwest Passages community forums series -- which helps to offset the costs of several reporter and editor positions at the newspaper -- by using the easy options below. Gifts processed in this system are not tax deductible, but are predominately used to help meet the local financial requirements needed to receive national matching-grant funds.
Subscribe to the Coronavirus newsletter
Get the day's latest Coronavirus news delivered to your inbox by subscribing to our newsletter.
---
Subscribe and log in to the Spokesman-Review to read and comment on this story