News > Spokane
Fire hits two historic Garland district restaurants
Sun., Sept. 25, 2011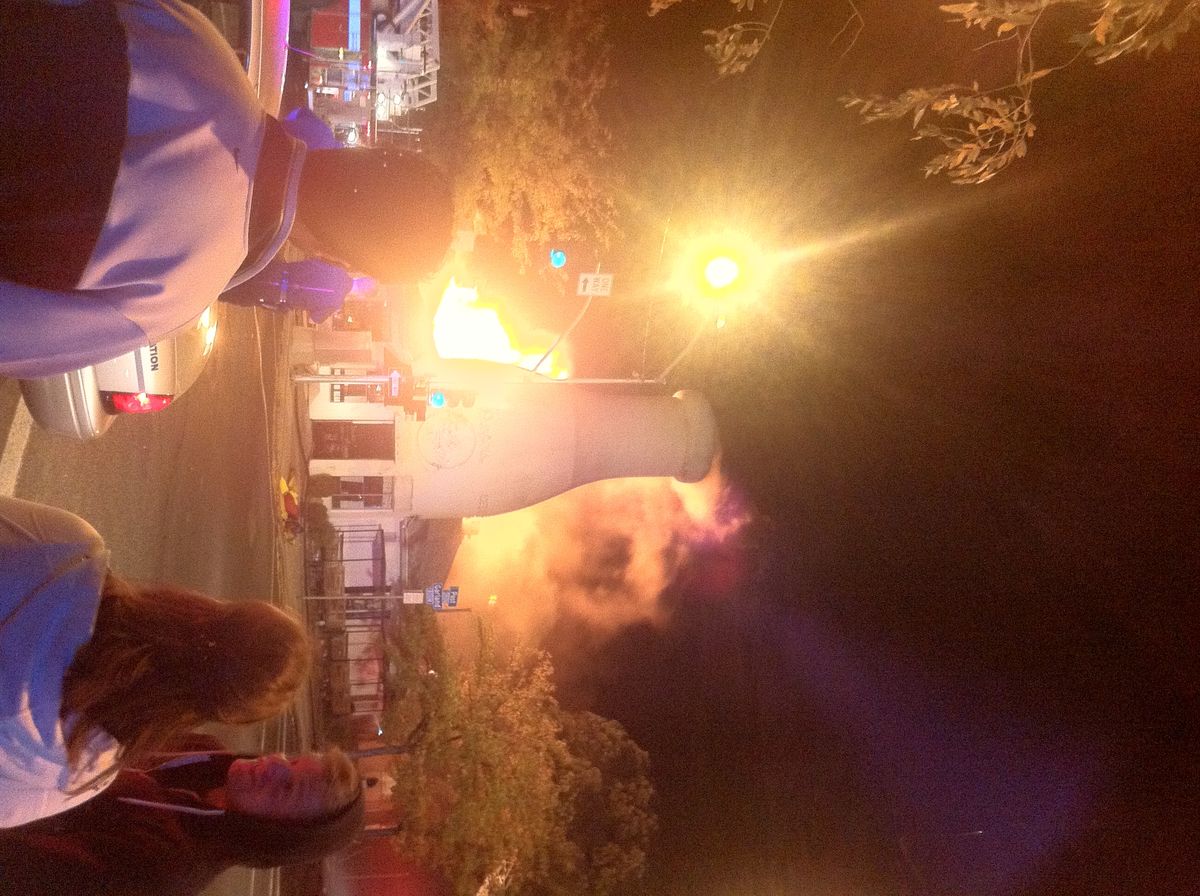 A three-alarm fire left two Garland district restaurants heavily damaged late Sunday. Cause of the fire at Mary Lou's Milk Bottle, 802 W. Garland, and Ferguson's Cafe, 804 W. Garland, remained under investigation. (Randall Schleufer)
Two historic Garland district restaurants, one a depression-era icon and the other a popular diner featured in a handful of Hollywood films, were heavily damaged Sunday night by fire. Spokane firefighters initially tried battling the three-alarm blaze inside Mary Lou's Milk Bottle, 802 W. Garland, but had to pull back as heavy flames spread around them and over to Ferguson's Cafe next door, authorities said. Crews began spraying protective foam in an effort to keep the flames contained. "Our concern was stopping it from spreading down the whole block," said Spokane Fire Chief Bobby Williams. The orange glow of rolling flames were visible from several blocks away, drawing more than 100 people to the scene to watch the battle, with many snapping pictures with cell phones and other cameras. Authorities were alerted to the fire at 8:42 p.m. Ferguson's Cafe owner Dave Jones stood near the fire command post Sunday night watching intently as passersby offered their condolences. He appeared devastated. Owners of Mary Lou's Milk Bottle had left town Sunday but their son, Dan Ritchie, hurried to the scene after being advised of the fire and was standing by as firefighters sought to keep the blaze from spreading. The restaurant, with its iconic milk bottle shape, is one of Spokane's most recognizable commercial district landmarks. Williams said cause of the fire remained under investigation, adding that there was a report of an earlier explosion but no confirmation. Witnesses also said they saw a downed power line arcing between the buildings. Ferguson's Cafe, which closed in 2009 but was later reopened, has featured in three Hollywood films, including "Vision Quest," "Benny & Joon" and "Why Would I Lie?" It first opened in the 1930s.
Local journalism is essential.
Give directly to The Spokesman-Review's Northwest Passages community forums series -- which helps to offset the costs of several reporter and editor positions at the newspaper -- by using the easy options below. Gifts processed in this system are not tax deductible, but are predominately used to help meet the local financial requirements needed to receive national matching-grant funds.
Subscribe now to get breaking news alerts in your email inbox
Get breaking news delivered to your inbox as it happens.
---