Sports
Dream rout Fever, return to finals
Wed., Sept. 28, 2011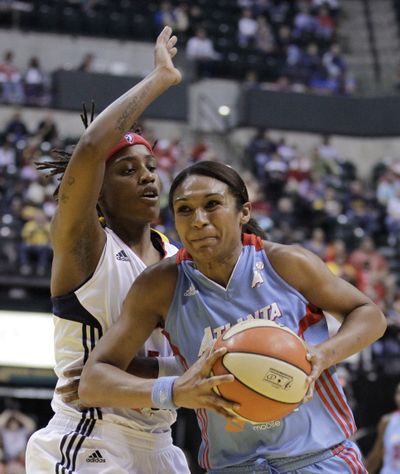 WNBA: Angel McCoughtry scored 26 points and Iziane Castro Marques added 23 and the Atlanta Dream defeated the Indiana Fever 83-67 on Tuesday night in Indianapolis to win the series 2-1 and advance to the WNBA finals for the second straight year.
Lindsey Harding scored 16 points and Sancho Lyttle added 10 points, 11 rebounds and five steals for the Dream. Atlanta will play at Minnesota on Sunday in Game 1 of the best-of-5 series.
Indiana's Tamika Catchings, the WNBA MVP, played despite dealing with pain from plantar fasciitis in her right foot. She had six points, five rebounds and four fouls as a reserve.
Katie Douglas had 16 points and nine rebounds for top-seeded Indiana.
Guillen causes buzz, even before hiring
Baseball: Ozzie Guillen tweeted that he was in town "ready to go" with the Florida Marlins, and the clubhouse buzz was all about the new manager.
One minor holdup: The Marlins had yet to confirm a deal, saving some suspense for the final day of the regular season today. But Guillen's website eliminated much of the drama by leaking the news he has agreed to become the Marlins' manager.
A post Monday night quoted Guillen announcing he was Florida bound. The blog was taken down a short time later.
• Judge limits suit against Mets owners: A judge is allowing a lawsuit to proceed in limited form against the owners of the New York Mets by the trustee recovering money for investors who lost money to jailed financier Bernard Madoff.
U.S. District Judge Jed Rakoff said the lawsuit brought by trustee Irving Picard can seek to recover up to $295 million in profits that were paid out to the Mets' owners only by proving they were "willfully blind" to the fraud.
Rakoff says Picard's claim otherwise would be limited to $83.3 million, the fictitious profits accumulated by the Mets' owners in the two years before the fraud was revealed.
Report: Ex-Tennessee coach paid for trip
College football: Former Tennessee assistant Willie Mack Garza paid for a top recruit and his mother to fly to Knoxville for an unofficial recruiting trip during Lane Kiffin's tenure at the school, Yahoo Sports reported.
Garza followed Kiffin when he took over at Southern California, but the secondary coach resigned Sept. 1, citing "personal issues unrelated to USC."
A Tennessee spokesman said the university is aware of the issue. Kiffin said Tuesday he had no knowledge of the payment.
• Boise State will appeal part of NCAA violations: Boise State announced it will appeal the additional sanctions the NCAA committee on infraction imposed on its football program.
The school said it has informed the NCAA of its intentions to appeal specifically the football portion of the sanctions. The school is accepting the remaining punishment placed on the school's tennis and track programs.
NBA, union will meet again this morning
Miscellany: David Stern provided little insight into the direction of the league's labor situation. That, he hinted, could come today.
Negotiators for the NBA and its players met for only about two hours Tuesday and plan to resume the talks this morning. Stern said that meeting will determine how soon it's worth sitting down again.
And if it's not later this week, more cancellations are likely next week.
Both sides said neither concern nor optimism should be read into the brevity of the meeting. They simply needed time to think about what had been discussed.
• Colts bring back Orlovsky: Quarterback Dan Orlovsky rejoined the Indianapolis Colts, the team he spent training camp with this summer.
Injuries forced the Colts (0-3) to add depth at quarterback before Monday night's game at Tampa Bay. Peyton Manning could be out the entire season, and Kerry Collins left Sunday night's game against Pittsburgh with concussion-like symptoms.
The only other active quarterback on the roster is three-year veteran Curtis Painter, who beat out Orlovsky as the No. 3 quarterback.
• Dokic, father reconcile: Australian tennis player Jelena Dokic said she has reconciled with her father and former coach, Damir, after an eight-year rift.
Dokic, 28, who was ranked as high as No. 4 as a teenager, split with her father after a series of embarrassing public indiscretions.
She went on to accuse him of years of humiliation and abuse as her coach.
Damir Dokic was released after almost a year in jail last year for threatening to blow up the Australian Embassy in Belgrade and having an illegal cache of weapons at his house.
Local journalism is essential.
Give directly to The Spokesman-Review's Northwest Passages community forums series -- which helps to offset the costs of several reporter and editor positions at the newspaper -- by using the easy options below. Gifts processed in this system are not tax deductible, but are predominately used to help meet the local financial requirements needed to receive national matching-grant funds.
Subscribe to the sports newsletter
Get the day's top sports headlines and breaking news delivered to your inbox by subscribing here.
---