News > Spokane
Officer Dan Lesser fired shots that killed man in police standoff
Fri., Sept. 30, 2011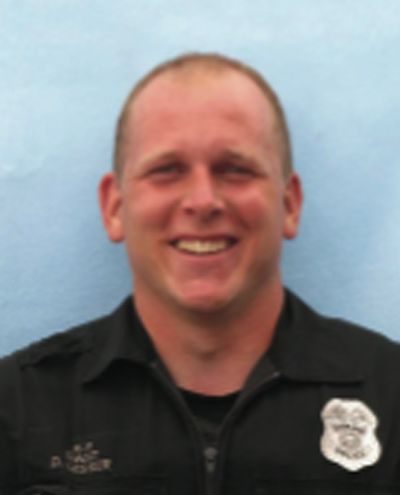 A 16-year Spokane police veteran and member of the SWAT team has been identified as the officer who shot and killed an armed and suicidal man Monday.
Authorities said Thursday that Officer Dan Lesser was the only officer who fired shots during the nearly two-hour standoff with James Edward Rogers, 45. Rogers died of gunshot wounds after he refused a negotiator's commands to get out of his overturned van at East Seventh Avenue and South Hatch Street on the lower South Hill.
Officers could see him "hanging from the driver's seat, still manipulating the shotgun" after the van overturned, according to a news release by Spokane County sheriff's Sgt. Dave Reagan.
Lesser feared for his safety and fired his rifle at Rogers after Rogers "waved his hand at Lesser and then raised the shotgun and pointed it at him," Reagan said Thursday.
The Sheriff's Office is investigating the shooting, along with members of the Spokane Police Department and Washington State Patrol.
Family said they spent Monday looking for Rogers as he called them from different locations, threatening suicide. His father, Alonzo Rogers, said his son battled alcoholism.
Reagan said Thursday that officers were trying to prevent Rogers from escaping the van into the neighborhood "but their efforts were complicated by the need to evacuate nearby residents and other citizens from within range of the armed suspect.
"A nearby medical facility had patients requiring transport out of the area, and they required police escorts through the outside perimeter of the crime scene," according to the news release. "Meanwhile, Rogers had dropped from his seat and was seen seated inside the van, still holding the shotgun."
The SWAT team was called to the scene and negotiators spoke with Rogers for about two hours before Lesser fired shots at 8:23 p.m.
Lesser was atop an armored SWAT vehicle and could see Rogers through the rear window of the overturned van, Reagan said.
Rogers had fled police in the van after they were called with a report of a suicidal employee with a shotgun at SL Start, 811 S. Hatch St., at 6:28 p.m. A shotgun wad recovered from the parking lot indicates Rogers fired the shotgun once before he drove away, Reagan said.
Investigators recovered three unfired shotgun slugs, a type of shell that has a single ball of lead rather than multiple smaller pellets, and a suicide note from the van. They also recovered a U.S. military police hat – Rogers' family said he served as a military police officer until the mid-1990s.
Detectives also found a criminal citation in the van. Reagan said Rogers had skipped a court hearing Monday for a recent drunken driving arrest and had a warrant for failing to appear.
Lesser was a K-9 officer in 2009 when he shot and killed a suspected car thief, 22-year-old Johnnie Longest, who had fired a gun at officers and shot Lesser's police dog, injuring the animal. Spokane County prosecutors concluded Lesser was justified in shooting Longest.
Lesser also was one of three officers who fired their guns at a Lewis and Clark High School student in 2003 after the teen pointed a gun at SWAT team members. The teen was shot in the arm, stomach and jaw but lived.
The officer was honored with a life-saving award earlier this year for saving a stabbing victim in June 2010.
Local journalism is essential.
Give directly to The Spokesman-Review's Northwest Passages community forums series -- which helps to offset the costs of several reporter and editor positions at the newspaper -- by using the easy options below. Gifts processed in this system are not tax deductible, but are predominately used to help meet the local financial requirements needed to receive national matching-grant funds.
Subscribe now to get breaking news alerts in your email inbox
Get breaking news delivered to your inbox as it happens.
---