Sports > Outdoors
Hunters go hands-on for elk habitat
Sportsmen carve out small area to make a difference for game
Sun., April 8, 2012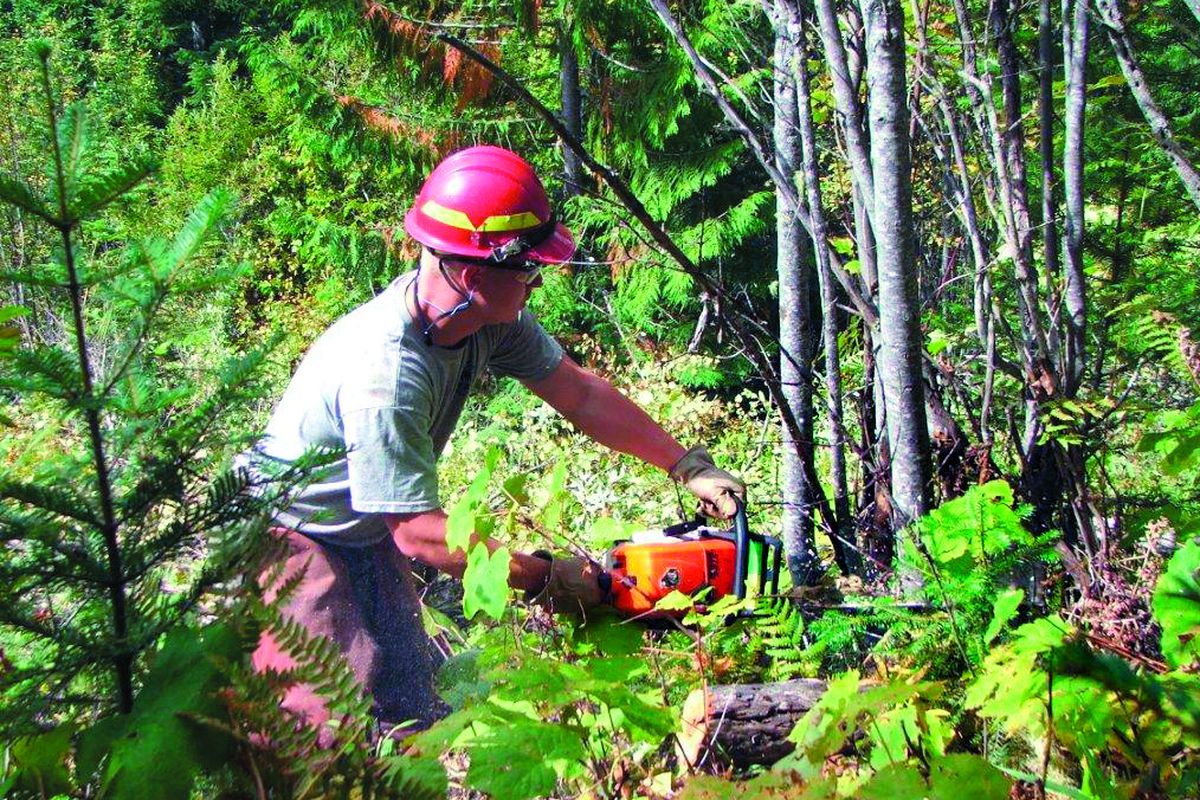 An Idaho Fish and Game employee uses chain saw to cut brush in Pete King drainage of Clearwater National Forest.
Why gripe about the state of elk herds in the upper Clearwater Basin when you can do something about it? That's the approach some veteran hunters are taking.
Calling themselves the Habitat Group, the seven men are rolling up their sleeves and going to work to make a small corner of the Clearwater National Forest more hospitable to elk. They are also recruiting helpers.
"We are looking for young, enthusiastic guys who want to get in there and cut some brush because they love elk," said Mike Butler of Clarkston, a retired wildlife biologist.
Butler, Clarence Binninger of Orofino, Bruce Wyatt and Ted Zmak of Lewiston, Joseph Peterson of Kamiah, Duane Morris of Kooskia and Jon Binninger of Troy will set up a camp in the Pete King drainage this month and start chain-saw pruning a 75-acre block of old brush fields.
The idea is to get old and dying plants such as red stem ceanothus to put on new succulent growth that will fatten elk in the summer so they are prepared for the lean months of winter.
Habitat succession, the slow march of time that converts young brush fields to mature forests, along with predation from wolves, bears and mountain lions and the occasional severe winter are blamed for a dramatic decrease in the upper Clearwater basin elk herd. The U.S. Forest Service and Idaho Department of Fish and Game have worked together on plans to improve the habitat there.
Much of the prescription calls for allowing man-made and natural fires to burn areas where the forest and brush fields have matured and turned the habitat from a place where elk had plenty to eat to one where they struggle to eke out a living.
The men originally approached Craig Trulock, ranger of the Lochsa District, in 2010 looking for permission to cut trees encroaching on meadows near the border of the Selway Bitterroot Wilderness Area on the south side of the Lochsa River. Trulock told them getting environmental clearance to do that could take years, so he redirected their efforts to the brush fields where such work had already been approved.
With assistance of Jim White and a field crew from Fish and Game, they cut a test plot in the Pete King drainage that fall. When they returned in the spring, the results were promising. New succulent growth had shot up. In some places, the brush they cut to ground level was 6 feet tall.
"We took a hard look at what we were doing and we were very impressed," said Clarence Binninger, a retired veterinarian.
White, the regional wildlife habitat manager for Fish and Game at Lewiston, admires the group's drive and determination.
"I think it's pretty impressive a small group of sportsmen like that can actually go do something and get something done on the ground," he said.
The group continues to work with White and is getting technical assistance from the University of Idaho. They also hope to recruit college students and anyone else interested, young or old, male or female, to help when they resume the work next month. Wyatt said there is work for everybody, whether they want to run a chain saw, pull brush or serve as camp cook.
Wyatt, Clarence Binninger and Butler are all in their 60s and say the work isn't beyond their fit but aging bodies.
"We really enjoyed cutting that stuff. You can just set a pace so it's not too hard," Wyatt said.
Peterson, the manager of Flying B Ranch at Kamiah, is setting up a base camp, with tents for men and women. Food will be provided to volunteers and Jon Binninger will have stock animals to assist with the work.
However, those who sign on need to attend a Forest Service-approved training class before they can operate chain saws on the project and those who participate must also receive first aid and CPR training.
"It's a deluxe camp," Wyatt said.
The men figure with all the problems facing elk, this is one small thing they can do to make a difference. They hope it is something that grows into a lasting volunteer-driven program. They plan to seek grants to fund future work.
And they hope the idea spreads to other hunters who want to roll up their sleeves and help elk in their region.
Local journalism is essential.
Give directly to The Spokesman-Review's Northwest Passages community forums series -- which helps to offset the costs of several reporter and editor positions at the newspaper -- by using the easy options below. Gifts processed in this system are not tax deductible, but are predominately used to help meet the local financial requirements needed to receive national matching-grant funds.
Subscribe to the sports newsletter
Get the day's top sports headlines and breaking news delivered to your inbox by subscribing here.
---