News > Spokane
Spokane doctor, expert hiker, dies in fall
Byrd, 82, had climbed, trekked and paddled all over the world
Tue., April 10, 2012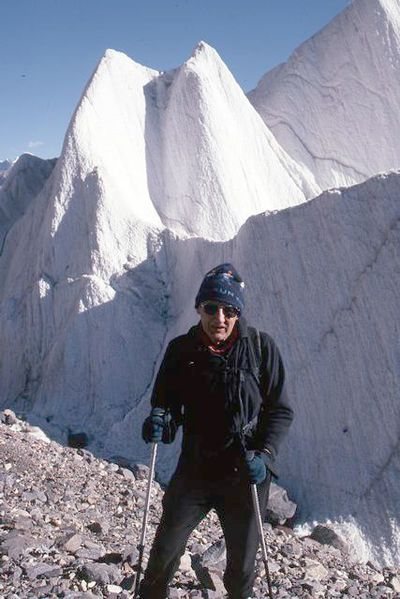 Dr. Richard Byrd, a Spokane pulmonary specialist and globetrotting adventurer, died last Tuesday after suffering a blow to the head in a fall while on the coast of Cuba.
Byrd, 82, was traveling with his wife, Laurie, and a group led by National Geographic Expeditions. The adventure travel organization has clearance to lead Cuba cultural trips that include U.S. citizens, who are otherwise restricted from entering the nation.
Byrd was featured in a 2010 story in The Spokesman-Review for the inexhaustible energy that allowed him to continue a medical practice at Rockwood Clinic while satisfying a world-class appetite for climbing mountains, paddling kayaks and hiking treacherous trails.
"The group was hiking and he was out in front, as usual," Laurie said, describing his fatal accident. "He apparently slipped and hit his head. He never regained consciousness."
She said she finds comfort in knowing he was out exploring new territories and doing what he loved.
"On the other hand, this was such an incredibly active and vital man who still saw patients – and he was gone in an instant. It takes some getting used to."
Byrd, a former Air Force officer, launched most of his outdoor adventures after the age of 50. He was active in the Spokane Canoe and Kayak Club and a veteran, along with Laurie, of wilderness trips in North America.
They paddled off of the Galapagos Islands as well as northeastern Greenland, a trip that took 10 years to arrange with permission from the natives.
"It was worth it," he told a reporter.
Byrd climbed peaks including Kilimanjaro and hiked to the base camps of Mount Everest and K2.
He'd trekked in Nepal, India and the Indonesian island of Buton. He'd canoed Alaska's Noatak River into the Bering Sea, kayaked the Strait of Magellan in Chile, and rode out 400 miles of whitewater in a canoe with Laurie on the Nahanni River in Canada's remote Northwest Territories.
The Nahanni trip is epic in the paddling club's history because the group nearly starved.
After trekking 200 miles across England, walking an average of 20 miles each day, Byrd wondered if he was in good enough shape to run a marathon. He proved he could by finishing the Portland Marathon, just before he turned 80.
Byrd's ashes returned to the United States with his wife. The family is planning a memorial on April 27 at 11 a.m. at Hamblen Park Presbyterian Church.
Local journalism is essential.
Give directly to The Spokesman-Review's Northwest Passages community forums series -- which helps to offset the costs of several reporter and editor positions at the newspaper -- by using the easy options below. Gifts processed in this system are not tax deductible, but are predominately used to help meet the local financial requirements needed to receive national matching-grant funds.
Subscribe to the Coronavirus newsletter
Get the day's latest Coronavirus news delivered to your inbox by subscribing to our newsletter.
---
Subscribe and log in to the Spokesman-Review to read and comment on this story