News > Pacific NW
Court video shows Scherf confessing Biendl killing
Wed., April 11, 2012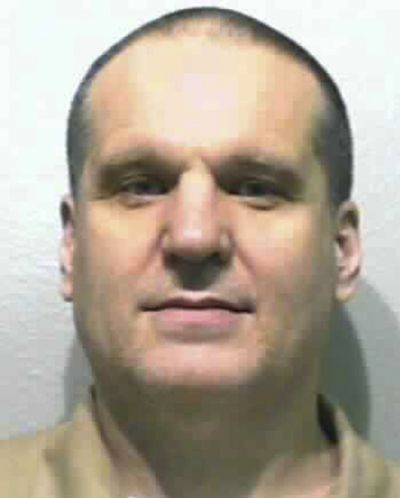 EVERETT — A videotaped confession played in court showed an inmate describing how he overpowered a corrections officer and strangled her in the chapel of a state prison at Monroe. The statement by defendant Byron Scherf to police was seen Tuesday in Snohomish County Superior Court, where a judge is deciding whether it will be admitted as evidence in Scherf's trial for aggravated murder. Defense lawyers were expected to raise questions about Scherf's mental state when he spoke to detectives, the Daily Herald reported today. Scherf could face the death penalty if he is convicted in the January 2011 slaying of Jayme Biendl. The video recorded in February 2011 shows Scherf calmly sipping a cup of coffee as he tries to explain what came over him on the night of the strangling. "It triggered a response in me that I don't know," Scherf said. "It was like all these offenses that I had been stuffing for years and years and years just started running, and the more that ran through my mind, the madder I got." Scherf said he waited for the chapel to clear out, then ambushed Biendl. He described how she tried to fight off his attack, leaving him bruised and bleeding. He explained how he overpowered her and wrapped an amplifier cord around her neck. He told detectives he blacked out after he began pulling on the cord. Judge George Appel must determine if the interviews with detectives were obtained legally. In one of the sessions, Monroe police Detective Barry Hatch asked Scherf why he was speaking with police. A tearful Scherf told the detective that he'd "done a lot of soul searching." "She didn't deserve to die. She didn't deserve that," he said. Scherf initially declined to talk to police. He later asked to speak with the two sheriff's detectives who were assigned to photograph his injuries. His first interview centered around improving his living conditions at the jail. Scherf said he would be willing to give detectives a full confession if some of his requests were met. Scherf wanted to be able to shave, have more visitors and make more phone calls. He wanted soap, toothpaste and hot water in his cell, and asked to be able to buy items from the jail's commissary. "I want some things done, and if this doesn't happen, then everything's off the table," Scherf said. Detective Brad Walvatne testified Tuesday that he didn't promise Scherf anything but told the inmate he'd be willing to pass along the requests. It was up to a captain at the jail to determine whether conditions would be changed, Walvatne said. In later interviews, Scherf explained that he wasn't making any statements because of threats or promises. He also told detectives that he had met with an attorney, who advised him not to speak with the police. "I wanna be here. I chose to be here," Scherf said on the tape. "Like I said, I think in the interest of this family that's lost their loved one and everything considered that it's just, this thing just needs to be dealt with quickly." Scherf was sentenced in 1997 by Spokane County Superior Court Judge Neal Rielly to a life sentence without chance of parole after a three-day, nonjury trial in which he was convicted of the kidnapping and rape two years earlier of a 37-year-old woman near Spangle.
Local journalism is essential.
Give directly to The Spokesman-Review's Northwest Passages community forums series -- which helps to offset the costs of several reporter and editor positions at the newspaper -- by using the easy options below. Gifts processed in this system are not tax deductible, but are predominately used to help meet the local financial requirements needed to receive national matching-grant funds.
Subscribe to the Coronavirus newsletter
Get the day's latest Coronavirus news delivered to your inbox by subscribing to our newsletter.
---
Subscribe and log in to the Spokesman-Review to read and comment on this story