News > Spokane
City attorney fires Treppiedi
Lawyer had charge of Otto Zehm case
Tue., April 17, 2012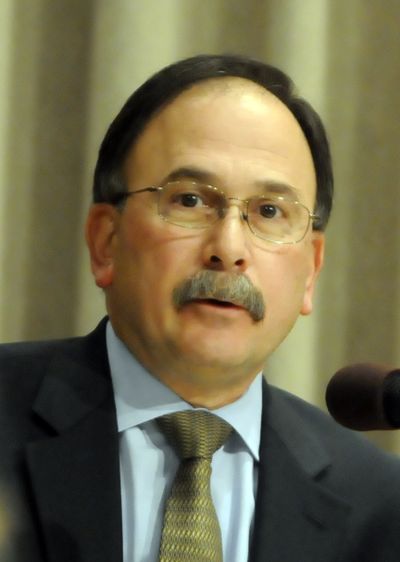 The architect of Spokane City Hall's controversial handling of the fatal police confrontation with Otto Zehm was fired Monday, marking the latest fallout from the excessive force case that already has led to a federal conviction of a police officer and contributed to the ouster of former Mayor Mary Verner in last November's election.
Assistant City Attorney Rocky Treppiedi was dismissed Monday by City Attorney Nancy Isserlis.
Treppiedi, 59, has a reputation for providing fierce and effective defense of the city against lawsuits. But his critics say his record indicates an unwillingness to settle even when the evidence is stacked against the city.
"Rocky Treppiedi was one of the hardest working and most dedicated assistant city attorneys that I ever worked with, and I'm very sorry to hear that that happened," former City Attorney James Sloane, who hired Treppiedi in 1981, said Monday when asked about Treppiedi's dismissal.
Treppiedi's work on the Zehm case became a highlight of last year's mayoral campaign. Tom Keefe, the former chairman of the Spokane County Democratic Party and longtime critic of Treppiedi, endorsed David Condon, a Republican, in the race.
"Mr. Treppiedi for whatever reason brought a very aggressive police mindset to the job of providing legal advice to the city," he said Monday. "In the 12 years I've lived in Spokane, I've really been alarmed at the percentage of people in this city who are afraid of their police department. It has not just been tolerated, but fostered out of City Hall."
Treppiedi declined to comment on his dismissal. He earned about $112,200 last year. He left the city attorney's office in 2000 to work in private practice but returned in 2003.
"I am not talking to The Spokesman-Review," he said in a polite tone during a brief phone call.
City Councilwoman Nancy McLaughlin, who leads the council's public safety committee, said she "respected" Isserlis' decision.
"As a city, I just think we need to move on," McLaughlin said.
Risk manager fired
Treppiedi was fired three days after Condon fired Risk Manager Pam Schroeder.
Before Schroeder was hired in 2006, Treppiedi served a dual role as the city's risk manager and an assistant city attorney.
Schroeder, 61, said she was informed of her dismissal on Friday by her boss, Chief Financial Officer Gavin Cooley. She said she was not being fired for cause.
"I was told that it was due to a change in administration," she said.
Schroeder was hired by former Mayor Dennis Hession. She previously served as the risk manager for Jacuzzi, the hot tub company.
"This is part of a broader review of city risk management," Cooley said when asked about Schroeder's dismissal. "It's working toward balancing the financial needs of the city with the needs of the citizens. It's a real balance."
Schroeder earned about $109,500 last year.
Cooley and Isserlis are studying the city's risk management strategy in response to allegations that the firm that has the contract to handle portions of the city's risk management responsibilities pressured police and a city employee to hide potentially incriminating details surrounding a 2010 collision involving a city vehicle that paralyzed a pedestrian.
Treppiedi's future at city hall was on tenuous ground at least since November, when voters elected Condon. Condon said during his mayoral campaign that he lacked confidence in Treppiedi's legal advice based on his work on the Zehm case and that he should be fired.
But the mayor doesn't technically have the power to fire an assistant city attorney. City rules give that authority to the city attorney. Condon stripped Treppiedi of his role as the police department's legal adviser soon after taking office. He continued to say he didn't have confidence in him, and last month, Condon fired City Attorney Howard Delaney and replaced him with Isserlis.
In an interview earlier this month, Condon said he did not and would not direct Isserlis to fire Treppiedi, though he had expressed to Issleris his concerns about the legal department, including concerns about Treppiedi.
"She is doing a full review of all of our processes," Condon said on April 5. "I told her to review the whole thing. She has reviewed all the files on all employees who are under her direction."
Otto Zehm case
Zehm, a 36-year-old Spokane man, died soon after he was beaten by officers in a North Spokane Zip Trip in 2006. The first responding officer, Karl F. Thompson Jr., was convicted of violating Zehm's civil rights and lying to investigators. The U.S. Department of Justice has described the city's handling of the Zehm case as a cover-up. Federal prosecutors also have been critical of Treppiedi's work in defending the city against a lawsuit from Zehm's family, arguing that he interfered in the federal criminal probe.
Treppiedi "placed his interests in the 'civil liability' case above the completion of the FBI's and the (Department of Justice's) search for the truth in its criminal investigation," Assistant U.S. Attorney Timothy Durkin wrote in an email to Delaney in 2009.
In June 2009, Treppiedi authored the city's response to the Zehm family lawsuit, claiming Thompson had acted appropriately even though by that time Assistant Police Chief Jim Nicks had determined that Thompson violated police procedure.
City attorneys called the concerns of federal prosecutors "baseless" and accused U.S. attorneys of having an "overreaching desire to not only manage the prosecution" of the criminal case against Thompson "but the entire civil case and each of the civil litigants herein," according to a court document the city filed in September 2009.
Marks family suits
Treppiedi also faced significant criticism for his handling of lawsuits from the Marks family, a Gypsy family in Spokane who accused the police of civil rights violations after their homes were illegally searched in 1986. The city eventually settled with the family for $1.43 million, but only after a decade of negative publicity, including the pronouncement from Jimmy Marks that a curse had been placed on the city.
"He's a very zealous and dedicated advocate for his clients," said Gregg R. Smith, an attorney who represented the family of Grover Marks. "The negative I would see that may come from that is there were times where he kind of lost sight and took it too personally."
Treppiedi's most high-profile decision in that case resulted in the Spokane City Council and mayor making a formal apology to CBS News after he authorized a police search at the hotel room of a CBS crew in town to cover a feud between two Marks family factions. Treppiedi and nine police officers showed up at 4:20 a.m. with a search warrant.
At the time, Treppiedi said he thought the CBS crew had "crucial evidence of a crime" and felt he didn't have time to get a subpoena, the usual way to seek evidence from the media. The network had taken video of a Gypsy family fight.
Network executives said it was the first time that police had seized one of its news tapes in the United States. "It's a chilling effect on all journalists," CBS Vice President Joseph Peyronnin said at the time.
In an email to the newspaper in 2007, Treppiedi said he would "do the same thing today if any news organization held itself above the law as CBS did while the safety of citizens was in jeopardy."
Honored by city
Treppiedi has enjoyed broad support in the Police Department, and he was held in such high regard by some in city hall that he was named the city's employee of the month in December 2010.
"The one thing that I hear quite frequently as discussion takes place about issues within the department is 'Let's go ask Rocky,' " said Lt. David W. Richards in his letter nominating Treppiedi for the award. "That, by itself, shows the high regard that we have from Mr. Treppiedi and the quality that we assign to his guidance and opinions."
But his support has faded in recent months.
Interim Police Chief Scott Stephens, who in 2006 was in charge of the detectives assigned to the investigation into the police confrontation with Zehm, acknowledged last week his "concern" that at the time of the investigation, Treppiedi had greater access to the case than he did.
Keefe said he's hopeful that Treppiedi's departure will help the city open a new relationship between citizens and the police department.
"Hopefully, this will mean that the Gypsy curse on Spokane will be lifted," Keefe said.
Staff writers Meghann M. Cuniff and Jody Lawrence Turner contributed to this report.
Local journalism is essential.
Give directly to The Spokesman-Review's Northwest Passages community forums series -- which helps to offset the costs of several reporter and editor positions at the newspaper -- by using the easy options below. Gifts processed in this system are not tax deductible, but are predominately used to help meet the local financial requirements needed to receive national matching-grant funds.
Subscribe now to get breaking news alerts in your email inbox
Get breaking news delivered to your inbox as it happens.
---