News > Spokane
Landers: Coyotes protecting den of pups
Sun., April 29, 2012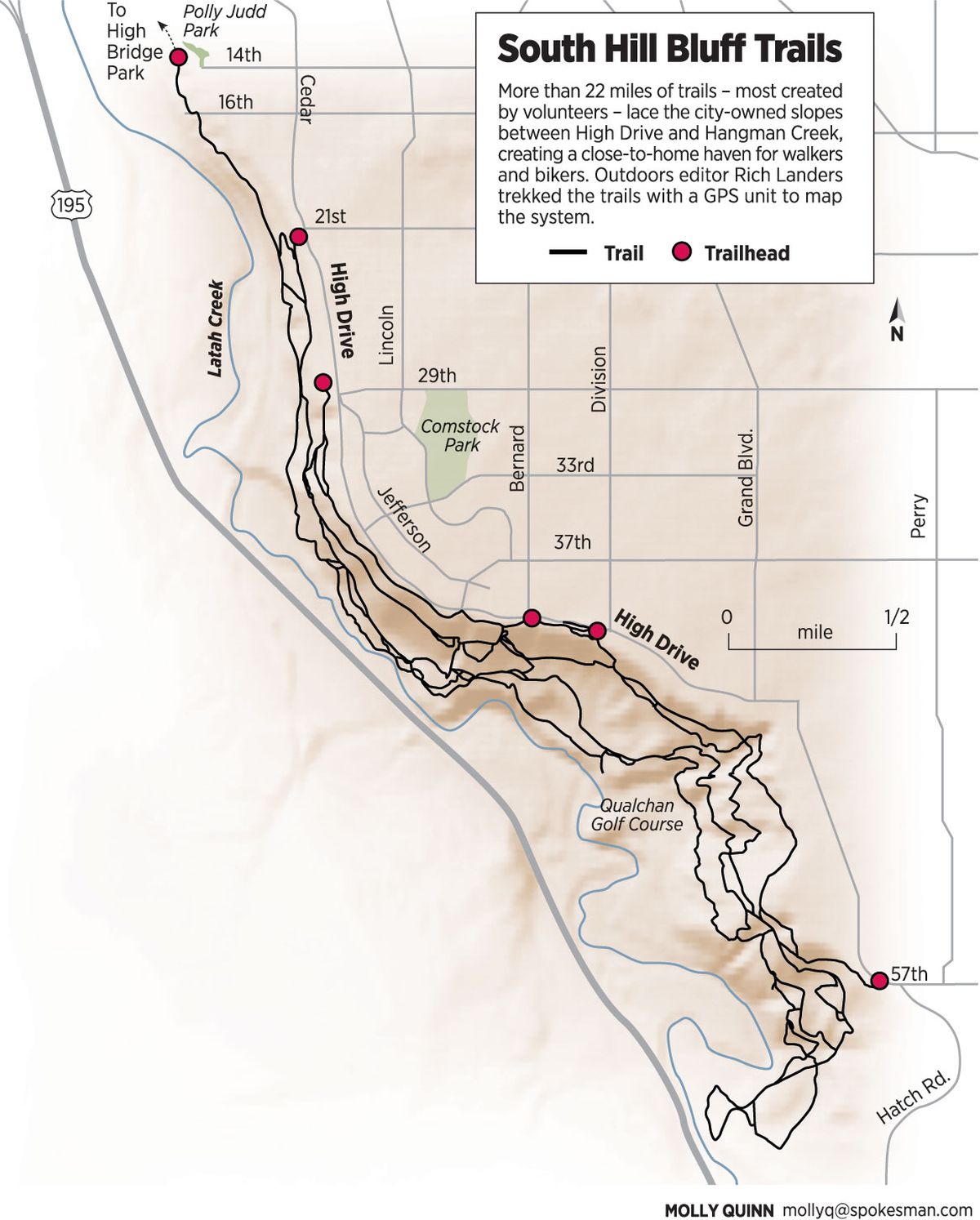 South Hill Bluff Trails map
Coyotes defending a den of pups are not tolerating dogs coming through their territory between High Drive and Hangman Creek.
Following a story in Saturday's Spokesman-Review about two dogs being attacked by coyotes in the area, the paper learned of two other coyote attacks this week on dogs up to 80 pounds.
Coyotes generally weigh 30 to 45 pounds.
All of the dogs have been off-leash but within sight of their owners.
Don Wallace, who regularly walks the popular South Hill bluff trails, chased away three coyotes Wednesday as they closed in and bit the tail of his wire-haired schnauzer.
On Saturday, he went back and spotted the source of the conflict.
"When we came to the same place, my dog was right beside me and I could tell when its ears went up that they were there," he said.
"As three very healthy-looking coyotes surrounded us, I saw six football-size, chocolate-colored pups scurry back into a hole that's just 25 feet off the trail."
Wallace said he, along with two friends and the dog, kept walking. "The adult coyotes ushered us away and when we got to a certain spot, they left and went back to their watch."
Wallace said his 40-pound dog was not injured when coyotes nipped its tail on Wednesday.
Other dogs haven't been so lucky.
Chris Larson was exercising Wednesday in the same area – roughly down the bluff southward from Manito Boulevard – when two coyotes confronted his 80-pound Chesapeake-Labrador retriever mix.
"I saw the coyotes angling toward us," he said, noting that one coyote stopped and stood still while the other sneaked around and bit Larson's dog on the rear legs.
The coyotes disappeared as Larson ran to his dog, which required stitches to close the wounds.
On Thursday, Arch Harrison reported his two 60-pound Labs were confronted by three coyotes in the same area.
Two coyotes were at the nose and tail of one dog as he rushed in to scare them off before any harm was done. But he didn't see the other dog suffering bites to the legs and chest. The dog required an expensive visit to the Pet Emergency Clinic, he said.
Larson said he called local animal control agencies and the Fish and Wildlife Department and was told there wasn't anything the agencies could do in this case.
"It's part of living with wildlife," said Wallace, who's seen this before.
"In 2008, coyotes chased my dog while we were hiking on the bluff trails, and it ran up and was killed by a car on High Drive.
"In 2007, a coyote picked up a dachshund I had at the time. The dog bit the coyote on the nose, and he dropped it."
The coyotes have made a good living on the South Hill for many years, he said.
"The three defending the den right now are very, very healthy-looking," he said.
Local journalism is essential.
Give directly to The Spokesman-Review's Northwest Passages community forums series -- which helps to offset the costs of several reporter and editor positions at the newspaper -- by using the easy options below. Gifts processed in this system are not tax deductible, but are predominately used to help meet the local financial requirements needed to receive national matching-grant funds.
Subscribe now to get breaking news alerts in your email inbox
Get breaking news delivered to your inbox as it happens.
---