News > Spokane
Anglers embrace season as dozens of lakes open for fishing
Sun., April 29, 2012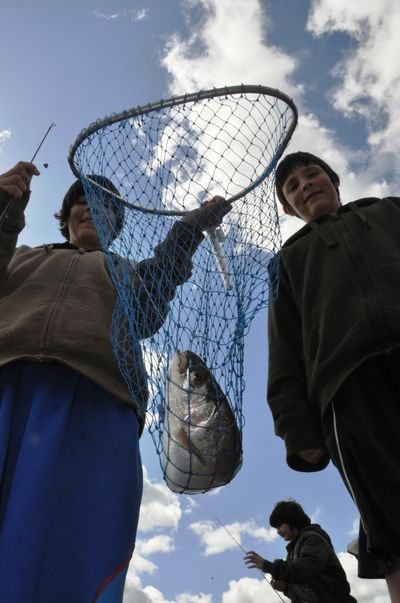 Night owls made the first casts at 12:01 a.m. Saturday to ring in the opening of Washington's lowland fishing season. Docks at Fishtrap and other popular camping-fishing lakes were lined with anglers all night long despite temperatures in the 30s.
Content to be a mere early bird, Lindsay Lundquist arrived shortly after 5 a.m. on the shore of West Medical Lake, where she caught a nice rainbow trout on her first cast.
"I wasn't even done rigging my rod," said her companion, Jared Meister. "Then we went three hours before either of us caught another fish."
By 8 a.m., more than 100 boats were dotting West Medical, one of dozens of area lakes that open to fishing on the fourth Saturday of April.
Washington Department of Fish and Wildlife hatchery trucks seeded selected lakes across the state in the last few weeks with about 3 million foot-long trout. Those fish and some whopper-size hatchery broodstock joined millions of other trout stocked in previous years to boost expectations for every cast.
"You never know what you're going to get," said Jesse Linn, who brought his family and some friends to West Medical. Along with fishing rods and tackle boxes, they packed in chairs, coolers and even a foam bed and blankets for the kids to curl up on when they got tired or cold.
Although many Washington waters are open year-round – and others open March 1, April 1 and in early June – the late April opening marks the start of the state's most popular trout fishery.
In 200 yards of West Medical Lake shore, at least three languages were being spoken, including Russian and Vietnamese.
Anglers were equipped with gear ranging from high-end graphite fly rods to the plastic Popeil Pocket Fisherman that Steve Childs, of Spokane, was casting from shore.
"People are catching fish longer than this," he said, beaming over the 1960s invention popularized by TV huckster Ron Popeil.
Opening day is prime time for law enforcement officials to emphasize boating safety requirements.
"Our goal is to contact 1,000-1,200 boaters a season to educate them about laws and safety and we'll meet 200 of them on opening day," said Travis Pendell, a Spokane County Sheriff's Office deputy stationed at Williams Lake.
"It's early in the season and boaters are receptive to getting information to make sure their boats are up to code for summer."
Life jackets are the first thing deputies check, he said. "You need one onboard for every person, and kids 12 and under must be wearing them," he said.
Many boaters say they've never heard of Washington's statewide requirement for all boats to have a sound-producing device such as a whistle or horn, he said.
At Williams Lake, Jesse Watson, 14, of Lewiston, said fishing on opening day is a tradition for his family.
"I caught my first fish here when I was little and I think my dad caught his first fish here," he said.
The fishing was good all morning for the Watsons, who were trolling Wedding ring spinners behind Jack Lloyd gear. "We were releasing a lot of fish so we could keep fishing," Watson said.
Mike McCabe was among the many parents taking advantage of Washington's fishing license exemption for kids under 14.
He said parenting on the Klink's Williams Lake Resort dock was an enjoyable job as he watched 8-year-old Jacob unhook a fish he'd just landed. The boy put the trout on a stringer, rebaited his hook and headed over to his special spot to continue fishing.
"He's a five-year fishing veteran," McCabe said, noting the boy was still going strong at 11 a.m. even though their alarms in Deer Park had gone off at 3 a.m. for an early start.
"Jacob can do it all himself. It's his passion. He reads about fishing. He ties his own flies. I just bring him out here and watch him go to it."
Lake
County
Fish kept

per angler

Ellen
Ferry
5
Mudget
Stevens
4.1
Williams
Spokane
3.9
Starvation
Stevens
3.7
W. Medical
Spokane
3.1
Fishtrap
Spokane
3
Local journalism is essential.
Give directly to The Spokesman-Review's Northwest Passages community forums series -- which helps to offset the costs of several reporter and editor positions at the newspaper -- by using the easy options below. Gifts processed in this system are not tax deductible, but are predominately used to help meet the local financial requirements needed to receive national matching-grant funds.
Subscribe to the Coronavirus newsletter
Get the day's latest Coronavirus news delivered to your inbox by subscribing to our newsletter.
---
Subscribe and log in to the Spokesman-Review to read and comment on this story