News > Business
Boutiques on wheels becoming fashionable
Mobile shops gaining traction with entrepreneurs, customers
Wed., Aug. 1, 2012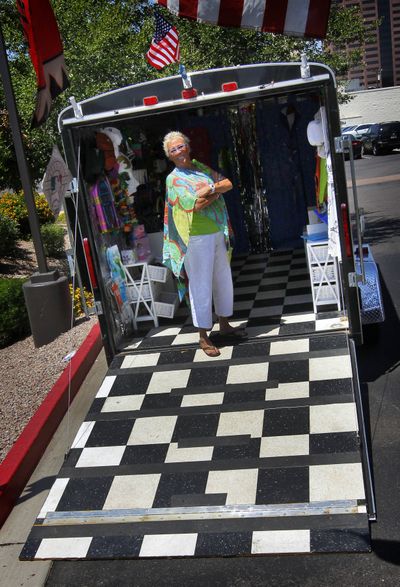 WASHINGTON – The first time the brakes went out in her trailer/store, Joey Wolffer ran a stoplight and worried what would happen to her high-end accessories inside. Two years later, she has a close relationship with a mechanic, knows the best spot to park in New York's Meatpacking District and has a devoted summer following in the Hamptons.
Wolffer transformed a greasy potato chip truck into a 1980s glam, bohemian den she named "Styleliner." It is stocked with limited-edition accessories, like a $430 crystal and fringe necklace, from her world travels.
Styleliner is among a handful of mobile retail stores in New York, Boston, Los Angeles, Portland and across the U.S that are hawking vintage accessories, stylish shoes, and denim to die for in their haute wheels. Owners say they're taking cues from the food truck industry, which glamorized street cuisine, garnered a cult following and even spawned a hit TV show.
"I wanted relationships with customers. I wanted to get out there and work with people and meet new people all the time," said Wolffer, who made a profit her first summer in business in 2010.
The boutiques on wheels can only accommodate a few customers at a time, providing a more intimate shopping experience than a crowded department store.
"The old door-to-door salesman is too difficult in today's world, but we're seeing an uptick in bringing the product to the consumers," said Marshal Cohen, chief retail analyst at New York-based NPD group.
It's also a cheaper way for startup companies to break into the business quickly.
"This was about being an entrepreneur and doing it in a strange and audacious way, and the trailer brings out all these great stories from people that I love," said Sarah Ellison Lewis, owner of Bootleg Austin, a mobile shoe boutique in Austin, Texas. "I wanted to do something that was also really friendly and really warm. I'm really sick of retails being cold and stark and snotty."
Experts say traditional stores want to collaborate with mobile retailers, not compete with them. The trend comes as brick and mortar stores are struggling to get customers excited about shopping in a struggling economy.
"It's an opportunity to get (customers) into the parking lot and go to the mobile truck, and we believe there's overflow traffic that goes right into the store from there," said Mike Gatti, a senior vice president of the National Retail Federation. "We're not hearing really any complaints about them."
Customers are also drawn to the novel experience and personal attention they get from mobile retailers.
"People love it. You are now back to the social aspect of shopping," Cohen said.
In Portland, shoppers sift through vintage dresses and men's ties on a tricked-out double-decker bus. The Fashion Truck features cute and affordable clothes from its Boston-based trailer. A chevron print shift dress sells for $48.
And it's not just retail. Experts predict consumers will see more industries, including medical and home furnishing, hitting the road.
The Man Cave offers haircuts, shoe shines and neck massages in an air-conditioned trailer with high-end cigars and a humidifier. Owner Julia Hutton also runs two other mobile retailers in Phoenix, including Biker, Babes and Beyond LLC and Bling N' Things.
Hutton says a permit costs $35 a year in Cave Creek, a popular area in metro Phoenix, and about $1,000 in nearby Chandler. The Chandler permit requires owners to park in the same spot and doesn't allow them to roam the city.
Her company, ExTreme ReTrailers, also designs custom trailers to look like mini stores on wheels. The trailers include wireless credit card machines, changing rooms and air conditioning.
Trailers start at $10,000 and Hutton has five companies looking to purchase within the month, including a massage business, a pet products retailer and a craft store, she said.
Hutton says mobile retailers solve a lot of problems for entrepreneurs in a struggling economy.
"They own their own business. They own their own building that the business is in. They own their own billboard. They have a traveling billboard wherever they go."
Local journalism is essential.
Give directly to The Spokesman-Review's Northwest Passages community forums series -- which helps to offset the costs of several reporter and editor positions at the newspaper -- by using the easy options below. Gifts processed in this system are not tax deductible, but are predominately used to help meet the local financial requirements needed to receive national matching-grant funds.
Subscribe now to get breaking news alerts in your email inbox
Get breaking news delivered to your inbox as it happens.
---