News > Idaho
Police justified in Idaho shooting; video released
UPDATED: Fri., Aug. 3, 2012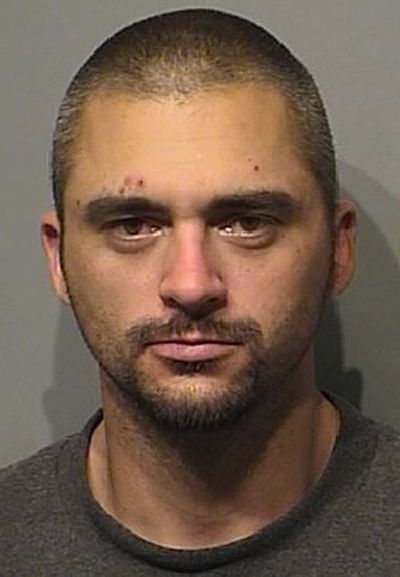 Two Post Falls police officers and and Idaho State Police corporal were justified when they shot a fugitive to death in March during a chase that ended in a cul-de-sac in Hayden, authorities concluded this week. Video from a police cruiser's dashboard camera released Friday shows Justin Earl Nicholas Todd, 33, strike Idaho State Police Cpl. Michael Thomas Keys with a car before Keys and Post Falls police Officers Aaron Ogle and Bradley Johnson opened fire. Todd, who died at the scene, was shot 10 times. Johnson fired 16 shots, Ogle fired one and Keys three. Bonner County Prosecutor Louis Marshall concluded this week that no criminal charges will be filed because the officers' use of force was lawful. "They followed their training and they followed the professionalism that we expect from our employees," said Post Falls police Chief Scot Haug. "It is a very unfortunate situation and our thoughts are with the family, but I think the officers acted appropriately." Haug and Lt. Greg McLean showed journalists the 15-minute video on Friday and explained the details of the shooting, which ended a 20-minute chase with Todd, a felon with a history of eluding police who had recently been named the North Idaho Violent Crimes Task Force's "fugitive of the week." A $3 million tort claim alleging excessive force was filed with the city of Post Falls on Thursday on behalf of Todd's juvenile son, Haug said. Haug said he stands by the investigation that concluded the officers did nothing wrong. Todd was wanted on a felony warrant charging him with eluding police and being a habitual offender. Police found a wig, a brass knuckles/stun gun combination weapon, a knife, three cellphones, drug paraphernalia and a police scanner in his car after he was killed. Haug said Friday that Todd's blood tested positive for amphetamines, including meth. Todd's girlfriend, Melissa Venerosa, 26, was detained after the shooting but will not face charges. Video shows she tried to escape the car at least twice before Todd was shot. Venerosa told police she pleaded with Todd to let her go. The video released Friday includes footage from several cameras. One of those cameras is part of a surveillance system at the home of Troy Evans, who lives just in front of where the chase ended. Evans was highly critical of the shooting and said police were lying about what happened. He posted a copy of the video to YouTube and authored a guest column critical of the shooting that was published in the Coeur d'Alene Press. He told The Spokesman-Review he believes the officers concocted a story about Todd striking Keys with his car to try to cover an unjustified shooting. "It's very unfortunate that people provide opinions when they don't have all the facts," Haug said. "In law enforcement, we don't have the ability to defend ourselves until the investigation is over. It just wouldn't be appropriate for us to make comment until we have all the facts…it's very hurtful to the officers that are involved to have someone come out and say things that are not accurate." Evans could not be reached for comment on Friday. The Kootenai County Sheriff's Department and the Coeur d'Alene Police Department investigated the shooting. Post Falls police conducted an internal investigation that showed procedures were followed correctly, Haug said. "Nobody enjoys seeing this kind of stuff happen," Haug said. "But what I am particularly pleased to see is our officers acted professionally, they followed their training. They did exactly what I would have expected them to do under the circumstances." Todd was driving on Interstate 90 March 12 when his car triggered an alert system about 2:20 a.m. that detects stolen vehicles and fugitives. Post Falls police were notified that Todd was "an officer safety concern and that they should use caution when dealing with him," Haug said. But Keys happened upon the vehicle first near Highway 41 and Seltice Way. Keys followed Todd, and Ogle and Johnson soon joined in. They followed Todd east on Seltice Way, then north on Huetter Road to Prairie Road. Todd turned onto side streets and recovered twice when a police car nudged the back of his car to try to force him into a spin that would bring him to a stop. Video shows Keys exit his vehicle and approach Todd's car in the culdesac after it stops, but Todd suddenly backs up, then accelerates toward Keys. Keys fired the first shot nearly simultaneously with Johnson, Haug said. Keys is seen limping after the incident but told one of the officers he was OK. Venerosa was not injured. Haug said perhaps "a higher being" helped her avoid getting struck by one of the 20 bullets fired by the officers. Venerosa also was able to exit the vehicle just as shots began. "(Johnson) also had a very tight pattern with his shooting, too," Haug said. "All of his rounds hit the area that he was shooting at."
Audio and video of the incident were released to the public by the Post Falls Police Department. A "combined" video provided by the department — featuring several dash-cam angles — can be seen below:
Local journalism is essential.
Give directly to The Spokesman-Review's Northwest Passages community forums series -- which helps to offset the costs of several reporter and editor positions at the newspaper -- by using the easy options below. Gifts processed in this system are not tax deductible, but are predominately used to help meet the local financial requirements needed to receive national matching-grant funds.
Subscribe to the Coronavirus newsletter
Get the day's latest Coronavirus news delivered to your inbox by subscribing to our newsletter.
---