News > Idaho
Grim Idaho officials hear report on fire, death
Tue., Aug. 21, 2012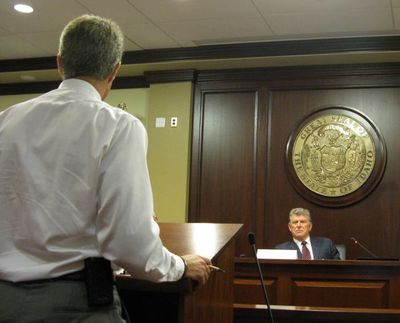 BOISE - A grim Idaho state Land Board heard a report this morning from the state Department of Lands on the ongoing destructive wildfires in the state, a day after a report surfaced about hazards on the Steep Corner fire, in which 20-year-old Moscow firefighter Anne Veseth was killed. As reported Monday by the Lewiston Tribune, a specialized Forest Service Hot Shot fire crew refused to work on the fire a day before Veseth's death, due to hazards including burning tree snags and questions about how the fight against the fire was being managed. Attorney General Lawrence Wasden noted concerns about communications and coordination by the state Department of Lands on the North Idaho fire, in which the U.S. Forest Service firefighter was killed by a falling tree. "I'm concerned for our own crews, making sure they have the communication, organization," Wasden said. He asked state forester and fire official David Groeschl, "Do you feel satisfied with the communication, coordination, and organization that we have, that it would protect our firefighters?" Groeschl responded, "We are very diligent." He said crews receive extensive training and protective gear. "I am very proud and very confident in our folks and what they do out there," Groeschl said. "The last thing we want to do is put them in harm's way, undue risk." He noted that firefighting is risky. "We will continue to, as much as we can, ensure the safety of our firefighters." Groeschl offered condolences on Veseth's death, and noted that the state Lands Department is conducting one of four investigations into it. The others are led by OSHA, the Forest Service law enforcement branch, and a "serious accident investigation team," he said. Groeschl said the state has spent $7.6 million on wildland firefighting so far this season, and expects to recover about $3.1 million from other agencies, for a net cost of $4.5 million. National Guard resources have been mobilized to assist. "Resources now are being stretched thin nationally," he said. "The next couple of weeks will continue to be challenging. We do not see any season-ending events as far as rainfall for the next couple of weeks." The Lands Department's firefighting goal is initial attack, he said, with the goal of containing 95 percent of new fire starts within 10 acres. The report about concerns on the fire was posted on SAFENET, an anonymous federal reporting system for wildland firefighters to document their concerns, the Associated Press reports. That report, dated Aug. 14, describes a chaotic scene, with a "hodge-podge" of firefighters including a crew of Idaho state prison inmates forced to dodge trees and rocks hurtling down a steep mountainside. The inmate crew "had been chased up the hill several times due to fire below them and big rocks coming down the hill," according to the Hotshot report. "At this time a huge snag came down above us and started rolling down through the standing trees. The prison (crew boss) commented, 'That is the sound of theday.'" Veseth was a Clearwater National Forest firefighter in her second season. The Hotshot report, while just one account of the Steep Corner Fire, suggests tension between the federal firefighters and members of the Clearwater-Potlatch Timber Protective Association, a state group under the Idaho Department of Lands formed to fight forest fires in northern Idaho. Howard Weeks, the Clearwater-Potlatch Timber Protective Association's chief fire warden, told the AP in an interview Monday that the Flathead Hotshots made several "good recommendations" about improving safety at the Steep Corner Fire. Weeks said many of them were put into effect by Aug. 12, before Veseth ndied. Asked if more should have been done, Weeks called Veseth's death "a very unfortunate tragic accident" but said even the most prudent precautions can't erase all potential dangers when the forest burns. "When fires transition from this initial attack to the extended attack phase, often there are hazards that need to be mitigated," said Weeks, who has 35 years of firefighting experience. "We do our best to mitigate what's possible. All risk that we're exposed to cannot always be mitigated." The Associated Press contributed to this report.
Local journalism is essential.
Give directly to The Spokesman-Review's Northwest Passages community forums series -- which helps to offset the costs of several reporter and editor positions at the newspaper -- by using the easy options below. Gifts processed in this system are not tax deductible, but are predominately used to help meet the local financial requirements needed to receive national matching-grant funds.
Subscribe to the Coronavirus newsletter
Get the day's latest Coronavirus news delivered to your inbox by subscribing to our newsletter.
---