News > Spokane
Mayor selects Straub to lead police
Thu., Aug. 23, 2012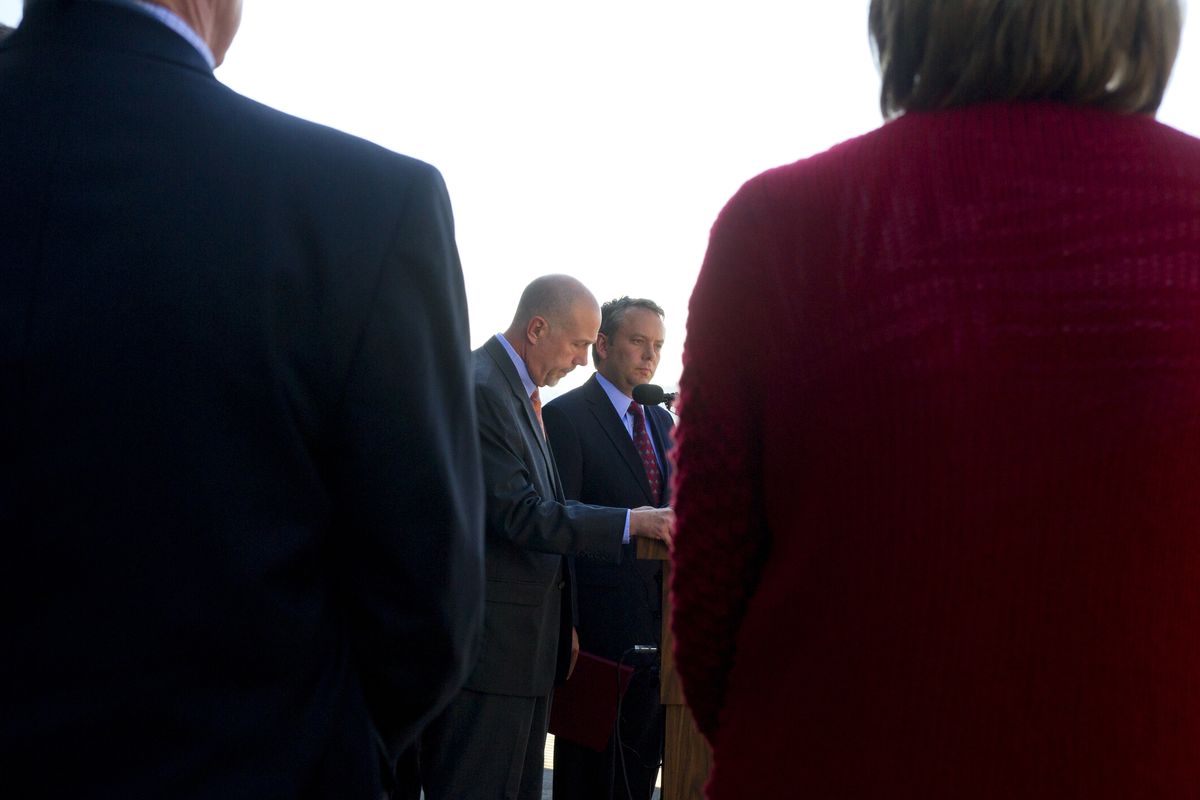 Spokane Mayor David Condon looks on as Frank Straub, the newly announced Spokane police chief, reads a statement on Wednesday during a press conference at Spokane City Hall. (Tyler Tjomsland)
Mayor David Condon's choice to lead the Spokane Police Department has spent much of his career managing and working for large law enforcement agencies. But it's medium-size police forces serving cities like Spokane where Frank Straub thinks the greatest innovation can occur.
"If you really want to be innovative in policing and you really want to get things done in policing, you get much more done in a department this size than you do in an Indianapolis-size department or Chicago or New York," said Straub at a City Hall news conference after he was introduced as Spokane's new chief.
"And you have the opportunity to be very creative, very innovative, to really be in that intimate connection with the community."
Straub completed a two-year stint as Indianapolis' public safety director this month, with mixed reviews.
Condon said he chose Straub in large part because of Straub's ability to bring change.
"We are and I am looking for innovation, broad experience and a desire to be a part of our community," Condon said. "We found those qualities in Frank Straub."
If confirmed by the Spokane City Council, Straub will take over a department troubled by recent scandals, most notably the death of Otto Zehm, a mentally ill Spokane man who died after he was beaten, shocked and hog-tied by police in 2006. In November, after the first responding officer was convicted of lying to investigators and violating Zehm's civil rights, the U.S. Department of Justice accused the department of an extensive cover-up.
Perhaps as significant, Straub also will take over a department that will have its lowest number of commissioned officers since the mid-1990s as a result of budget cuts.
Straub, 53, replaces Anne Kirkpatrick, who left at the end of last year. Interim Chief Scott Stephens, who has been widely praised by city leaders for his work maintaining the department, said he will remain at the department as assistant chief. Stephens was excluded from the chief search by Condon, who said he wouldn't hire a chief from within.
"I think he's going to need that institutional knowledge and our support," said Stephens, who has worked at the department for 27 years. "We are going to have to make sure (Straub) has everything he needs to be a great chief."
Although the number of employees he'll oversee will fall from about 3,500 to less than 400 in his new job, he will probably get a raise. He earned $125,000 as the public safety director in Indianapolis. Kirkpatrick earned more than $170,000 plus benefits as the chief. City spokeswoman Marlene Feist said she was uncertain what Straub's starting pay would be.
Straub pledged to use a community policing model in Spokane even with the city's limited resources.
"What we get caught up in nationally in our discussion of community policing is that you have to have this specialized unit that does community policing," Straub said. "Every single police officer in every contact between a police officer and member of the community – that's a community policing exchange. For me, regardless of the size of the department, we're still going to do community policing."
Only 13 people applied for the chief position, and some city leaders and local law enforcement officials were unenthusiastic about the finalists.
But council members praised Condon's choice Wednesday.
"I believe that Frank Straub will bring a new dynamic to Spokane," said City Councilwoman Nancy McLaughlin. "He's got an administrative skill set that we've probably never seen before in any past chief, and I'm really hoping with that skill set that he can bring some public-safety dollars to Spokane."
A panel of law enforcement professionals that included Spokane County Sheriff Ozzie Knezovich had recommended that Condon reopen his search. Knezovich was in Philadelphia on Wednesday as part of training with the FBI.
"It was just the panelists' opinion that they felt opening the search was the right thing to do," he said. "But the mayor has made his decision, and we are willing to work with Mr. Straub to make sure he is successful in Spokane."
Straub was hired in Indianapolis in January 2010 after serving as public safety commissioner in White Plains, N.Y., starting in 2002. He previously served as deputy commissioner of training for the New York Police Department and was a special agent with the U.S. Department of Justice. Straub, who is divorced and has two adult children, said he and his fiancee plan to search for a home within the city limits.
He holds a doctorate in criminal justice from the City University of New York and earned a psychology bachelor's degree from St. John's University, but he is not a commissioned police officer. That means he'll need to be commissioned in Washington: to attend police academy or receive a waiver. He said Wednesday that he hopes that as a former commissioned officer he can receive a waiver after attending a two-week training session.
The other finalist for chief was Daniel Mahoney, the commanding officer of the Ingleside Police Station within the San Francisco Police Department.
Straub announced his resignation from his position in Indianapolis in April ahead of an expected vote of no confidence from the Indianapolis City-County Council. His last day on the job was earlier this month.
Indianapolis City-County Councilman Duke Oliver said the potential of a no-confidence vote was more about politics than Straub. He said Spokane has made a wise choice.
"If they want a baby sitter, they got the wrong guy," Oliver said. "If you put him in charge, he's going to lead."
Many within the Spokane Police Department long suspected that Straub would be Condon's choice. Condon called Straub earlier this year to ask him to apply for the police position as he explored that city's metro policing model as a potential option for Spokane.
Like Kirkpatrick in Spokane, Straub has had strained relations with Indianapolis' police union.
Oliver said he didn't worry about the criticism Straub received from Indianapolis' police union.
"To me, it's a credit to him because we needed some reform," Oliver said. "The reform that he wanted to institute met with some resistance."
When asked how he will fit into a new department, Straub used an analogy of a pickup basketball game.
"Does this guy have game or not? I need to prove to them that I'm the kind of leader they want to rally behind."
Two weeks after former Officer Karl F. Thompson Jr. was convicted of using excessive force and lying to investigators about the confrontation with Zehm, then-Mayor Mary Verner called for the U.S. Department of Justice to conduct a civil "pattern and practice" review of the department's policies and procedures just like one conducted in Seattle after a string of violent police incidents.
Straub said he and Condon had extensive conversations about the situation and welcomes that review.
"My position is take all comers. My guess is they will come and say we are doing our jobs. I'm confident they would offer guidance and not a hostile takeover," he said.
The department has yet to conduct any substantial internal investigation in the roles of the officers who took part in the deadly confrontation with Zehm.
Asked if he was committed to conducting those reviews, Straub said he would wait until the criminal investigation is completed by the U.S. Department of Justice.
"My understanding is there is a very substantial federal investigation going on," Straub said. "I'll be guided by that investigation. If there is anything we can do internally, we will do it," he said. "It's more important how we learn from that situation. It's not so important that we do a third, or fourth or fifth investigation."
Condon, a Republican, picked a Democrat by choosing Straub.
"I'm a Democrat but I have almost always worked for Republicans," Straub said. "In Indianapolis I didn't vote. I believe police and public safety more generally need to be apolitical."
Police Ombudsman Tim Burns said he's excited about Condon's choice for chief.
"I think he brings some very broad experience on a much higher level than a chief of police," Burns said. "There are some opportunities for the community and police department to benefit from his past experience."
Attorney Breean Beggs, who represented Zehm's family and estate, said he's hopeful that Straub can "steer the department and entire city through substantial change in culture and strategy.
"The fact that (Straub) met resistance in his previous job shows that he knows what it takes to move Spokane forward," Beggs said. "It also shows that it's not going to work if he's the only one leading. It's going to take the entire city government and community to create a new vision of community policing and move forward even if there is resistance inside or outside the department."
Local journalism is essential.
Give directly to The Spokesman-Review's Northwest Passages community forums series -- which helps to offset the costs of several reporter and editor positions at the newspaper -- by using the easy options below. Gifts processed in this system are not tax deductible, but are predominately used to help meet the local financial requirements needed to receive national matching-grant funds.
Subscribe now to get breaking news alerts in your email inbox
Get breaking news delivered to your inbox as it happens.
---