All eyes on UW receiver Kasen Williams
Sophomore receiver has all the tools to have breakout year with Huskies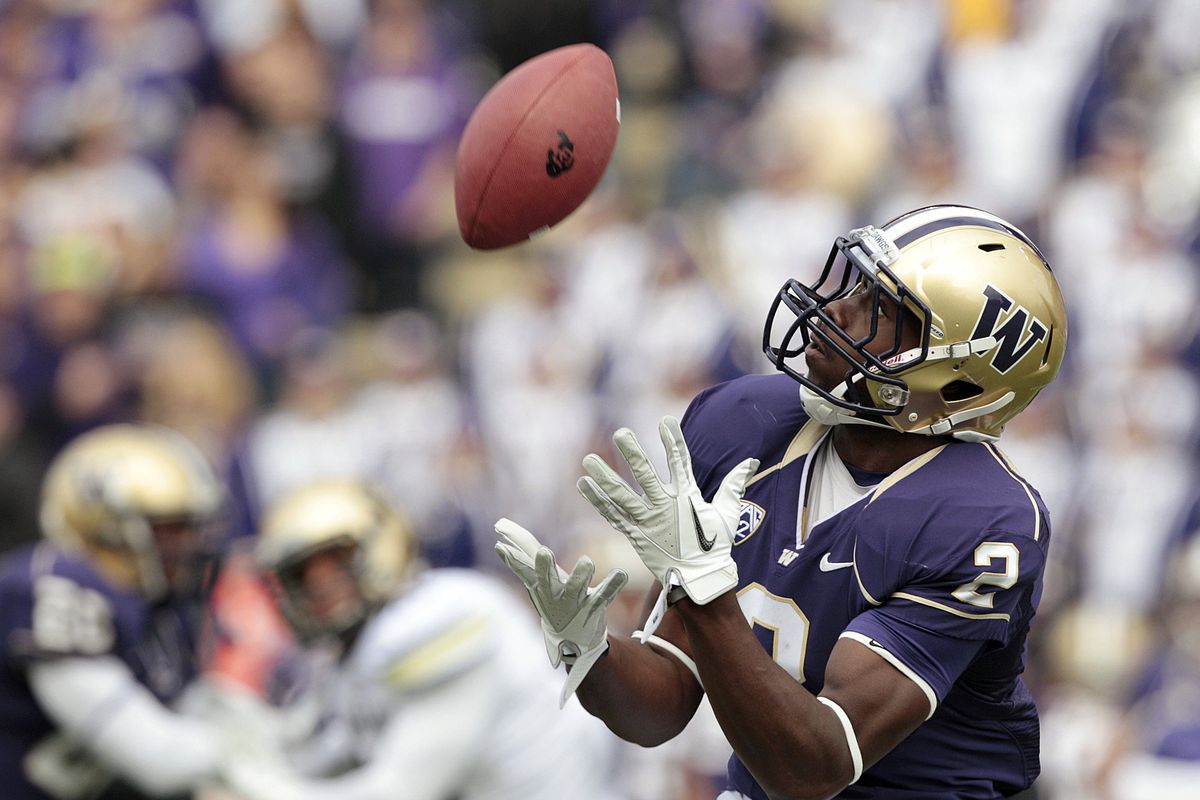 There is little debate about what Kasen Williams' ceiling as a college receiver can be.
The Washington Huskies sophomore is tall. He's fast. He's strong. And, as evidenced in last season's Apple Cup game against Washington State, he can jump, too. His hurdle of WSU cornerback Nolan Washington is a gold standard of sorts for Williams' athletic ability.
So UW coach Steve Sarkisian knows he's not going to raise any eyebrows when he says he thinks Williams could catch upwards of 70 passes for the Huskies this season.
"He's put in the time, not only physically but mentally, to be that guy," Sarkisian said. "So we can move him around on the field more, and we're expecting him to have a great year."
Expectations existed last season, too, when Williams entered UW as one of the most highly-touted recruits in school history. He excelled not only on the football field at Skyline High School, but cleaned up in the long jump and high jump, too.
Oh, and he was Parade Magazine's Player of the Year.
So while he did catch 36 passes for 427 yards as a freshman last season – a high ankle-sprain slowed him later in the season, though he still played in every game – the Huskies are expecting Williams to take over as their lead receiver after the graduation of former stalwarts Jermaine Kearse and Devin Aguilar.
Williams' teammates don't doubt he can replace their production. Quarterback Keith Price remembers one of the first passes he ever threw to Williams in practice. Price said he threw it too high, but Williams leapt "about four feet in the air" to haul it in.
The Huskies know the talent is there. And Williams said his attention is focused where it needs to be this season.
"I think (last season) could have been a lot better," Williams said.
"The reason why I wasn't in the game as much was because I didn't know the playbook like I should. I wasn't dedicated like I should have been. I should be able to be in the game as often as possible."
His dedication is evidenced by the extra work he puts in after practice.
"I think that's the mark of a great competitor in any sport," Sarkisian said.
"You see Kobe Bryant miss a jump shot, he'll go back after the game and shoot it 100 times. That's how Kasen is. When practice is over, if he didn't run that right route, he wants to run that route right 25 times in a row before he goes into the locker room.
"That's what it takes to be great. And he's so talented. He's so physically gifted that he was able to maybe get away with some other stuff before. But now, he understands that doesn't work like that. You have to be precise, you have to be right on to make it all work."
---