EWU defense dominant against Vandals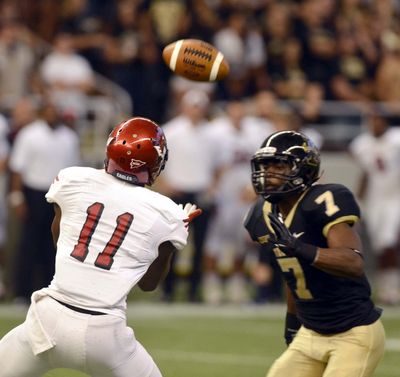 MOSCOW, Idaho – Another opening day, another FBS-FCS mismatch.
Sparked by a defensive showing that bordered on overwhelming, Eastern Washington came away with an easy 20-3 victory Thursday night over the Idaho Vandals.
The Eagles opened the season with a defensive effort that kept the Vandals off-balance all night, especially when it mattered: Idaho was 2 for 15 on third-down conversions and couldn't muster a drive of more than 33 yards until the game was out of reach.
If that was a surprise to the ever-dwindling crowd inside the Kibbie Dome, it wasn't to a savvy group of defenders who held the Vandals to 237 yards.
"We expected to win," said senior linebacker Zach Johnson. " I thought in camp we had something special. We never said it, but we're experienced, we all know what's going on around us, and our effort got to them."
The jitters of an opening game didn't get to the Eagles, who were tested late in a scoreless first quarter. After apparently forcing the Vandals to punt from deep in their own territory, Eastern was whistled for a holding penalty that gave Idaho new life.
After Vandals quarterback Logan Bushnell hit Najee Lovett for 66 yards to reach the red zone, Eastern cornerback T.J. Lee III came up with the biggest play of the half, pushing Idaho receiver Jahrie Level out of the end zone before Level could plant his feet for the touchdown.
"I was battling with my footwork and had to play off my instincts," Lee said. I saw him in the air, so I did what I could to push him out of the end zone."
Idaho led 3-0, but the play was "huge," Eastern head coach Beau Baldwin said. "We talk about the fact that there's going to be plays made. And from the 20 to the 20 plays are going to be made by both sides, but we talk about how we're going to play in the red zone."
And while the Eastern offense sputtered early with numerous false-start penalties, new quarterback Kyle Padron showed poise in a collapsing pocket. He completed only 13 of 33 passes, but they went for 260 yards and eventually opened 158 yards for the running game.
Midway through the second quarter with the game tied 3-3, Padron hit Nicholas Edwards for a 33-yard gain, then passed to Brandon Kaufman in the end zone that drew a pass-interference penalty on the Vandals.
Two plays later, working out of a two-tight end set, Padron rolled out and found tight end Jake Withnell in the end zone for a 10-3 lead that proved to be the winning score.
"He handled himself beautifully," Baldwin said. "He just found a way to grind, and make plays. Sure, we didn't put 35 or 40 on the board, but we moved the ball well."
The Eagles outgained Idaho 412 yards to 237, and rushed the ball 40 times as Baldwin achieved some of the offensive balance that was lacking last year.
"We've worked on it," said Baldwin. "We ran it more than we probably did the last six or seven games last season. We talked about being a championship-caliber team, and you can't do it without some form of balance.
"When you can be in a situation like we were in tonight and run the ball, that's huge."
Said Padron after the game, "There's no point in playing if you think you're going to lose," while explaining that the false starts were mostly due to a new cadence.
"We'll get that cleaned up," he said.
On Thursday that didn't matter as the defense cleaned up on the Vandals.
---