Sports
Cougs know size of challenge Gonzaga presents
Wed., Dec. 5, 2012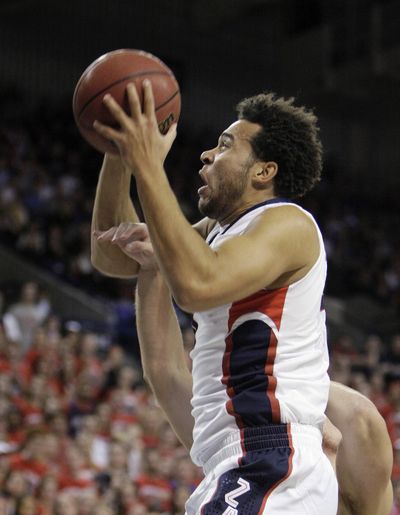 PULLMAN – He grew up in Spokane, accompanying his parents to Gonzaga basketball games in "the old Kennel" during the beginning of the Bulldogs' glory days.
Today, Washington State freshman Brett Boese will try to help give Gonzaga (8-0) its first loss of the season when the teams meet at 8 p.m. in Beasley Coliseum.
And as someone who probably pays closer attention to the 10th-ranked Bulldogs than do most of his teammates – prior to this week, anyway – Boese recognizes the biggest challenge they present.
"A lot of teams are looking for those 7-footers, and for some reason they have a few of them," Boese said. "They have them just laying around down there."
That is a luxury to which the Cougars (5-3) are not privy, so the Bulldogs' frontcourt is most likely to cause WSU fits tonight.
Those 7-footers – freshman Przemek Karnowski and redshirt junior Kelly Olynyk – each score in double-figures, though Karnowski doesn't start.
And the Bulldogs are led in scoring by the 15.9 points per game of 6-foot-8 senior forward Elias Harris. Center Sam Dower (6-foot-9) and forward Guy Landry Edi (6-foot-6) both play big minutes, too, giving Gonzaga one of the tallest, deepest frontcourts the Cougars will face this season.
Gonzaga entered the week ranked third in the nation in rebounding margin (14.4).
"Not only do they have size, they've got guys that could potentially end up in the NBA," WSU coach Ken Bone said. "They're not just big, (but) athletic, good strength, active – they've got all the pieces inside between at least the four guys, and they just keep coming at you."
It will be a particular challenge, then, for WSU forward Brock Motum, the team's leading scorer and defending Pac-12 scoring champion.
Motum picked up this season where he left off last year, averaging 18.9 points per game so far, including a season-best 29-point outing against Portland on Saturday. He and forward D.J. Shelton (6-foot-10) constitute a formidable WSU frontcourt, though there isn't much behind those two.
Motum brushed off the thought that Gonzaga's depth would bother the Cougars, noting that "only five guys can play at each time on the court. It'll just come down to our conditioning. There'll be a lot of people here and the home crowd will give us an extra bit of energy on Wednesday."
Gonzaga coach Mark Few said: "He has the ultimate freedom, similar to maybe what Adam (Morrison) had. Anytime a gifted guy has the skill package and all the freedom, that becomes a tough matchup."
If the Cougars are intimidated by Gonzaga's talent – and remember, they also watched Kevin Pangos make nine 3-pointers against them last season as a freshman – they're not showing it.
Bone and Motum both noted Monday the possibility that this could be the Bulldogs' best team ever.
"Just hearing that makes us even hungrier to play them and want to beat them," said Shelton, whose offensive production has increased this season. "If we do get that upset win it'll change our season all the way around."
WSU could get a boost is sophomore guard DaVonte Lacy is able to play. Lacy injured his left knee in a Nov. 19 game against Kansas and hasn't played since, though Bone said he would guess that Lacy will be able to play Wednesday.
Cougars honor Quinnett
Former WSU star Brian Quinnett will be recognized at the game as part of WSU's "Honor the Past Night." Quinnett played at WSU from 1984-89 and was selected in the second round of the 1989 NBA draft by the New York Knicks.
Local journalism is essential.
Give directly to The Spokesman-Review's Northwest Passages community forums series -- which helps to offset the costs of several reporter and editor positions at the newspaper -- by using the easy options below. Gifts processed in this system are not tax deductible, but are predominately used to help meet the local financial requirements needed to receive national matching-grant funds.
Subscribe to the sports newsletter
Get the day's top sports headlines and breaking news delivered to your inbox by subscribing here.
---