A&E > Food
Twenty years later, Luna still feels at home
Wed., Dec. 5, 2012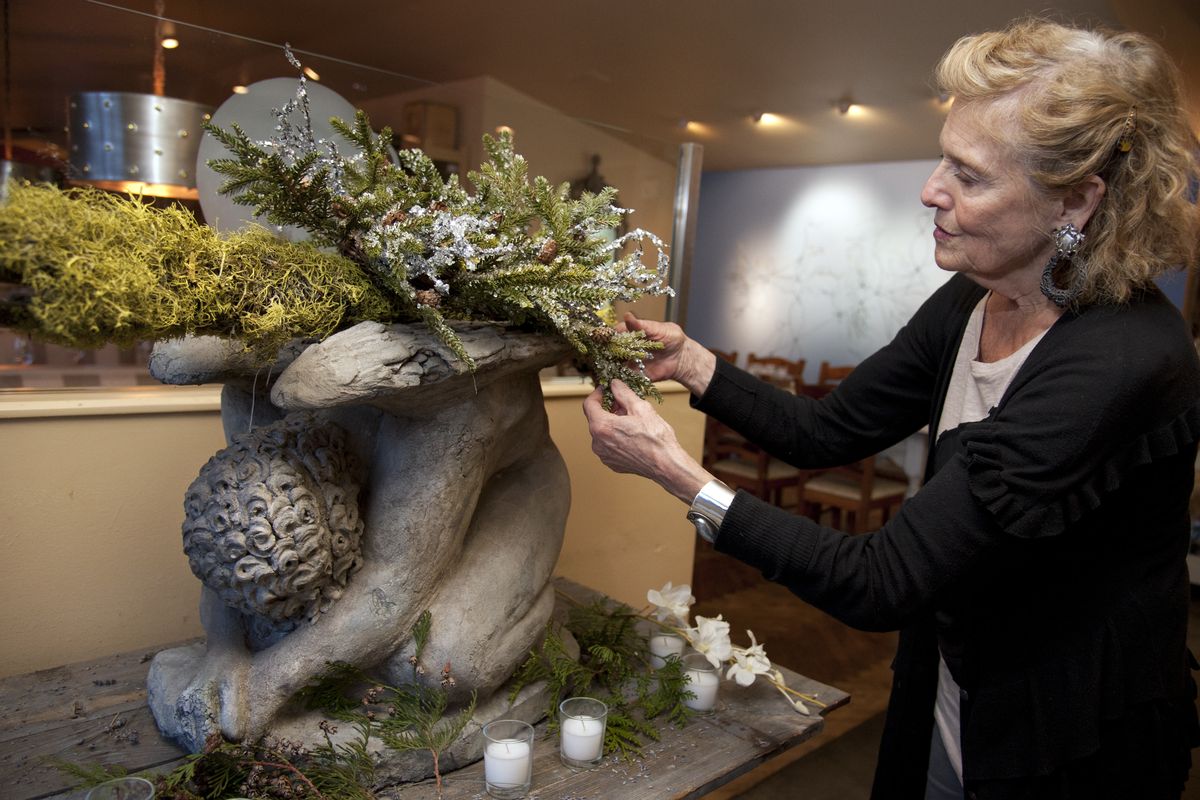 Marcia Bond sets out Christmas decorations in the entryway at Luna, which is celebrating its 20th year. (Dan Pelle)
While many people dread the rush of holiday festivities that begin at Thanksgiving and race into the new year, Marcia Bond can't help but smile.
For her, the festivities are an annual reminder of Luna's first holiday season. The restaurant opened the day after Thanksgiving in 1993 and they're celebrating the restaurant's 20th year of business.
"We didn't want to be just a café," said William Bond, who owns Luna with his wife. They had fallen in love with small eateries in New York, Chicago, Los Angeles and San Francisco and wanted to bring that feel to Spokane's South Hill, a second career for both of them. "We wanted to be a part of the neighborhood."
"We lived in places where a neighborhood restaurant was so important to our family because it was so much fun and such a treat," Marcia Bond said.
The Bonds began by introducing themselves and their plan for the restaurant to the neighbors. They took over the 57th Street Grocery store, which also sold jojos and broasted chicken take-out to customers and served as the neighborhood's postal annex. Before the grocery store, the building was a construction company office and a Century 21 Realty.
Marcia added, "There was definitely a question about this big change and a neighborhood restaurant. Probably the most emotional part of it was that people worried about what the kids were going to do because they all came here to buy penny candy. We encouraged people to fill out a survey of what they most wanted us to keep and that was really the beginning of our relationship with the neighborhood and our guests."
To ease the neighborhood concern, Marcia Bond even became a postmistress. "We kept all of it up until we had to do the floors and furnish Luna," she said. "We met many, many people that way – which was really fun, especially this time of year because of all of the holiday shipping and boxes."
It seems to have worked. The restaurant was long ago embraced by neighbors near and far – they're celebrating birthdays, graduations, engagements, rehearsal dinners, bridal and baby showers with a new generation of Luna diners. It was one of the area's pioneering restaurants in the movement toward simple, wholesome foods that are well-prepared on site and purchased locally if possible.
William Bond remembered recruiting Luna's first chef with the help of friend and Los Angeles Times wine critic Robert Balzer. He said Balzer's presence alone helped him convince up-and-coming chef Abby Yerxa that Spokane's fledgling culinary scene was ready for her.
Yerxa, now a chef in Seattle, is one of many chefs who honed their trade at Luna. Among the long list of area chefs who worked there during their careers are Brett Fontana, now at the Hayden Country Club; Brian Hutchins, of Latah Bistro; Shilo Pierce, of Rocket Market; Brad Fosseen, of the Elk; Brian Hamilton, of the Metro Café; Jonathan Sweatt, of Downriver Grill and the Flying Goat; Jeremy Hansen, of Santé Restaurant and Charcuterie; and Anna Vogel, of Italia Trattoria. Luna's current executive chef is Steve Jensen.
Luna had its brush with fame when it briefly hired Kevin Gillespie in 2007. The Atlanta-born chef later went on to become a finalist during the sixth season of "Top Chef" and the "fan favorite" contestant. The owner and chef at Atlanta's acclaimed Woodfire Grill recently released his first cookbook, "Fire in My Belly: Real Cooking."
The restaurant also is the keeper of historic reminders of Spokane's past, Marcia Bond said. The marble-topped tables were made from stone that came out of the U.S. Bank and Paulsen buildings in downtown Spokane. The wood for the floors in the original part of the restaurant was salvaged from a gymnasium on Spokane's North Side, and the Bonds remember that they had to decide whether to keep the remnants of the primary-colored stripes or polish them away.
The big crystal chandelier in the restaurant actually came from Birmingham, Ala., where it hung in the city's first department store. (The Bonds found it when it was in their son's condo in Birmingham.) Luna's signature applewood-burning oven was imported from Naples, Italy. Customers have told Marcia Bond that wood smoke also gives Luna a comforting and familiar aroma.
A few of the dishes from Luna's first menu are still offered today, Marcia Bond said. Luna's signature salad, bread (the Luna loaf that preceded the ciabatta) and a fruit crisp adapted from a recipe by James Beard are all still served.
The restaurant added the original dining terrace in 1996 and seven years later purchased the house next door on 57th Avenue so they could expand the restaurant and parking and add the garden room and bar. More outside dining was added, as well. In 2005, the Bonds purchased an adjacent home and opened Bouzies Bakery and planted the restaurant's large garden.
Dining has changed a lot in 20 years, Marcia Bond said, but the restaurant's early commitment to a great wine selection, quality ingredients and listening to their guests has been the reason for their success.
"We've learned from everyone, guests and staff, over the years," she said. "People are more aware than ever of what they are eating and they are very aware of quality. It is still a continuing process to be engaged with our guests. I think 20 years at Luna is really about sharing tasty food and staying on top of what is happening with food, while still offering those great tried-and-true dishes … not trying to be too shocking. Taste is important and I don't think that ever changes."
Loco Dogz opens second location
Scott McCandless is not happy with your average dog.
The restaurateur wants it all: regionally authentic, gourmet hot dogs topped with sauces, salsas and relishes that are made from scratch from the best ingredients around, including the bun. And McCandless wants the hot dogs on those handmade buns to be made without nitrates and contain half the sodium and fat of other comparable dogs.
That is what Loco Dogz has perfected for its second location, near Gonzaga University at 829 E. Boone Ave., Suite C. The first Loco Dogz location opened in Cheney at 313 First St. more than three years ago.
McCandless, who also owns Clover restaurant, some 40 Subway restaurants, and Edible Arrangements in Spokane, tested and honed the recipes at his Spokane Valley test kitchen. The hot dogs, bratwurst and andouille sausages are custom made for Loco Dogz in Laurel, Mont., from those recipes. They're planning for retail sales of the hot dogs and sausages at Loco Dogz locations soon so customers can make their own hot dogs at home.
Everything on the menu at Loco Dogz has been carefully created and tested by McCandless and his team and most things are made fresh daily at the restaurants, from the Coney sauce to the barbecue salsa roja. "That is what really sets our product apart," McCandless said.
They import the neon green relish and spicy, sport peppers from the Windy City for the Chicago Dog. Also, don't miss the Mama Lil's hot dog – the all-beef dog is topped with a signature cheese spread made from Hungarian goat horn peppers that are pickled in Washington.
The price of the dogs ranges from $3.50 for a simple hot dog on a bun up to $6.50 if you want to get the Jalisco, the most popular indulgence on the menu. The Jalisco is topped with four slices of crispy bacon, chili, cheese sauce, barbecue salsa roja and pickled jalapenos.
The menus are online at www.loco-dogz.com. Loco Dogz is open 11 a.m. to 11 p.m. Sunday-Thursday, Friday and Saturday from 11 a.m. to 3 a.m. or call (509) 321-7069.
Small Bites
• Revel 77 has opened on 57th Avenue on Spokane's South Hill.
Owners Mike and Deb Nelson recently celebrated the grand opening of the new shop at 3223 E. 57th Ave., Suite K. The couple moved to the Spokane area eight years ago. They would seek out great coffee roasters and coffee shops during road trips and later decided they wanted to open an inviting coffee shop near their house that featured fine coffee roasters from the region.
"We really approached things from the consumer side," Mike Nelson said.
Coffees from Doma Coffee Roasters in Post Falls, Victrola Coffee in Seattle and Water Avenue Coffee in Portland are featured. The milk comes from Spokane's Family Farm. Revel 77 has a state-of-the-art Senesso Hydra espresso machine, and Mike Nelson was trained to use it by the American Barista and Coffee School in Portland. Chemex coffee is also offered.
The coffee syrups they serve – chocolate, vanilla and salted caramel – are made in house and Batch Bakery goodies are sold. The Nelsons wanted guests to come in and relax with their coffee, so they don't have a drive-thru. The coffee shop was originally going to be called just Revel, but they later added 77 to the name to signify the year they were married.
Revel 77 is open Monday through Saturday from 7 a.m. to 6 p.m., and Sunday 8 a.m. to 3 p.m.
Reach the coffee shop by calling (509) 280-0518 or find them online at www.revel77.com, facebook.com/Revel77, or twitter @Revel77.
• Teppanyaki Hibachi Grill, Sushi and Buffet recently opened in the space formerly home to Old Country Buffet, 5504 N. Division St., in the Franklin Park Mall.
The new buffet is burgeoning with more than 250 Asian dishes on 11 buffet bars. The restaurant also features a hibachi grill in which diners choose their favorite seafood, meats and vegetables and watch as chefs stir-fry the dish in front of them using a hibachi sauce.
The restaurant is open for lunch, dinner or take-out Sunday through Thursday from 11 a.m. to 10 p.m., and Friday and Saturday from 11 a.m. to 10:30 p.m. Reach it by calling (509) 443-3319.
Local journalism is essential.
Give directly to The Spokesman-Review's Northwest Passages community forums series -- which helps to offset the costs of several reporter and editor positions at the newspaper -- by using the easy options below. Gifts processed in this system are not tax deductible, but are predominately used to help meet the local financial requirements needed to receive national matching-grant funds.
Subscribe to the Spokane7 email newsletter
Get the day's top entertainment headlines delivered to your inbox every morning.
---