News > Idaho
Killer's competency appeal nears in federal court
Mon., Dec. 17, 2012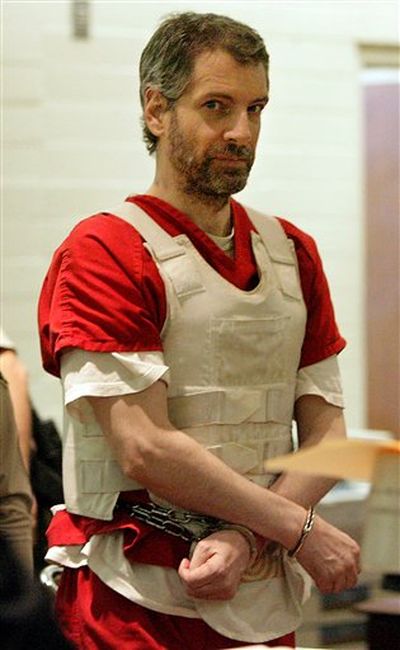 BOISE — As an appeal over the competency of a convicted child killer nears in Idaho's U.S. District Court, a judge is sorting out just what expert witnesses should be allowed to testify about in the case. Joseph Edward Duncan III was sentenced to death in 2008 after admitting he kidnapped and tortured two North Idaho children before killing one of them. Duncan had pleaded guilty earlier to state charges of killing the children's mother, brother and a family friend. He gave up his appeals in the federal case, but his former attorneys argued that he wasn't mentally competent and fought the sentence on his behalf. A hearing on the matter will be held in Boise's U.S. District Court in January. Duncan's defense attorneys say the crux of the case is whether Duncan suffered from religious delusions or merely held unusual religious beliefs, according to court documents. In preparation for the hearing, U.S. District Judge Edward Lodge issued a ruling Wednesday designed to give attorneys on both sides guidance about the appropriate scope of testimony. Judges are given plenty of leeway in deciding what evidence is relevant to a case, Lodge noted, and existing case law calls on district courts to act as gatekeepers. That means the judge will have to exclude junk science, and try to keep the expert witnesses focused on relevant and reliable testimony that is based on scientific techniques. It's difficult to predict just what witnesses will say on the stand, Lodge said, so he may change his mind on some things when the hearing is under way. But he conditionally approved the defense's request to use Dr. Michael First, an expert in the Diagnostic and Statistical Manual of Mental Disorders, the text that medical professionals use to diagnose mental illnesses. The U.S. Attorney's office had opposed First's testimony, saying he would only be able to establish the definitions of the mental illnesses in the manual, and that any expert could do the same or the court could simply take official notice of the manual. But Duncan's attorneys say First is an expert in the diagnosis of those disorders, and that he'll discuss the difference between religious beliefs and religious delusions, "which is at the heart of the conflict in opinions in this case," according to Lodge's order. The defense also hopes to call Dr. Xavier Amador, a psychologist who wrote a book about a condition called anosognosia, a lack of insight experienced by some people who do not recognize that they have a mental illness. Among the experts that prosecutors hope to have testify is Dr. Ronald Roesch, a psychologist and the director of the Mental Health, Law and Policy Institute at Simon Fraser University, who examined Duncan in 2012. Roesch also studied records, reports and witness statements dating back to 2006 in an effort to determine whether the defendant was competent in 2008. Defense attorneys have contested Roesch as a witness, arguing that his testimony will be irrelevant and unreliable in part because his findings weren't made in 2008. Lodge said the defense can raise some of its concerns during cross-examination, however, and that any objection to Roesch's testimony is premature right now. When Duncan first decided to represent himself in 2008, Lodge had him examined by a local psychologist who found that while Duncan's thoughts were "somewhat unusual," Duncan wasn't delusional. If Lodge finds that Duncan wasn't competent when he gave up his appeals, the judge will have to assess whether he was competent during his sentencing hearing. That could lead to a new sentencing hearing, or a new sentence of life in prison. Duncan has been convicted of five different murders spanning three states, but the competency hearing focuses only on the crimes he committed against young Dylan Groene and his 8-year-old sister in 2005. During his sentencing hearing in that case, prosecutors said Duncan kidnapped the two children from their northern Idaho home on a spring day in 2005 after killing their older brother, mother and mother's fiance. Duncan kept the children at a remote Montana campsite for weeks before killing Dylan and returning with Dylan's sister to Coeur d'Alene, where he was arrested. Duncan has also been convicted in the murders of Slade and Brenda Groene and Mark McKenzie in Idaho state court and in the 1997 murder of 11-year-old Anthony Martinez in Riverside County, Calif.
Local journalism is essential.
Give directly to The Spokesman-Review's Northwest Passages community forums series -- which helps to offset the costs of several reporter and editor positions at the newspaper -- by using the easy options below. Gifts processed in this system are not tax deductible, but are predominately used to help meet the local financial requirements needed to receive national matching-grant funds.
Subscribe to the Coronavirus newsletter
Get the day's latest Coronavirus news delivered to your inbox by subscribing to our newsletter.
---