News > Pacific NW
Group gathering paper hearts to send to Connecticut town
Goal of nearly 19 million messages to stretch from Billings to Newtown
Thu., Dec. 27, 2012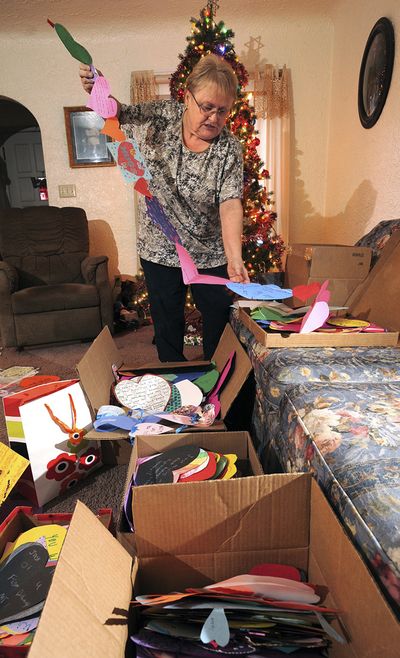 BILLINGS – It started as a way for one Montana family to talk about the tragic school shooting of 26 children and adults. Now it's blossoming into an international movement to build a chain of handmade paper hearts to stretch almost across the country.
Gala Thompson and her family's Paper Hearts Across America estimate it would take about 19 million small paper hearts to connect Billings to Newtown, Conn. They're hoping to gather that many hearts so they can deliver them to the residents of Newtown and show them there's still good in the world.
And the response is growing, with more than 10,000 hearts decorated with drawings and handwritten notes already sent from as far away as China and Australia, the Billings Gazette reported.
"It's gone above and beyond what we hoped, really, from the first day," Thompson said. "I was thinking the first 500 hearts we got, that was great. But now, it's grown on its own."
Thompson told the Associated Press that organizers will send a first shipment of 10,000 hearts – each linked to another and with its own personal message – later this week or early next week. Thirty hearts already have been hand-delivered to the editor of the Newtown Bee, she said Wednesday.
Overwhelmed Newtown officials have asked people to stop sending gifts, but Thompson said Paper Hearts across America is going through the YMCA in neighboring Danbury and should not tax Newtown's strained resources.
The group will then send incremental shipments as the hearts come in, all the while tracking the progress toward the goal of 18,965,000.
That's the number of 6- to 8-inch hearts Thompson's husband calculated it would take to stretch the more than 2,000 miles from Billings to Newtown.
"I feel that this will go through and we will make the 18,965,000," Thompson said.
The project was launched in response to the Dec. 14 shooting at Sandy Hook Elementary School in Newtown. A gunman killed his mother before opening fire at the school, killing 20 children and six adults. He then killed himself.
Word about Paper Hearts Across America has spread through news reports and the group's Facebook page – which contains a template for the hearts – and contributions have come from nearly every state.
People are sending boxes of the hearts to Broadwater Elementary in Billings, which agreed to be a collection point until the group reaches its goal. School officials are hanging the hearts in hallways until they're sent to Connecticut.
"The hearts come in boxes and boxes, and we all just get so excited," Thompson said. "We've been able to cover the whole inside of one of the school buildings and we're moving to the other one now."
Thompson said she wants people to know that it's not just a project for school kids. She wants universities, families, businesses, hospitals and others to get involved.
"Hopefully, Newtown will be flattered by this gesture and about how many people are compassionate and kind," she said. "There's more kindness in the world than there is hate, and that's what this is all about to begin with."
Local journalism is essential.
Give directly to The Spokesman-Review's Northwest Passages community forums series -- which helps to offset the costs of several reporter and editor positions at the newspaper -- by using the easy options below. Gifts processed in this system are not tax deductible, but are predominately used to help meet the local financial requirements needed to receive national matching-grant funds.
Subscribe to the Coronavirus newsletter
Get the day's latest Coronavirus news delivered to your inbox by subscribing to our newsletter.
---
Subscribe and log in to the Spokesman-Review to read and comment on this story