Vandals top Seattle U in WAC opener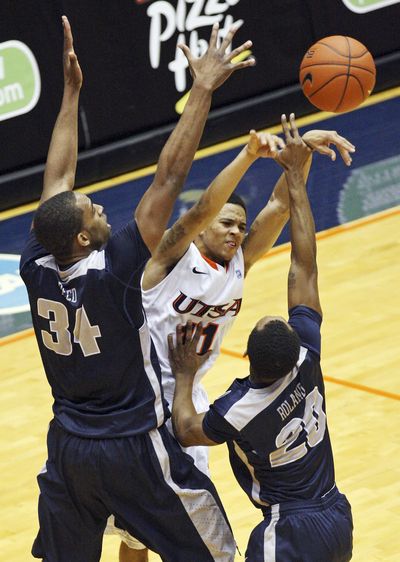 SEATTLE – Idaho trailed for most of the second half and leading scorer Stephen Madison was hindered with foul trouble all night, but the Vandals rallied for a 71-64 victory at Seattle University in its Western Athletic Conference opener on Saturday.
Idaho (5-6, 1-0 WAC) ended the game on a 14-4 run that included three-consecutive 3-pointers by junior guard Robert Harris to send Seattle (5-6, 0-1 WAC) to a loss in its first Western Athletic Conference game since joining the league this season. The win moves the Vandals to 5-0 in WAC road openers under head coach Don Verlin.
"I thought we did the things tonight – even though we weren't perfect – we did the things we needed to do to win the game," Verlin said.
Senior center Kyle Barone matched his career high with 25 points and grabbed 11 rebounds for his second-consecutive 20-10 game and third this season.
"Kyle had a really good game today," Verlin said. "He was getting double-teamed and triple-teamed and he had seven offensive rebounds."
Harris set a career high with 16 points on 6-of-11 shooting, including a 4-of-8 performance from long range. Sophomore guard Connor Hill added 12 points, while senior Mike McChristian filled the stat sheet with eight points, six assists, five rebounds and three steals.
The Redhawks led by as many as seven points in the second half, 56-47, with 6:07 to play. Idaho battled back, primarily through Barone in the paint. He scored 16 of Idaho's 38 second-half points – all nine of the team's points from 12:54 to 5:04.
Harris nailed the first of three huge 3-pointers with 2:34 to play when he tied the game at 60-60, then gave Idaho a 63-62 lead at 1:32 and put Idaho ahead by three again with 53 seconds left at 66-63.
Seattle made one free throw on the opposite end, but Idaho made three of its four free throw attempts after the Redhawks started fouling and a McChristian steal and solo fast-break dunk in the final seconds put a cap on the win.
Idaho finished the game shooting 22 of 51 (.431) overall, 7 of 21 (.333) from 3-point range and 20 of 27 (.741) from the free-throw line. Seattle shot 51.6 percent in the first half, but finished the game 25 of 56 (.446) overall and just 4 of 17 (.235) from 3-point range. SU also went 10 of 15 (.667) from the free-throw line.
D'Vonne Pickett Jr. had 17 points to lead the Redhawks. Clarence Trent scored 14 and Deshaun Sunderhaus scored 10.
Utah State 71, Texas-San Antonio 67: Preston Medlin scored 24 points, and the Aggies (10-1, 1-0) spoiled the Roadrunners' (4-7, 0-1) debut in the WAC with a victory in San Antonio in the conference opener for both teams.
San Jose State 72, Texas State 55: Louis Garrett scored 16 points and James Kinney tossed in 12 to lead the Spartans (6-5, 1-0) to a victory over the Bobcats (4-9, 0-1) in a WAC opener in San Marcos, Texas.
Texas-Arlington 68, New Mexico State 47: Kevin Butler scored 18 points and Drew Charles added 12 to lead the Mavericks (6-3, 1-0) to a victory over the Aggies (6-7, 0-1) in a WAC opener in Arlington, Texas.
Louisiana Tech 68, Denver 60: Raheem Appleby scored eight of his 12 points in the first half as the Bulldogs (10-3, 1-0) defeated the Pioneers (4-7, 0-1) in a WAC opener in Ruston, La.
Big Sky
Southern Utah 51, Northern Colorado 50: Wade Collie made a layup with 14 seconds remaining in the game after a steal by A.J. Hess, and the Thunderbirds (4-7, 2-0) escaped with a 51-50 victory over the Bears (3-7, 1-1) at Cedar City, Utah.
---