WSU women defeat Gonzaga at McCarthey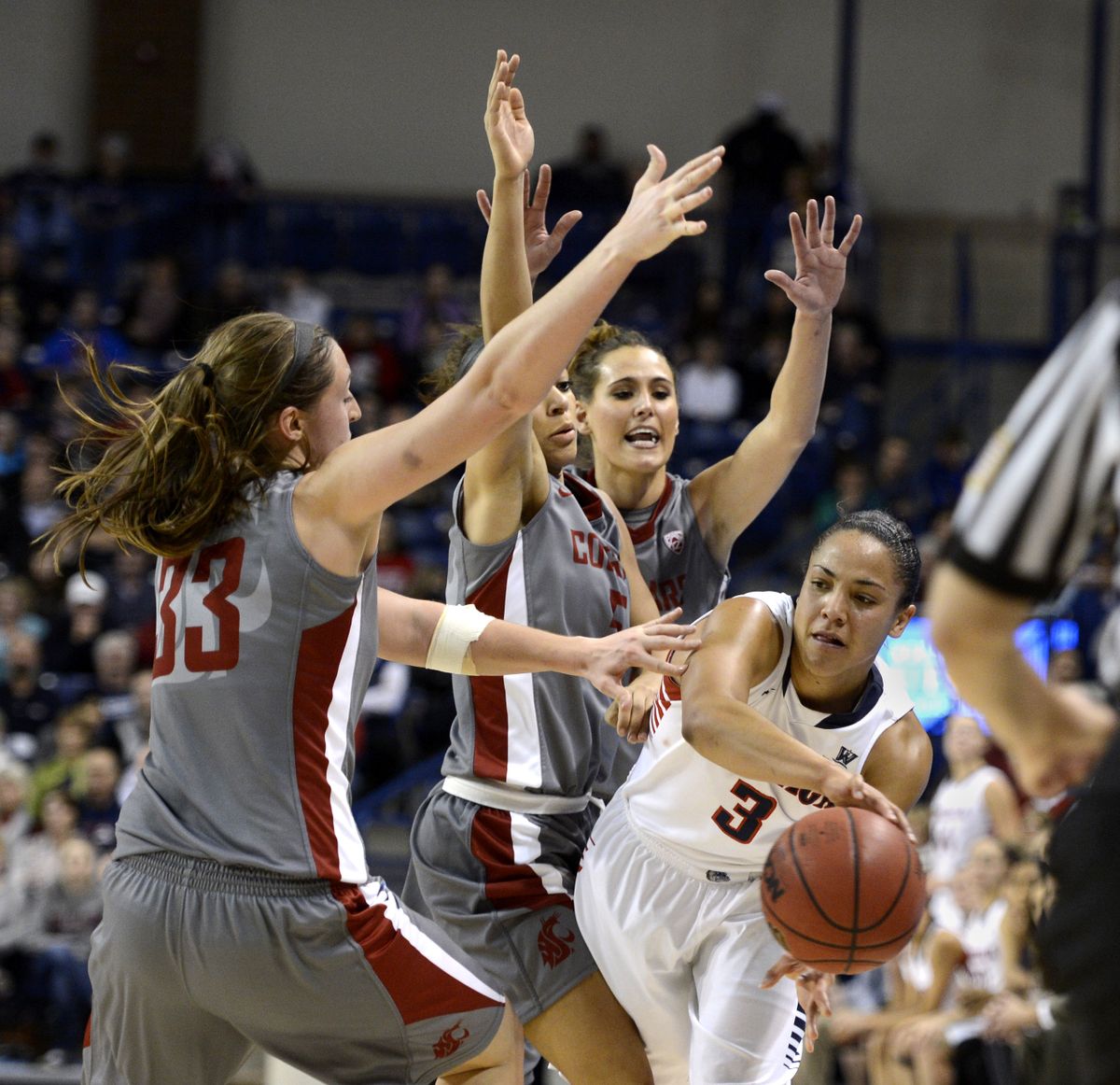 Tia Presley takes her share of verbal shots when she plays against Northwest rivals.
That's fine with Presley, because she's ready to give the shots right back.
Presley had game highs of 15 points and four steals Saturday afternoon as Washington State roared back from a 14-point deficit to defeat Gonzaga 57-51 at sold-out McCarthey Athletic Center to complete the nonconference basketball slate for both teams.
WSU freshman forward Mariah Cooks added 12 points, including key free throws, and freshman guard Lia Galdeira added 11, including a 3-pointer with 40 seconds left that boosted the Cougars to a 55-48 lead.
Gonzaga will enter West Coast Conference play with a 10-4 record. WSU, which snapped a four-game losing streak to the Bulldogs, improved to 4-7 with Pac-12 Conference play looming.
Presley, a Gonzaga Prep graduate, is often the player fans love to hate, but the Cougars' sophomore point guard feeds off the catcalls.
"That's the fun part of it," Presley said. "I can't change the way people feel about me. I play hard and if people can't accept it, then they can't accept it."
Presley stepped up during key moments, starting with her layup 20 seconds before halftime that capped a 6-0 run and trimmed Gonzaga's lead to 32-26.
"When we cut it down to six at halftime, we felt in the locker room that the momentum had shifted our way," Cougars coach June Daugherty said.
WSU also scored the first six points of the second half, sparked by Presley's assist and layup, to knot the score at 32 and make Gonzaga's once-promising 26-12 lead a distant memory.
The Bulldogs responded to the tie by fighting back for a 37-34 lead before Presley again took center stage. Her 3-pointer tied the game at 37 and started an 8-0 run that put the Cougars ahead for good. The run ended with Presley's layup with 12:23 left.
"The (3-pointer) was just another shot that helped us pull forward," Presley said. "It was a good shot that came at a good time and it quieted down the crowd."
Presley was also the recipient of an eye-opening assist by Galdeira, who zipped the ball three-quarters of the court with a baseball-like throw for a 44-40 lead.
"I was looking at her and I was wagging my finger, 'No, no, no,' " Presley said. "Then I saw it coming and I knew it was right there."
Although Gonzaga closed within two points twice, the Bulldogs hurt themselves with 7-for-17 free-throw shooting, including 4 for 12 in the second half.
"I tell you, (the Cougars) gave us every chance to kind of stay in the game," said Gonzaga coach Kelly Graves while referring to the free-throw shooting. "It was one of those games that whoever made the fewest mistakes was going to win it. Unfortunately, we made the most mistakes."
"I thought the whole second half things were going our way," Daugherty said, lauding the Cougars' defense and rebounding. "We had them back on their heels."
Haiden Palmer had 13 points and six rebounds for Gonzaga.
---