Sports
Lindsay Stockton has family's fire
Thu., Feb. 2, 2012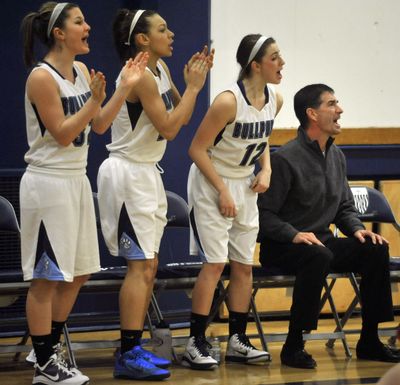 Lindsay Stockton smiled and then laughed.
The daughter of NBA Hall of Fame guard John Stockton was asked to talk about the traits she most gets from her mom, Nada.
"Believe it or not, I get most of my competitiveness and fiery spirit from my mom," the Gonzaga Prep senior point guard said. "Dad tries to be the calm and controlled one. He wasn't like that back in the day."
She admits she takes the competitiveness a little too far at times.
"I feel I'm a little more angry at times and it's not a reflection of my parents," she said. "Both of my parents would like me to steer clear of it. Sometimes I can't help it. I get fired up and want to win if things aren't going right. I care a lot about the game. My dad always reminds me to stay focused, play in control and be in control."
The 5-foot-6 Lindsay Stockton is one of six children and the oldest of two daughters. She said she gets her athleticism from both parents. Nada played volleyball and did track at Gonzaga University. Her father's career has been well documented.
"Everyone says we're a lot alike," Lindsay said of her mom. "We're both kind of stubborn. We get into it a lot. We don't want to give in. I think when I'm most similar to Dad is on the court."
Dad agrees.
"Mothers and daughters have a special relationship," John said. "Their personalities mirror each other. Lindsay wears it out on her sleeve just as her mom does."
Lindsay doesn't remember when she got her start in basketball.
"I've been around the game for as long as I can remember," she said.
Stockton, who signed with Montana State University in November, has been a four-year starter at Gonzaga Prep and is closing in on 1,000 points.
Bullpups coach Mike Arte has seen her passion for the game up close.
"There's a difference between competitiveness," Arte said. "She shows the same as John had. She lets that get in the way she plays sometimes. I don't think John ever did. She can be bullheaded. She tries to force stuff. She thinks sometimes she can get the ball to the hoop or penetrate a gap when she can't."
What people see of Lindsay on the court isn't the same person off the court.
"I'm not a crazy angry person all the time," she said. "Off the court I'm mellow."
She's been a key leader for a team loaded with youth, including her freshman sister Laura.
"Going into the year we thought she was going to have to score a ton of points," Arte said. "As the team has gelled, she's realized her important role is to be a leader and get her teammates in the right spots."
John Stockton has been Arte's assistant the last three years. The moments he'll treasure the most about Lindsay, though, haven't come from games or practices.
"The most enjoyable times I've had are the long drives in the old days going to AAU tournaments," he said. "It was a chance to spend some quiet time with her and have great conversations. Those are special memories. That to me is more important than anything that goes on on the court."
John Stockton was asked to take off his hat as a former NBA star and as an assistant coach and critique his daughter's game.
"That's a tough one for me," he said. "Parents and coaches tend to be critical. I don't know if that's fair. She is a competitor more than anything. That's her signature. She'll compete and fight you. I appreciate that. She really leaves it all out on the court."
Local journalism is essential.
Give directly to The Spokesman-Review's Northwest Passages community forums series -- which helps to offset the costs of several reporter and editor positions at the newspaper -- by using the easy options below. Gifts processed in this system are not tax deductible, but are predominately used to help meet the local financial requirements needed to receive national matching-grant funds.
Subscribe to the sports newsletter
Get the day's top sports headlines and breaking news delivered to your inbox by subscribing here.
---